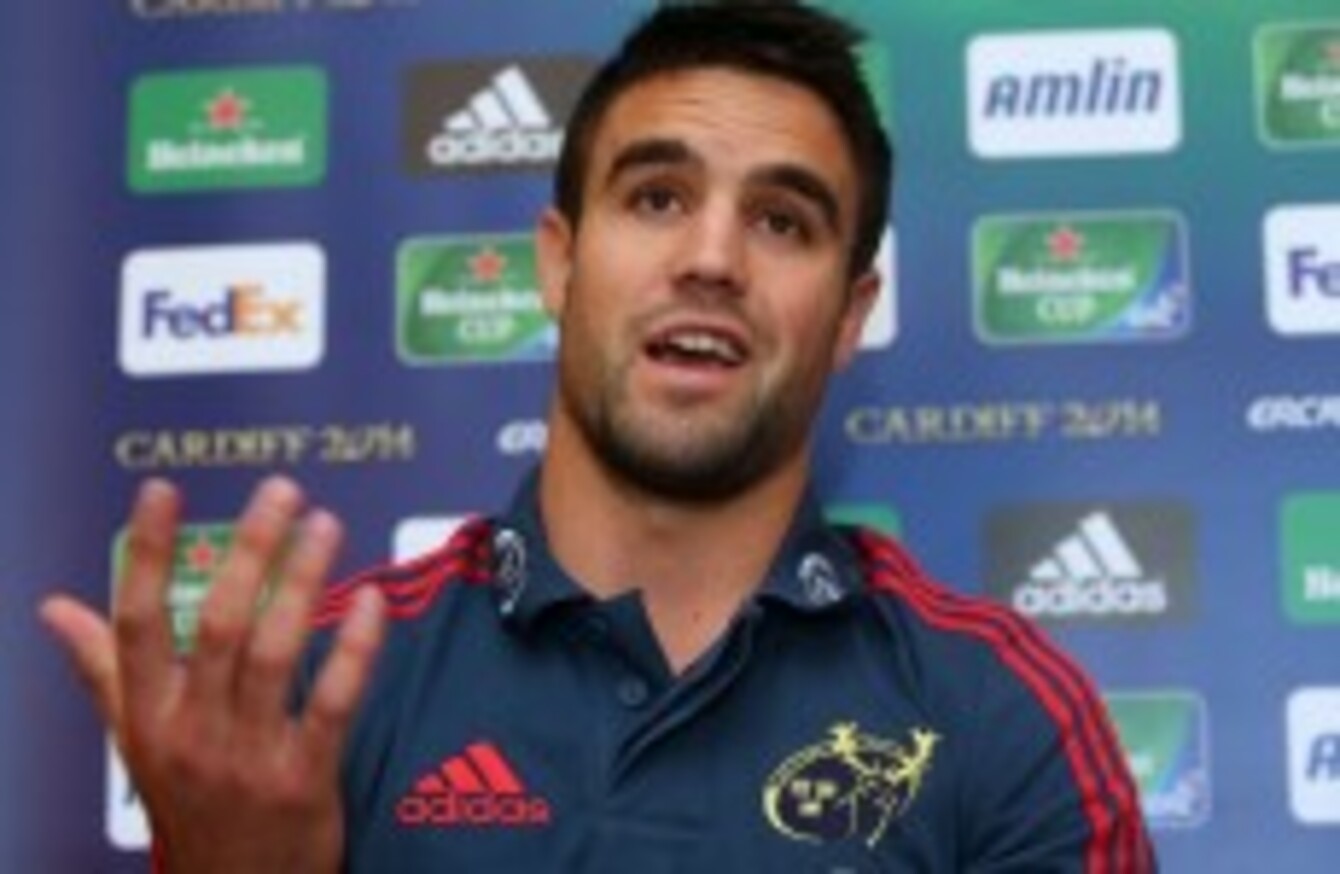 Image: ©INPHO/Dan Sheridan
Image: ©INPHO/Dan Sheridan
MUNSTER SCRUM-HALF Conor Murray has always come across as a confident, calm person and that image remains intact as Munster find themselves in Heineken Cup trouble after just one round.
Saturday's 29-23 defeat to Edinburgh means that the southern province may well have to win all five of their remaining fixtures in Pool 6 of the European tournament if they are to progress to the knock-out stages.
Despite the blow of losing at Murrayfield and performing so poorly, Murray is certain that he and his team-mates can bounce back and record a victory when Gloucester visit Limerick on Saturday evening. The Ireland half-back also feels that Munster were close to a win in Scotland even though they didn't perform.
"We played quite poorly and yet, probably should have won the game in the end. I know we probably should have been a bit smarter and played for territory a bit more towards the end, but these things happen. It happened us probably at the exact same as last year at Racing.
I'd a bad experience towards the end when we probably should have played for territory, very similar to that. So it's a very bad feeling and very unfortunate to happen, but we were in the same situation last year and it's nothing we can't get out of.
The Lions cap added: "I think as a squad, we're quite confident. We've been playing well, it was just one of those days. I don't know how else to put it."
Munster's feeble display against Edinburgh has largely been pinpointed as a product of a complacency born after the physical win over Leinster in the Pro12 the previous week. Murray concedes that over-confidence was a possible contributory factor, but stresses that it is genuinely difficult to judge the narrow line between confidence and complacency.
"I don't know how you measure that, how you find yourself to be complacent. We probably were a bit flat in the warm-up of the game. Our skills were quite sharp but I just felt we were a bit quiet. Maybe a bit of that [complacency] did creep in.
©INPHO/Dan Sheridan.
"I don't know how to find that, but that's done now, it's in the past. We're just going to make sure that doesn't happen again because you found out at the weekend how hard it is to win away in the Heineken Cup.
"We've left a win behind us, we've a lot of work to do now and we've to make sure we're on top of our game for the next five games."
There were some glimpses of positive play from a Munster point of view in the Murrayfield failure, with Murray giving the scoring pass for Casey Lualala's score in the first half. Mike Sherry also dotted down after intelligent marshalling from the Ireland scrum-half. While Murray says Munster were happy with those two efforts, other chances weren't taken.
"When we got into what we call 'the green zone', we converted those tries really well. We turned those moments of pressure into points, but there were other moments in the game where we were in that green zone, five metres out from their line, and we turned it over too easily, let them off the hook a bit.
That's another area of the game that we found quite disappointing. When we're in that area, we need to convert that pressure into points and we didn't do that enough. We did it for those two tries, but there were a handful of other examples where we didn't do that."
All the words emanating from the Munster camp this week suggest that lessons have been learned, and that there is a backlash on its way against a Gloucester side who have started the domestic season poorly. A late try from speedy winger Jonny May gave them a 27-22 win over Perpignan last weekend, and they will arrive in Thomond Park with nothing to lose.
Murray has been impressed with what he has seen of the Nigel Davies' men, despite that poor league form. At the same time, the 24-year-old understands that Saturday's crucial Heineken Cup tie is all about Munster turning up.
"I've been watching Gloucester from the start of the season, they're quite a good side. They're quite young and they're not afraid to throw it around either. So that brings danger and we've got to make sure our game is up to scratch as well."
Audio courtesy of Aoife Danagher.