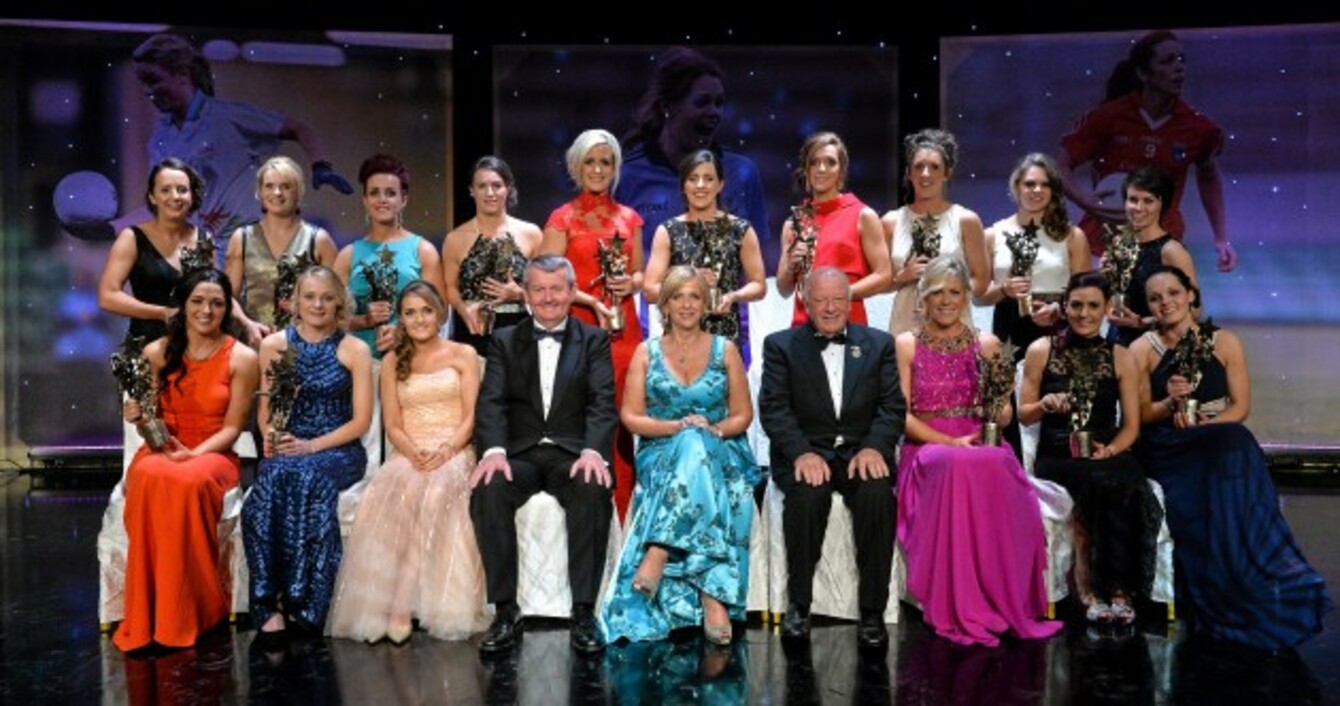 The 2014 TG4 Ladies Allstar football team.
Image: Brendan Moran/SPORTSFILE
The 2014 TG4 Ladies Allstar football team.
Image: Brendan Moran/SPORTSFILE
ALL-IRELAND SENIOR champions Cork lead the way with 6 Allstar awards at last night's TG4 Ladies football Allstar awards at Citywest.
Dual player Angela Walsh, Bríd Stack, Geraldine O'Flynn and Ciara O'Sullivan were all honoured. Dual Allstar winner Briege Corkery won her 8th award and first in midfield. Vera Foley is a new name on the list as she won her first Allstar for Cork in the half back line.
Dublin are also well represented in the 2014 selection as their captain, Sinead Goldrick claimed her third Allstar award in a row and is joined by Lyndsey Davey who wins her second award and Sinead Aherne who received her fourth. Noelle Healy is rewarded for a brilliant year as she is named at number 10 to claim her first Allstar award.
Ciamh Dollard was selected at goalkeeper following a brilliant series of displays for Laois, Cora Courtney made it two in a row for Monaghan as she returns at left-half Forward and Aileen Pyers became the first Intermediate Player to be named on the Allstar selection since 2012 and is Down's second ever Allstar.
Armagh had a year to remember following their victory in the Ulster championship and are rewarded with two Allstar awards as Mairead Tennyson was named at corner-back. However, it is a particularly memorable year for Caroline O'Hanlon who claimed her third Allstar Award and the Armagh captain was later named as the 2014 Senior Player's Player of the Year for her incredible performances at midfield throughout the year
Caroline Little of Fermanagh was named as the 2014 Intermediate Player of the Year after being the inspiration behind their progress to the All-Ireland intermediate final.
2007 All Star goalkeeper, Mary Rose Kelly was rewarded with the Junior Player's Player of the Year Award after producing a brilliant goalkeeping display as she was flawless between the posts for Wexford.
2014 TG4 All Star Team
Goalkeeper: Ciamh Dollard (Laois) (first All Star)
Right Corner Back: Mairéad Tennyson (Armagh) (first All Star)
Full Back: Angela Walsh (Cork) (6th All Star: 2005,2006,2007,2008,2009)
Left Corner Back: Bríd Stack (Cork) (6th All Star: 2007,2008, 2010, 2011, 2012)
Right Half Back: Vera Foley (Cork) (1st All Star)
Centre Half Back: Sinead Goldrick (Dublin) (3rd All Star: 2012, 2013)
Left Half Back: Geraldine O'Flynn (Cork) (5th All Star: 2009, 2011,2012, 2013)
Midfield: Briege Corkery (Cork) (8th All Star: 2005, 2007, 2008, 2009, 2011, 2012, 2013)
Midfield: Caroline O'Hanlon (Armagh) (3rd All Star: 2006, 2012)
Right Half Forward: Noelle Healy (Dublin) (1st All Star)
Centre Half Forward: Ciara O'Sullivan (Cork) (2nd All Star: 2012)
Left Half Forward: Cora Courtney (Monaghan) (2nd All Star: 2013)
Right Corner Forward: Lyndsey Davey (Dublin) (2nd All Star: 2005)
Full Forward: Sinead Aherne (Dublin) (4th All Star: 2009, 2010, 2011)
Left Corner Forward: Aileen Pyres (Down) (1st All Star)
The Player of the Year awards went to:
Senior – Caroline O'Hanlon (Armagh)
Intermediate – Caroline Little (Fermanagh)
Junior - Aileen Pyres (Down)
2014 Ladies Football Hall of Fame
Phyllis Hackett Price (Offaly)
The Young Player of the Year awards went to:
Connacht: Rebecca Waldron (Mayo)
Leinster: Róisín Egan (Offaly)
Munster: Aishling Moloney (Tipperary)
Ulster: Geraldine Smith (Cavan)