Liveblog
Result – 2020 AIB All-Ireland senior club football final
Corofin (Galway) 1-12 Kilcoo (Down) 0-7
*****************
Welcome along to Croke Park as we build up to the coverage of the 2020 AIB All-Ireland senior club football decider.
There's a familiar presence in one corner with the reigning champions Corofin. The Galway club are aiming to complete three-in-a-row, the first team to do so, and success today would be their fourth in six seasons.
It's a case of breaking new ground for opponents Kilcoo, the Down champions are appearing in their first final after only
being crowned Ulster champions for the first time last season.
Throw-in is 4pm.
Here's the teams named to start:
Corofin
1. Bernard Power
2. Cathal Silke
3. Kieran Fitzgerald
4. Liam Silke
5. Kieran Molloy
6. Conor Cunningham
7. Dylan Wall
8. Daithi Burke
9. Ronan Steede
10. Gary Sice
11. Michael Farragher
12. Jason Leonard
13. Ian Burke
14. Martin Farragher
15. Micheal Lundy (captain)
Kilcoo
1. Martin McCourt
2. Niall Branagan
3. Ryan McEvoy
4. Niall McEvoy
5. Eugene Branagan
6. Aaron Branagan
7. Daryl Branagan
8. Aaron Morgan
9. Aidan Branagan (joint captain)
10. Dylan Ward
11. Paul Devlin
12. Ryan Johnston
13. Shealan Johnston
14. Jerome Johnston
15. Conor Laverty (joint captain)
Cork's Conor Lane is the referee for this one.
A late change on the Corofin team with Colin Brady in for Conor Cunningham.
About to get going here in Croke Park for this one.
Goal chance for Corofin! A long ball is pumped in, Michael Farragher catches before offloading to Micheal Lundy who hits a snapshot that is smothered with Kilcoo clearing.
Point effort at the other end for Shealan Johnston but it drifts wide for Kilcoo.
Jerome Johnston steps in off the right wing and clips over a shot with his left for Kilcoo but can't find the target.
Third shot at the post for Kilcoo and still they wait for their first point. Paul Devlin's attempt from a free is the latest to be chalked down as a wide.
Kilcoo 0-1 Corofin 0-0
And we finally get a score. Underdogs Kilcoo frustrating Corofin at one end and then Eugene Branagan is fouled with Devlin clipping over a free.
Kilcoo 0-2 Corofin 0-0
Devlin smacks over another free, again Eugene Branagan fouled after a clumsy foul by Dylan Wall. Kilcoo will be pleased so far.
Let off for Corofin! Ryan McEvoy tears forward for Kilcoo and accelerates in from the right wing, there's a chance of a goal but he elects to go for a fisted point instead of smashing in a shot and the ball goes across the goal and wide on the far side.
Corofin try to counter. Decent attacking move under pressure but Ian Burke hooks a point shot wide.
Neither side impressing in front of goal. Corofin over-run it at one end, then Shealan Johnston hoofs one wide for Kilcoo.
Kilcoo 0-2 Corofin 0-1
First point from play in the game and first score for Corofin. It's a stylish kick as well from Ronan Steede on the wing.
Another goal chance for Corofin! Their familiar hand-passing and running game involves Ian Burke, Jason Leonard and Ronan Steede before Martin Farragher tries to steer in his shot but goalkeeper Martin McCourt blocks it out for a '45.
Kilcoo 0-2 Corofin 0-2
Lovely spell by Corofin as they manage to prise apart Kilcoo and Cathal Silke taps over a point.
Really good scoring chance for Corofin but Jason Leonard never catches his kick right from outside the D and it drops short into the hands of Kilcoo player.
Half-Time: Kilcoo 0-3 Corofin 0-2
A Paul Devlin point brings the curtain down on the first-half scoring, Kilcoo ahead by a narrow margin after a grind of a first-half. We'll be back shortly with the second half action.
Kilcoo 0-4 Corofin 0-3
Steede gives Corofin a positive start to the second half with another fine point. Devlin replies with a free for Kilcoo after Conor Laverty was fouled.
Corofin 0-4 Kilcoo 0-4
All square! Dylan Wall does superbly to fire over a point for Corofin.
Kilcoo are down to 14 men, Dylan Ward is sent-off.
A second yellow card for Kilcoo's Dylan Ward and that's a major setback for the Down champions as they're reduced to 14 men. Dylan Wall goes off injured for Corofin after that with Conor Cunningham coming in.
Corofin 0-6 Kilcoo 0-4
And now Corofin are turning the screw. Gary Sice pops over two pointed frees in quick succession.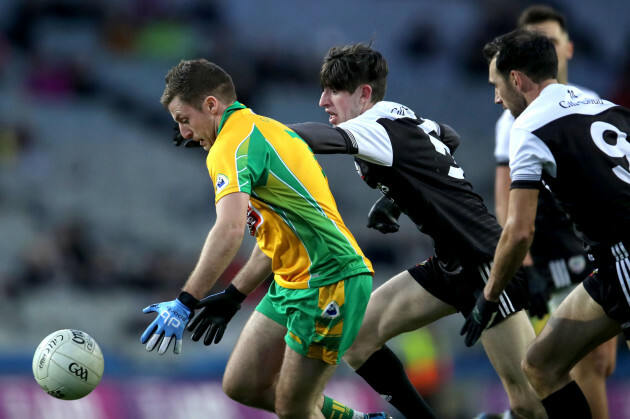 Source: Bryan Keane/INPHO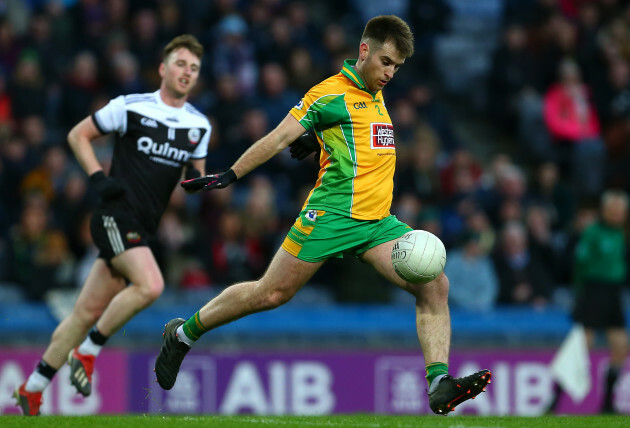 Corofin not quite putting this game to bed despite their extra man. Gary Sice with their latest wide.
Yellow card for Corofin's Ronan Steede.
A yellow now for Kilcoo's Ryan McEvoy and free in for Corofin.
Corofin 0-7 Kilcoo 0-4
Jason Leonard pops over the free for Corofin. They've brought in Dylan McHugh to replace Kieran Molloy.
Latest yellow card goes to Kilcoo's Niall Branagan.
Corofin 0-7 Kilcoo 0-5
Conor Laverty pops over a Kilcoo point. They had taken a free short to try to work the goal before Laverty found the space to shoot over.
Corofin 0-7 Kilcoo 0-6
And another for Kilcoo, Darryl Branagan fires over a super point!
Six minutes left, one point between them as champions Corofin lead 14-man Kilcoo.
Kilcoo bring in Anthony Morgan for Aidan Branagan. Corofin's Gavin Burke replaces Colin Brady.
Yellow card for Corofin's Michael Farragher. They bring in Ciaran McGrath for Liam Silke.
Free in for Kilcoo, Paul Devlin to take it.
Cathal Silke came off there for Corofin, not Liam.
Devlin pulls his shot wide, it was a tough free. Kilcoo still trail by one.
Great chance for Kilcoo's Conor Laverty to point but it drifts wide after he had done so well in the build-up.
Five minutes of injury time.
Long spell of Kilcoo possession as they probe for an opening. Eugene Branagan takes the shot on but can't find his range.
Ian Burke with a chance to kill the game for Corofin but he shoots wide off his left.
Kilcoo have a kickout but they lose possession as it goes off over the Cusack Stand sideline.
Darragh Silke in for Corofin for Martin Farragher.
Second yellow for Corofin's Michael Farragher as he's sent-off.
Ian Burke off for Corofin, Dylan Canney comes in.
Black card for Corofin's Darragh Silke.
Kilcoo free in and it's been brought forward for dissent!
It's straight in front of the goal, this must be the last kick, about 40 yards out. Devlin to hit it.
Paul Devlin brings Kilcoo level!
Devlin held his nerve brilliantly. Bad tempered end to this match, still not over.
Full-Time: Corofin 0-7 Kilcoo 0-7
Two ten minutes of extra-time will be played.
So extra-time about to start here. Who'll seal the deal now?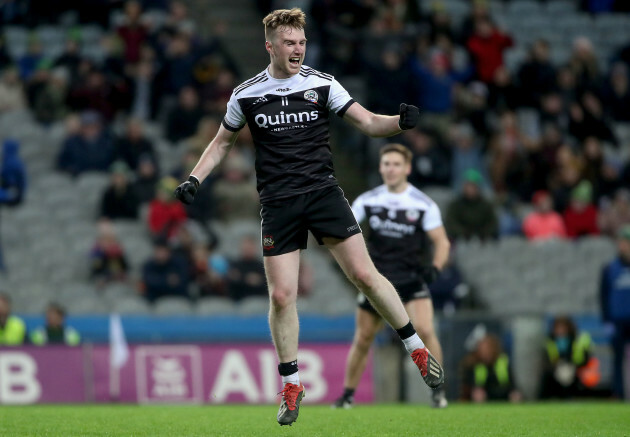 Source: Bryan Keane/INPHO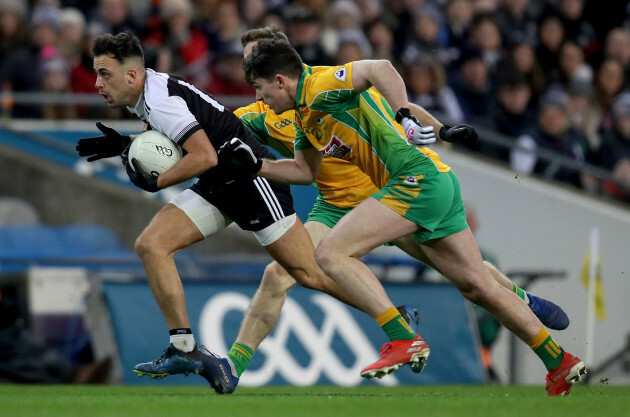 Source: Bryan Keane/INPHO
Early extra-time shot for Corofin but Gary Sice sees his effort fall short.
Corofin 0-8 Kilcoo 0-7
The scoring impasse is broken, Ronan Steede lofting over a marvellous shot for Corofin into Hill 16.
Corofin 0-9 Kilcoo 0-7
And another for Corofin, Dylan Canney on target to push them two clear.
Yellow card shown to Kilcoo's Jerome Johnston.
Corofin 0-11 Kilcoo 0-7
Kilcoo are intercepted coming out of defence, Corofin counter and Liam Silke taps over a point. Then they win a free after Martin Farragher is fouled and Sice curls over. Four in it and the champions very much in the ascendancy.
Goal for Corofin from Conor Cunningham!
Corofin 1-11 Kilcoo 0-7
And that could be the defining moment. Lundy's shot for a point hits the post, it comes down with a couple of players challenging before Conor Cunningham comes in, draws his left foot at it and boots home a Corofin goal.
Half-Time (Extra-Time): Corofin 1-11 Kilcoo 0-7
Second-half of extra-time underway here. Mammoth task facing Kilcoo as they trail by seven.
Black card for Kilcoo's Darryl Branagan.
Ross Mahon on for Corofin, Kilcoo bring in Paul Greenan.
Corofin 1-12 Kilcoo 0-7
Sweeping team play across the pitch and Ross Mahon sets up Jason Leonard for a Corofin point.
Corofin running the clock down now.
Result: Corofin 1-12 Kilcoo 0-7
Corofin make history, the first club to complete an All-Ireland senior three-in-a-row. Outstanding team, they needed to dig deep to win that but too over completely in extra-time to shut down Kilcoo.
Thanks for joining us this afternoon.
Contribute to this story: