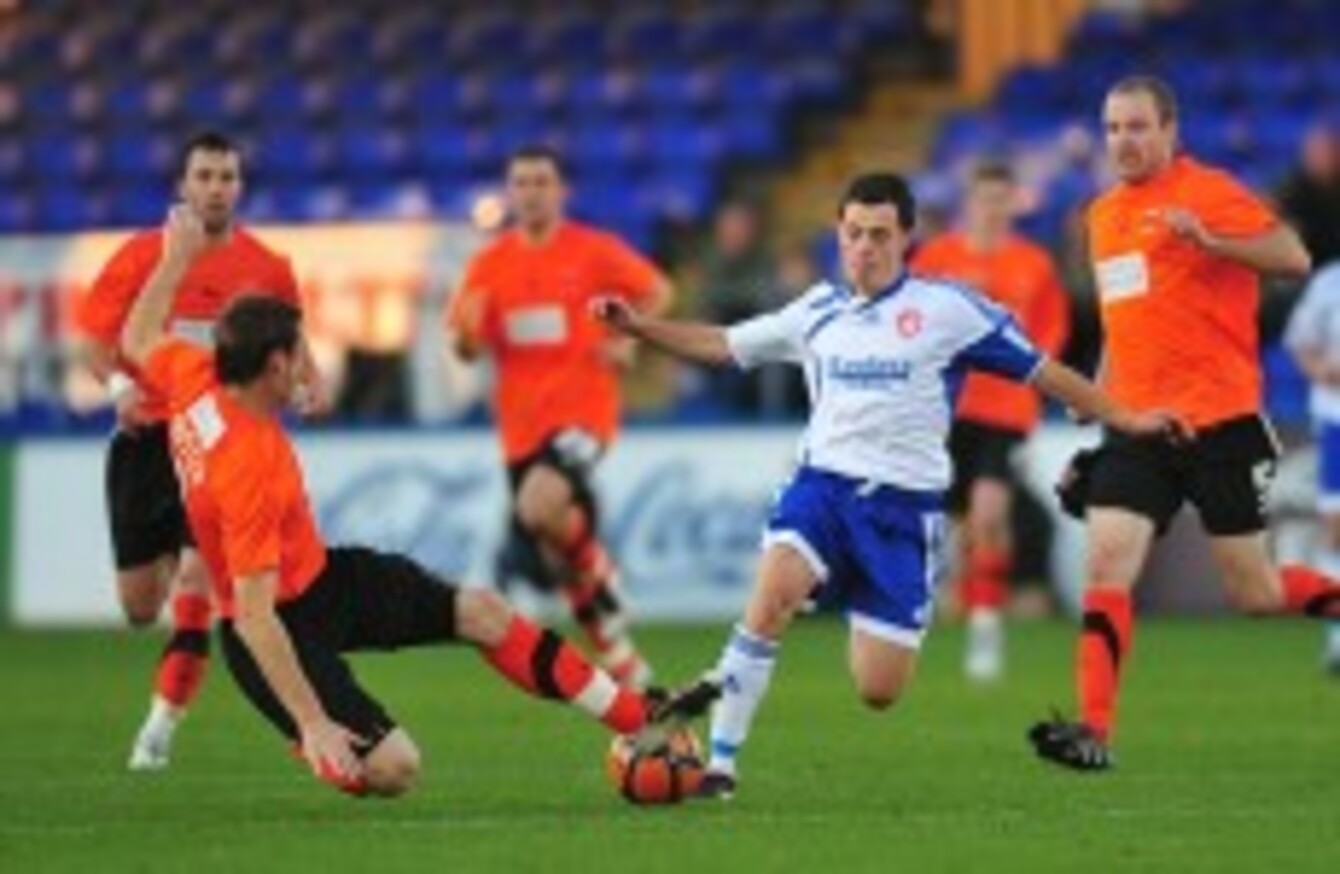 Mahon during his days with Vauxhall Rovers.
Image: PA
Mahon during his days with Vauxhall Rovers.
Image: PA
THE JOURNEY ACROSS the Irish sea is a well travelled one for fledgling footballers infused with the aspiration that they, like the thousands of others who harbour similar dreams, can make the grade in England.
For the select few who have the aptitude – and indeed fortune – to advance through a pitiless system and forge a career at an exalted level, there are many more who will make the return trip having fallen by the wayside: disheartened, crushed and deterred.
It's the reality of an industry that doesn't wait for anyone – dreams are quashed just as quickly as they are realised.
Year-on-year, countless young Irish players begin the protracted and arduous pilgrimage from home across the water, searching for the holy grail of earning a professional contract. Alas, very few reach their intended destination, leaving behind their boyhood dreams while accepting it's just not meant to be.
For Craig Mahon, he wasn't prepared to let one setback knock him off track. And while that has meant he has been forced to take the route less travelled, steady progress is better than none at all.
Five years after being released by Wigan, the Dubliner is back on the straight and narrow, arguably playing the best football of his career for Conference side Chester FC.
Mahon is among the multitude of Irish exports plying their trade in the lower echelons of English football and having experienced life at the top end, the 25-year-old is determined to return to such heights.
Whatever he does in the next stage of his career, however, the weekend of November 8th will live long in the memory. Twenty-four hours after his wife gave birth to twins, Mahon inspired Chester to a famous FA Cup win at Southend United with a second-half winner.
"My wife had twins on the Friday afternoon at around 2.30pm and she said to me that night that the kids are healthy and everything is fine so you might as well go out and play because you might not get another chance to play in the FA Cup," he told TheScore.ie.
"I was still on a massive high and obviously a bit tired so it was all a bit of a whirlwind but just to play in the cup is a dream come true so to go out and win and score the winning goal was something special."
Today, the 25-year-old gets another chance to put himself in the shop window as Chester – a supporter-owned club – look to continue on their romantic FA Cup run when they travel to League One side Barnsley.
As much as the competition's history is enough in itself to inspire the players, there is an added incentive for those hoping to attract the interest of a Football League club.
"It's going to be a really tough challenge for us," Mahon said of Sunday's second round tie. "They've got a good record in the cup in recent years but to get the chance to play in a big stadium, on front of a big crowd and in the FA Cup is a great chance for me to go out and prove myself."
"Hopefully I can put in a good performance and if I do and something comes from it then great but if it doesn't then so be it."
Mahon's open-minded outlook has been shaped by previous experiences. Barely into adulthood, he upped sticks and moved to Wigan after signing as a youth team player. Although impressing in the under-age ranks – finishing consecutive seasons as the leading goalscorer – he was deemed surplus to requirements by the then manager Steve Bruce.
In such circumstances many would have lost their sense of direction. After three years at the DW Stadium, Mahon was given his P45 and left to wonder what was next, if anything.
"It broke my heart," he recalls. "There were so many emotions I was feeling. I felt I had let everybody down at home and didn't know what to do. I could either go home and become an electrician or stay in England and try, somehow, to keep my football career going."
"I was all over the place."
Mahon's departure from Wigan will resonate with many young footballers who were told they weren't at the level required. Having excelled in the youth teams, Steve Bruce didn't feel the former Lourdes Celtic schoolboy had it in him bridge the gap and step-up into first team football.
"I struggled to get a club," he continued. "I went to Salford in the Northern Premier League Division One and did quite well but it was a really low level."
The winger comes from a family rich in footballing tradition. He is the nephew of former Ireland international Alan and cousin of Andy Reid. At a time when his footballing career was in limbo – as he moved from club to club in search of some stability and success – it was a solicitous family which kept him going.
"I have a great family and was living with my wife's family at the time so they said they'd look after us and if we ever needed a place to stay so that gave me a bit of security to concentrate on my football. It gave me the drive to keeping going and work my way back up the ladder."
When the offers from clubs simply weren't forthcoming, was there any possibility of a return to home shores and the League of Ireland? No, but he hasn't ruled it out in the future although he and his family are now settled in England.
Mahon has been with Chester for a couple of seasons now and it's that comfort which has seen him play the best football of his career. Mahon is a versatile operator – shifting between a wide role and leading the line and he's already scored five goals this term, already eclipsing last season's total.
While he's happy in the Conference, Mahon has always had lofty ambitions – his experience at Wigan has only increased that.
"It's worked really well for me so I can't really complain but I want to play at the highest level possible. I always want to push myself and try and do as well as I can and personally I feel I could progress further at the next level but that's up to what other clubs and managers think."
Like many of his colleagues in non-league football, the Irish underage international has to juggle the demands of playing semi-professionally and ensuring the bills can be paid, particularly with two new additions to the family. When he's not training or playing himself, Mahon is back at Wigan but in a coaching capacity with the club's youth teams.
While he is already planning for the future by completing his FA coaching badges, Mahon's focus remains firmly on the present.
"There is always something special about the FA Cup, it's just one of those competitions – it's magical. You grow up as a young lad in Dublin watching it and dreaming of playing in it so when I step-out on Sunday again it will be a fantastic feeling.
"I just have to go out and express yourself. I've been given the freedom by the manager to adopt a free role and my performances have reflected that. I'm confident to go out and take on players and try new things."
You get the feeling, however, that if Mahon continues to do what he's doing then it won't be long before he's climbing that ladder and proving those who doubted him wrong. For now, the FA Cup is providing the perfect platform to attract the attention of prospective employers.
When you're trawling through today's FA Cup results, keep an eye out for Chester and Dubliner Craig Mahon.