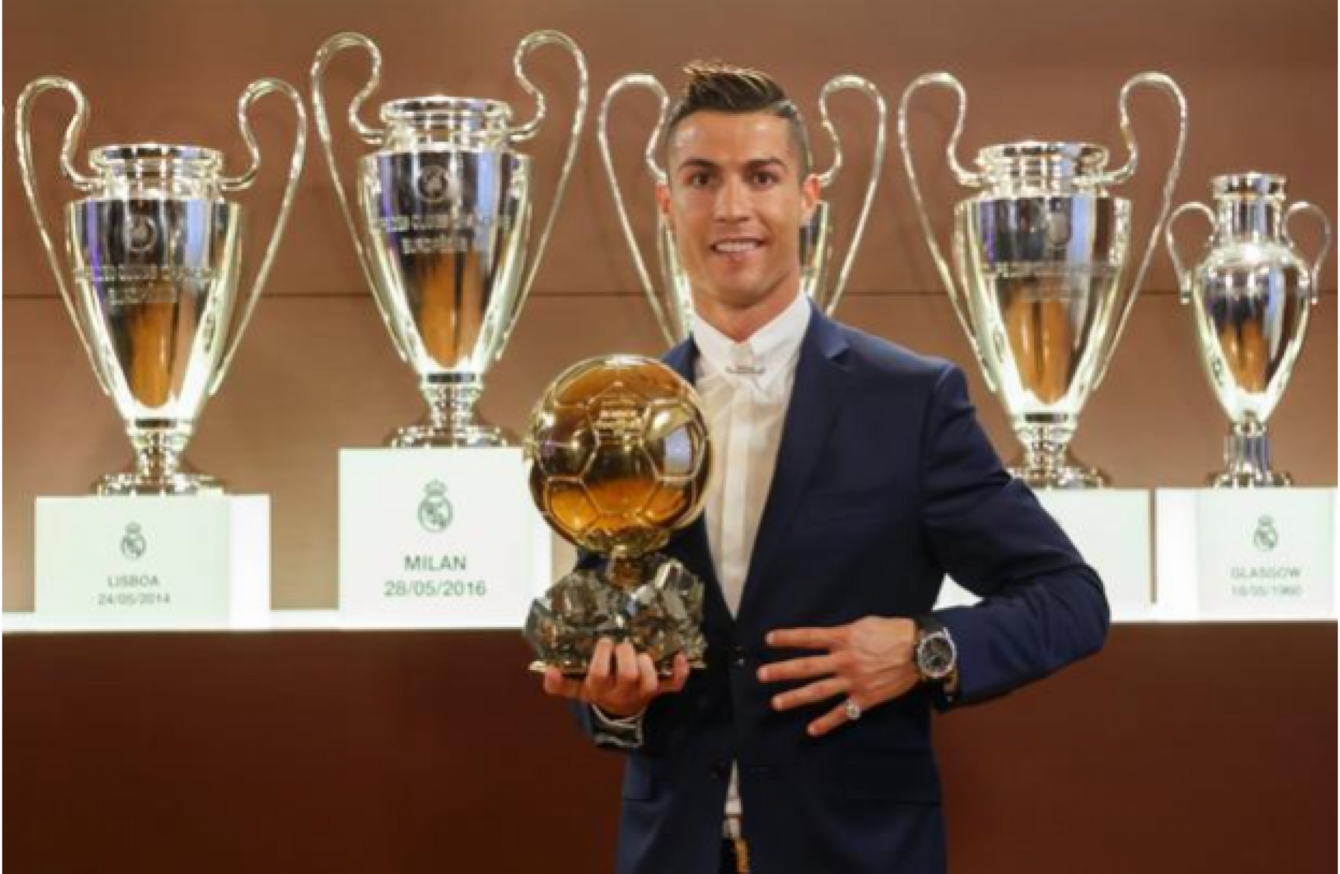 CRISTIANO RONALDO MORE than doubled the points awarded to Barcelona's Lionel Messi when the Real Madrid star claimed his fourth Ballon d'Or award.
The Portuguese attacker was named the best player in Europe for 2016 yesterday as he topped the poll of 173 journalists on 745 points compared to Messi's 316.
The journalists are given three weighted votes, one worth five points, another worth three and the third worth one.
Ronaldo's win brings him to within one of Messi's five Ballon d'Or awards and ends an incredible 2016 for the former Manchester United star which saw him win the Champions League with Real Madrid and Euro 2016 with Portugal.
Six of the biggest names in La Liga came out on top in the voting — Antoine Griezmann, Luis Suarez, Neymar and Gareth Bale following Ronaldo and Messi.
Incidentally, Neymar is the only Brazilian footballer to have received a vote for his performances in European football this season.
Following the big six from the Spanish league were Leicester duo Riyad Mahrez (7th, 20 points) and Jamie Vardy (8th, 11 points), ahead of the likes of Pierre-Emerick Aubameyang, Pepe and Gianluigi Buffon.
Manchester United summer signings Zlatan Ibrahimovic and Paul Pogba were well down the list, in 13th and 14th place respectively.
West Ham's Dimitri Payet completed the Premier League contingent in a tie for 17th place on one point, alongside Toni Kross and Luka Modric of Real Madrid.
Eleven players who were on the original 30-man shortlist, including Sergio Aguero, Kevin De Bruyne and Manuel Neuer, failed to receive a single vote.
Final tallies:
1. Cristiano Ronaldo (Real Madrid) — 745 points
2. Lionel Messi  (Barcelona) — 316
3. Antoine Griezmann (Atletico Madrid) — 198
4. Luis Suarez (Barcelona) — 91
5. Neymar (Barcelona) — 68
6. Gareth Bale (Real Madrid) — 60
7. Riyad Mahrez (Leicester City) — 20
8. Jamie Vardy (Leicester City) — 11
9. Gianluigi Buffon (Juventus), Pepe (Real Madrid) — 8
11. Pierre-Emerick Aubameyang (Borussia Dortmund) — 7
12. Rui Patricio (Sporting CP) — 6
13. Zlatan Ibrahimovic (Manchester United) — 5
14. Paul Pogba (Manchester United), Arturo Vidal (Bayern Munich) — 4
16. Robert Lewandowski (Bayern Munich) — 3
17. Toni Kroos (Real Madrid), Luka Modric (Real Madrid), Dimitri Payet (West Ham) — 1
No votes — Sergio Aguero (Manchester City), Kevin De Bruyne (Manchester City), Paulo Dybala (Juventus) Diego Godin (Atletico Madrid), Gonzalo Higuain (Juventus), Andres Iniesta (Barcelona), Koke (Atletico Madrid), Hugo Lloris (Tottenham Hotspur), Thomas Mueller (Bayern Munich), Manuel Neuer (Bayern Munich) and Sergio Ramos (Real Madrid).
The42 is on Instagram! Tap the button below on your phone to follow us!