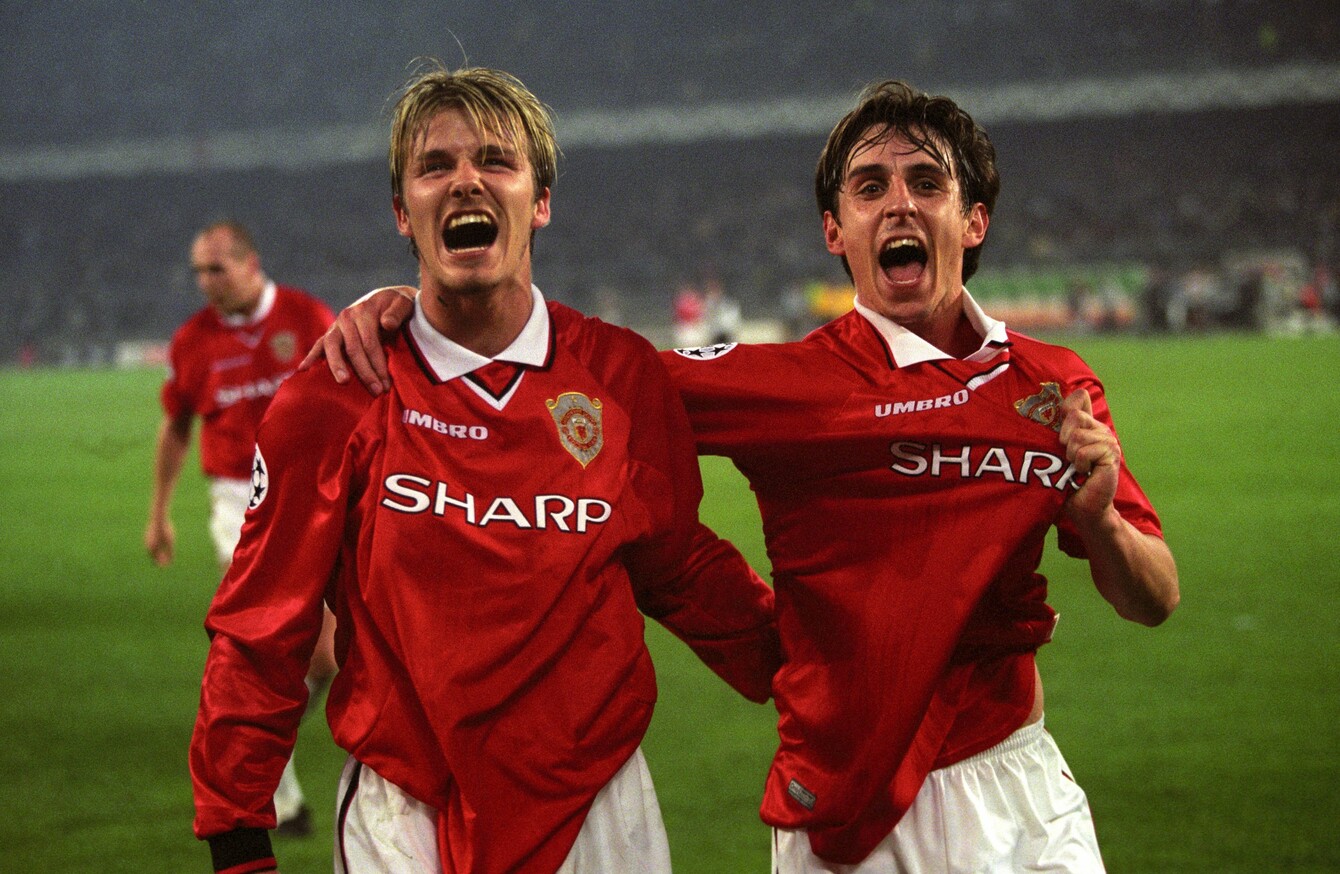 Beckham on his way to winning the Champions League with Manchester United.
Image: David Rawcliffe/EMPICS Sport
Beckham on his way to winning the Champions League with Manchester United.
Image: David Rawcliffe/EMPICS Sport
I THINK, MORE than anything, that is one of the most important things in my life in the moment, is my charity work.
That for me is what gives me the most pleasure out of anything that I do…
But it's not just about the amount of money that we raise, it's meeting these children, it's knowing that we're changing children's lives, we're protecting children from HIV and AIDS…that for me gives me the most pleasure."
- David Beckham, Desert Island Discs 75th Anniversary edition, BBC Radio 4, 29 January 2017.
To celebrate a big birthday last month, one beloved British institution chose the company of another. Desert Island Discs has been making castaways of the great and the good for a long time now, so for Beckham to get the nod for such a significant anniversary was something of an honour.
As it turned though, just not the kind of honour he's really after.
Nonetheless, the tone of the interview implied a knight of the realm in all but name. This had been a great British life, with success in the sporting sphere giving way to high esteem in ambassadorial and charitable circles, the attendant celebrity demands carried off with grace and good humour throughout.
Becks closed the interview with a reminder as to why he was the true successor to Princess Diana as Queen of Hearts.
Like Diana, he'd found fulfillment in working with the poor and unfortunate. Sadly, when hacked emails emerged less than a week later expressing his disgust at being passed over for a knighthood, it was soon a case of Goodbye England's Rose.
"It's pissed me off those old unappreciative cunts," wrote Beckham about the honours committee who denied him the top gong back in 2013, the suggestion being that he'd only done all that tiresome charity stuff to get the nod from Her Maj.
Beckham might have fancied the solace of a remote desert island with the torrent of criticism that came his way this week.
'Grovelling Goldenballs' was pilloried for his 'craven' pursuit of the elusive title. Historic Instagram posts praising the Queen were dug up and scoffed at; support for the campaign to keep Scotland in the UK was suspect too; Jonathan Ross had to deny that he'd been prodded to ask Becks about the knighthood on his chat show.
All this while the taxman had a black mark against his name anyway.
'Friends' told the Daily Telegraph that Beckham had "given up hope of a knighthood in the near future", clearly expecting that he'll be back in the running when those "old cunts" die off, or his troublesome tax affairs are sorted out, whichever comes first.
These intermittent explosions of Beckham's celebrity supernova are always puzzling for football fans.
We remember him as a wonderfully gifted right-sided midfielder in one of the greatest club sides of the modern era, though we could never understand the sheer scale of the crossover stardom that ensued.
Most famous sportsman on the planet? He wasn't even the best player on that Manchester United team.
But we also remember the post-United drift into irrelevance; his Vegas years.
The crumbling decadence at the heart of Real Madrid's Galacticos project, of which he was a part; the preposterous self-regard of his 'missionary work' in the MLS; the whole 'quarterback' thing, a role designed to get him into teams of which he no longer deserved to be a part; the cringey mascot role with England at the 2010 World Cup, as if the nation couldn't survive a major tournament without his pouting inspiration.
Football fans have long thought Beckham was a bit of a fraud; this week it felt like everyone else caught up.
In actual fact, Beckham has been playing a very different game all these years: that of simply Being David Beckham.
And he's been just as successful at it as in his treble-winning days at Old Trafford. He has demonstrated the same drive to succeed in his life outside football that Ferguson once described as a "relentless application that the vast majority of less gifted players wouldn't contemplate."
It's wrong to suggest that the huge volume of charity work, both public and private, and his support for England World Cup and London Olympic bids were not genuine; that they had all been for the purpose of getting an invite to Buckingham Palace.
It's also naive to think weren't carefully choreographed to play their part in the building of his brand. This is the man whose affairs are managed by Simon Fuller, the pop Svengali who created the Spice Girls.
And just as a Champions League medal and the England armband were the just rewards for his obsessive cultivation of that right foot, so too does he feel he has earned the ultimate prize for the same 'relentless application' to a public life well lived.
He is after all, as he reportedly told friends, just "a normal person extremely disappointed not to get a knighthood".