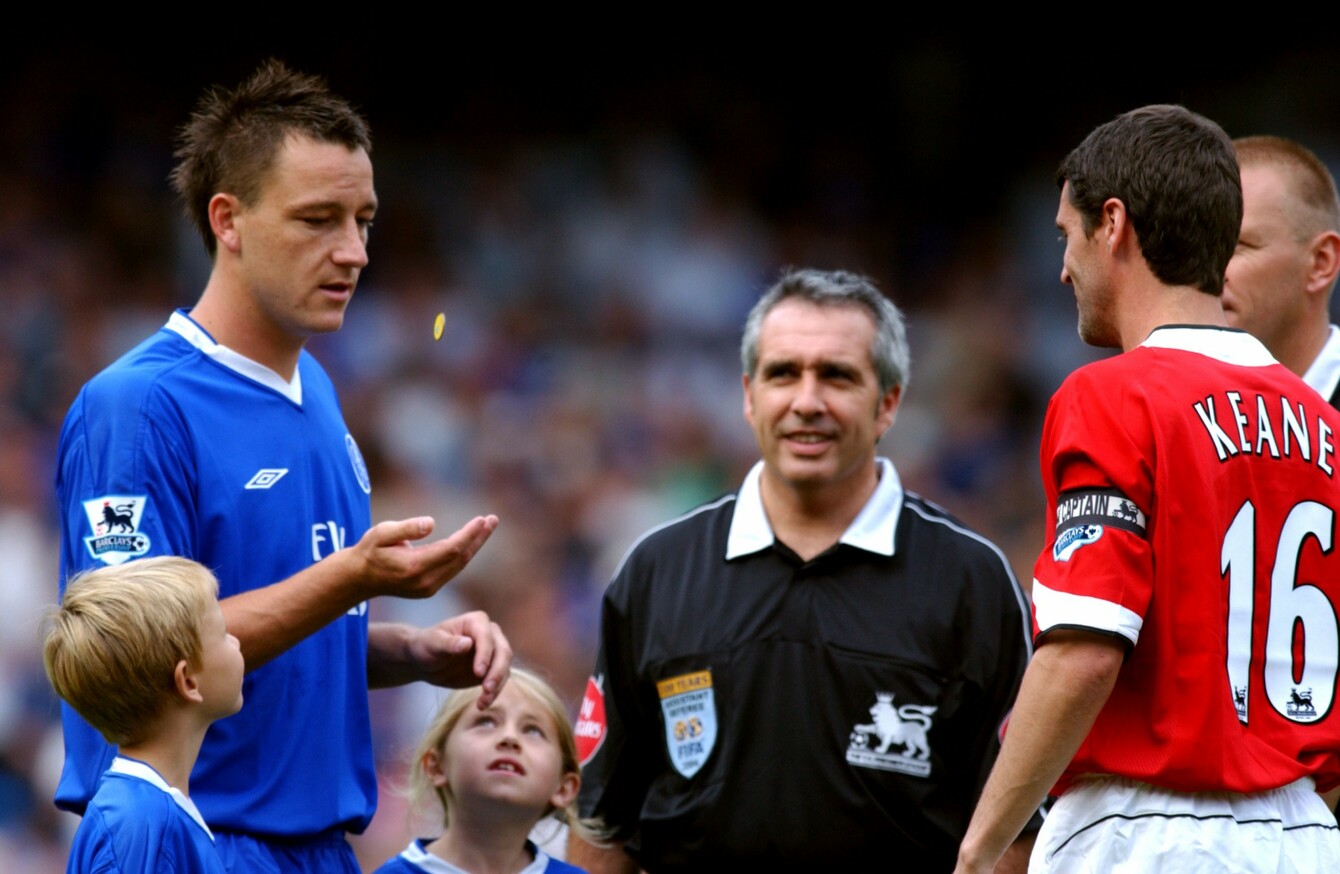 Chelsea captain John Terry and Man United skipper Roy Keane.
Image: Neal Simpson
Chelsea captain John Terry and Man United skipper Roy Keane.
Image: Neal Simpson
EX-IRELAND INTERNATIONAL David Meyler is The42′s football columnist for this season.
Every Friday, the former Hull City and Sunderland midfielder will give expert insight and his predictions ahead of the weekend's action, alongside the latest William Hill prices.
In his latest column, Meyler picks two players he'd like to see inducted into the Premier League Hall of Fame and lends his support to peaceful protests ahead of Man United v Liverpool on Sunday. 
Newcastle United v Arsenal, 2pm Sunday 
A new Premier League Hall of Fame was announced this week, with Alan Shearer and Thierry Henry revealed as the first two players to be inducted.
Personally, I think it's a nice touch to recognise the greatest players to have graced English football's top flight since its inception 29 years ago.
People might argue that this ignores the achievements prior to 1992, but there is already an English Football Hall of Fame that has singled out legends such as George Best, Kenny Dalglish and Bobby Moore for awards in the past. 
In terms of the inaugural inductees, Shearer and Henry are certainly worthy recipients. 
Shearer is the Premier League's all-time top goalscorer with 260 goals for Blackburn Rovers — who he won the title with in 1995 — and Newcastle United.
The former England striker remains the only player to have hit 100 Premier League goals with two different clubs.
He might not be well liked by Irish fans for obvious reasons, but Henry is undoubtedly one of the greatest players to have ever played the game.
175 Premier League goals is a club-record for Arsenal, and the Frenchman won two league titles, two FA Cups and four Golden Boot awards during his time in North London. 
There's a list of 23 players fans can choose from to vote for as six more players will be added. Like a lot of fans, I was racking my brain and talking to friends about who deserves to be included.
With something like this, what do you give most importance to? Is it longevity at the top level? Individual records? Or silverware?
If it's longevity, then you would have to make a case for players like Gareth Barry, Frank Lampard, James Milner and Gary Speed — three of which haven't been included. There is also no place for Ryan Giggs, most likely for PR reasons due to his domestic violence charges.
If we're going by medals, the Manchester United fans will come in with Roy Keane, Paul Scholes and Rio Ferdinand.
The Arsenal supporters would suggest Patrick Vieira, Tony Adams and Dennis Bergkamp. Then you'll have those who follow Chelsea speaking up for Lampard, John Terry and Didier Drogba, while Liverpool fans will say Steven Gerrard needs to be in there.
We could sit here and argue until the cows come home over who we prefer as it is all subjective, but I will be interested to see who is added going forward.
For what it's worth, Keane and Terry are the two I'd like to see inducted next — mainly because they are the two most successful captains in Premier League history.
Terry won five Premier League titles as Chelsea captain, which is a remarkable feat. My fellow Corkman Keane has seven Premier League medals, four won as Man United skipper during their period of dominance under Alex Ferguson.
As fate would have it, Shearer and Henry's former clubs — Newcastle United and Arsenal — face off this Sunday afternoon. The Magpies have all but secured their safety with a string of good results over the past month, a 1-1 draw with Liverpool the most recent of them.
You have to remember Newcastle went through large periods of the season without Allan Saint-Maximin and Callum Wilson, both key players who were greatly missed. 
I love watching Saint-Maximin as he is capable of doing anything with the ball. He's one of those fellas who gets you off your seat.
He has really improved his end product in terms of looking for those passes to cut defences open, and had he been fit throughout the campaign I think they would have been out of the relegation scrap a lot sooner.
With Arsenal, it's just hard to know what we're going to get. If they turn up, you could see them winning 3-0, but, if they don't, the home side could get something.
I'll go for a 2-1 victory for Steve Bruce's side. 
Manchester United v Liverpool, 4.30pm Sunday
The fallout from the failed Super League breakaway rumbles on and supporters have been expressing their anger ahead of Sunday's meeting between Man United and Liverpool.
Owners of both clubs were heavily involved and I would be in support of fans protesting, as long as it's done peacefully.
It's crazy to think of rival supporters coming together in support of a common cause in a week that they're playing each other. You wouldn't expect to see it, but it's good that we are.
There is a divide between some Liverpool fans over FSG. They have brought huge success to the club over the past few years, but this mistake is the latest in a list that includes trying to raise ticket prices, attempting to trademark the city's name, furloughing staff and not backing Jurgen Klopp in the transfer market after winning the league.
I think Man United fans are in a totally different space in that the majority have wanted the Glazers out for the best part of 15 years.
Looking ahead to the game itself, I've said there will be goals in this fixture in the past and we were served a 0-0 draw back in January.
This time, I think it will be a cagey game. If Liverpool beat United and City win against Crystal Palace, City win the title this weekend.
Both teams will try to catch either other on the counter attack and it pains me to say it, but I'm predicting a fairly boring 1-1 draw.
 William Hill odds above correct at the time of writing. New online customers get €30 in free bets when they bet €10 with William Hill. Just use the promo code H30. For all the latest prices, visit williamhill.com. 18+, always gamble responsibly. For more information, see gamblingtherapy.org