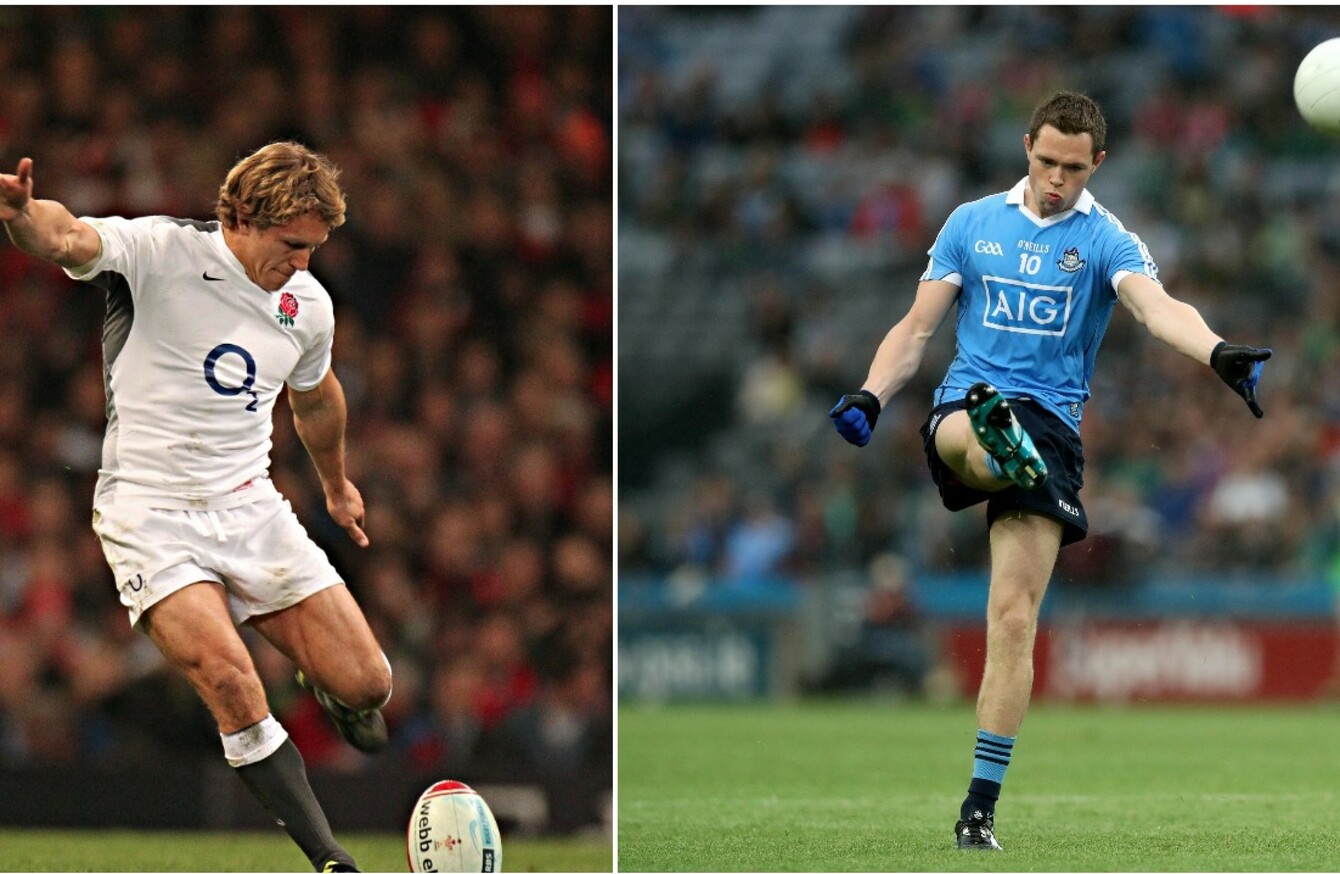 England's Jonny Wilkinson was one of Dublin player Dean Rock's sporting idols growing up.
England's Jonny Wilkinson was one of Dublin player Dean Rock's sporting idols growing up.
DEAN ROCK'S ACCURACY from placed balls has been one of the striking features of Dublin's march to next Sunday's Leinster final.
Meath and Laois have suffered at the hands of the Ballymun Kickhams man, whose recent form has been excellent from placed balls.
Dean Rock scoring record
Leinster semi-final v Meath: 0-10 (0-9f)
Leinster quarter-final v Laois: 1-10 (0-6f)
Division 1 league final v Kerry: 0-5 (0-3f, 0-1 pen)
Division 1 league semi-final v Donegal: 0-5 (0-3f, 0-1 '45)
Rock has long been accustomed to the role of taking frees yet it was a rugby marksman in Jonny Wilkinson that he most admired when he was growing up.
"When I was younger, he would have been one of my sporting idols.
"I would have played a lot of rugby growing up, would have been a goal-kicker as well, so I'd have based a lot of my training on him.
"Certainly, you have to be very obsessive about it because, at the end of the day, you have a huge responsibility to the team that if it's tight, you have to stick the ball over the bar.
"I'd never played rugby before school. I never used to use a tee for my frees in rugby, just stick it in the ground.
"That was a bit strange but no, I just loved to be the man as such to kick the frees, to have that responsibility.
"Every team that I played on when I was younger, I was the free-taker. So it came from there and then a lot of practice over the last few years."
Rock has his own routine that he adheres to before taking a kick.
"The main thing for me is to just get my heart rate down. It's just breathing and taking my time, and that's pretty much my only approach to it.
"I'm not running 100 miles an hour to the free, the free will be taken when I'm good and ready, I suppose."
Relentless practice means he doesn't let outside distract him either.
"I'm sure Barney (Rock) would be down to me the odd time to let out an 'oul roar when I'm kicking frees, little things like that happen or you're down the local club and you have kids around or stuff like that.
"It wouldn't really affect me when you're in the zone as such, there has been loads of examples where lads have shouted stuff at me but that's just the norm, I'm used to it.
"(I practice) before (training), after and then twice a week on my own, it adds up to a good couple of hours, but I enjoy it."
Nailing down a regular starting berth in the Dublin forward line adds to his sense of enjoyment.
"I pride myself on my free-taking, it's a huge responsibility but there are also other certain aspects that I add to the group.
"The last couple of years I've been injury free, which has been great for me to be able to train all the time and to play games.
"As I said I'm just really enjoying my football now, I'm 26 and having the time of my life playing with a great group who are best friends, a real driven group.
"So it's absolutely brilliant. I'm confident and feel like I playing well."
The42 is on Snapchat! Tap the button below on your phone to add!