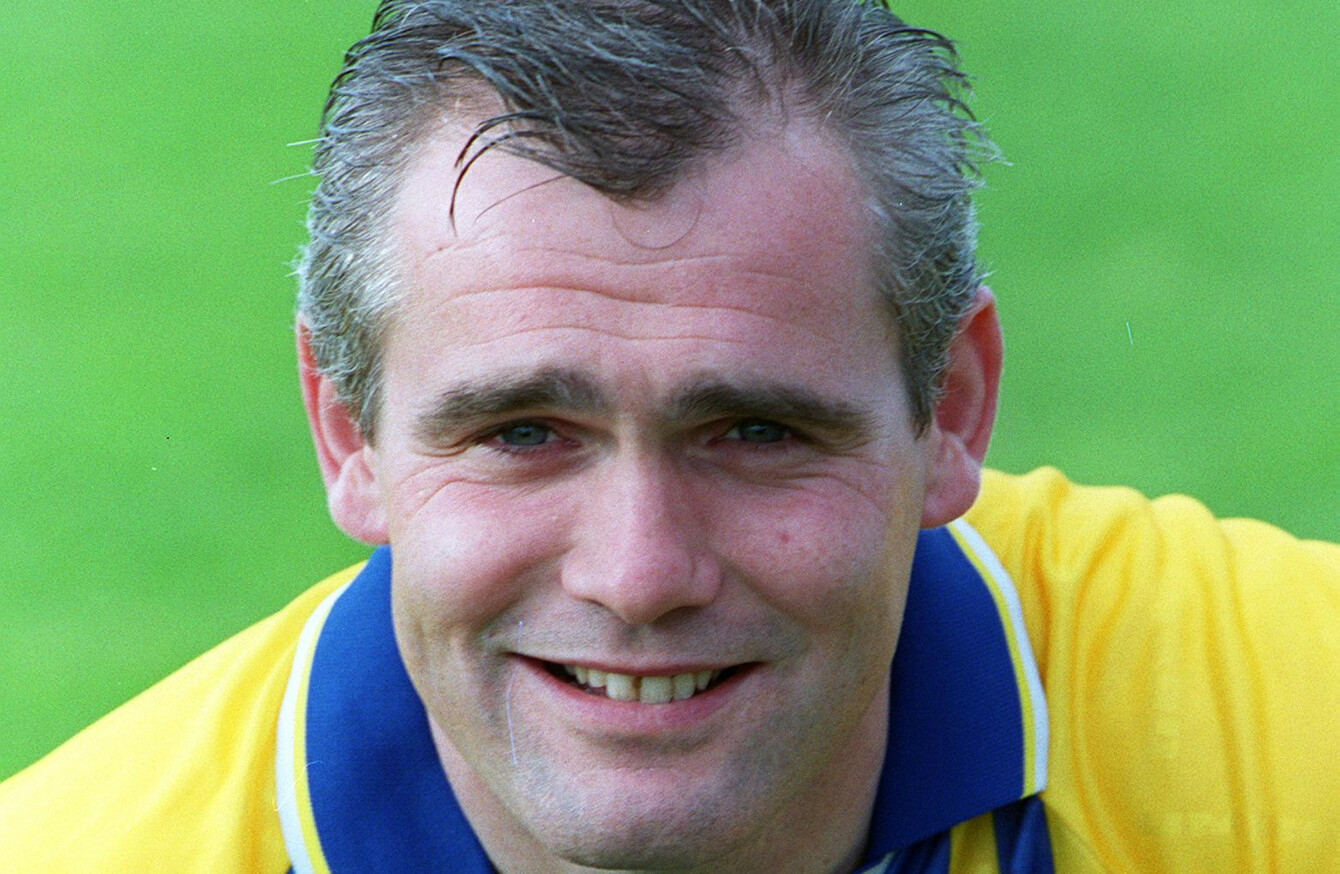 Derek Swan is one of the League of Ireland's all-time top scorers with 119 goals.
Image: Andrew Paton/INPHO
Derek Swan is one of the League of Ireland's all-time top scorers with 119 goals.
Image: Andrew Paton/INPHO
1. A family affair
DEREK SWAN COMES from a family steeped in football.
Like Derek, his father played for Bohemians, as well as Drogheda and Athlone, albeit as a goalkeeper rather than a prolific striker.
Derek's uncle, Maurice, was also a goalkeeper. Maurice was somewhat akin to his generation's equivalent of current Man City-bound Shamrock Rovers starlet Gavin Bazunu, making his League of Ireland debut for Drumcondra at 16 and saving a penalty in the process. By 1960, Maurice was representing Ireland at senior level, while making a move across the water, joining up with Cardiff before later switching to Hull for £3,000. He would eventually finish his career back in Ireland with Dundalk, Drogheda and Finn Harps in the late '60s and early '70s.
In addition, Derek's cousin, former defender Tony McDonnell, is a UCD legend, having made over 300 appearances in a 13-year career with the Students.
All three of Derek's sons are also talented athletes. Derek Jr was on the books at Shelbourne and Bohemians, while more recently playing junior football with Tolka Rovers. Anthony has played GAA with Ballymun Kickhams. And Ryan is currently at Bohs, though a cruciate injury put him out of action for an extended period last January.
Back in 2015, Ryan scored a memorable goal while playing for UCD against F91 Dudelange in the Europa League. His match-winning moment in the first leg of the tie meant himself and Derek were only the second Irish father-son pair to both score in Europe, with respective Cork and Waterford legends Pat and Jackie Morley also managing the feat.
Nowadays, Derek attends many of Ryan's matches, just as his father frequently used to watch him play regularly.
But Ryan has a long way to go yet to match his father. Derek Swan hit 119 goals in Irish football over the course of his career, leaving him 26th on the list of all-time top League of Ireland scorers. Yet despite this impressive achievement, Swan insists that, unlike certain strikers, he was an unselfish player who always did what was best for the team.
I was never really into records," he tells The42. "As much as I enjoyed scoring, I created as much. In an awful lot of the games I did play for Bohs over the years, serious matches, European games or big games, there were a lot of them I didn't start up front. I could have played on the right or left side of midfield. Later on, I would have played in centre midfield. 
"You did what the manager wanted you to do. We played Aberdeen [in the 1987-88 Uefa Cup]. At that particular time, there was a guy called David Robertson. He ended up being sold to Rangers. He was a very successful left full-back. My job, because I was fast as well, was to keep an eye on him.
"With the managers I played under, it was a great learning curve. Playing midfield, I enjoyed that as much as I enjoyed being the striker."
2. Starting out
Before scoring goals for fun at the highest tier of Irish football, Swan cut his teeth at underage level playing for renowned schoolboy clubs St Kevin's Boys, Home Farm and Belvedere.
GAA was another passion for the Finglas native, though he adds: "The dream of making it as a professional footballer outweighed any other option."
The late Noel O'Reilly, the man who was Brian Kerr's assistant for all those historic Ireland underage successes in the late '90s and early '00s, was an important mentor during Swan's teenage stint at Belvo, while Billy Young, the manager who took him to Bohemians, was a similarly important figure.
It could have been so different, however, but fate intervened.
I was supposed to go to West Brom and I snapped my achilles tendon, so I was out for about a year and then I went to Home Farm, but I wasn't really fit when I went there," he explains.
"It took about a year or so before I got back and I didn't play too many games for Home Farm [at senior level in the League of Ireland] — only a couple.
"I was playing out of position, I was playing at full-back. I was carrying an injury that took a bit of time [to heal]."
Though he never played for the senior team like his uncle, Swan represented Ireland at U21 and U23 level. In 1985, he was part of the Irish squad that travelled to the Fifa World Youth Championship in the Soviet Union. They had the misfortune to be drawn in a group with the eventual tournament winners and runners-up, Brazil and Spain, as well as Saudi Arabia. The Boys in Green lost all three of their group games, with Swan only playing the final match against the Spanish. Other notable names to feature for that Ireland team included Martin Russell, Brian Mooney, Eamonn Collins, as well as Pat and Eamonn Dolan.
"I don't think there were too many after that that went on to make great strides in the [English] First Division," Swan adds. "But most of them did well in League of Ireland football.
"It could be down to luck or it could be due to people's attitudes. It's hard to explain [why they didn't make it in England]. If we had that formula, we'd be geniuses."
3. The beginning of something special
Despite gaining recognition for his country, however, it was not until the following year, 1986, when Swan's League of Ireland career really took off. After a short and difficult spell at Home Farm, the start of a long footballing love affair began when he signed for Bohs.
"I had a great manager — Billy Young — in the first three and a half, four years. They sacked him, which was a big loss to me personally and to Bohs at the time.
"Then they gave the job to Padraig O'Connor, who was another great influence on me. He was a great man and a great coach — we were just very unlucky under his stewardship. It was a bit unfortunate, when he didn't get the job at Bohs for the next season, my contract was up and I had an option to join a couple of clubs.
"But maybe I might not have left if Padraig O'Connor continued in the job, because he was a great lad to play under."
The Dublin side were generally one of the top teams in the country around this period. Swan made just over 100 appearances in this first stint with the club, scoring 41 goals in total. Nevertheless, despite going close a couple of times, silverware remained elusive. In the 1986-87 season, Swan's first at the club, they finished third, 10 points behind champions Shamrock Rovers. The following year, they emulated that position, with St Patrick's Athletic pipping them to second on goal difference and winners Dundalk agonisingly finishing just a point ahead of them. The next two campaigns were less dramatic, with the club finishing fifth and sixth respectively.
In the middle of all this football, Swan also guested for Shamrock Roves in a June 1987 tournament in South Korea, while there was an offer on the table too to join the Hoops, who had just won a fourth league title in succession at the time.
My first year at Bohs when I had signed for them I was as an amateur," he explains. "Because I had been injured at Home Farm, I think they didn't want to be taking too much of a risk and I wanted to prove my worth.
"The first year I had a great season and everything went well. I hadn't got a contract, so I could have signed for a number of clubs. Playing for Billy and the loyalty he showed me, I showed the loyalty [back] and stayed with him."
He continues: "We played about six or seven games [in Korea]. It was just before the Seoul Olympics. They were getting ready, building all the stadiums. Everywhere we played, all the grounds were sold out. It was a brilliant experience. I was playing with all the top League of Ireland players. As much as it was a guest selection for Rovers, there were other lads — I think there were a couple of Dundalk players, a few Derry lads might have been on it as well.
"We were staying in an international hotel, so basically you had all the food you would get anywhere else. It was great, but it was hot. It was a little bit slower football, as you can expect in that climate."
As Bohs were seemingly on a downward slope, manager Billy Young's incredible 16-year spell in charge finally came to an end in 1989. With no real sign of improvement and the continuing turmoil during O'Connor's brief spell as manager, Swan opted to leave and join Port Vale in May 1990. 
Reflecting on his first Bohs spell, he says: "I ended up playing with Jackie Jameson up front for three or four seasons and we had a great understanding together. That was a good experience, playing with such a legend as himself.
"We done well, we were always just there or thereabouts. It's hard to put your finger on [why we didn't win the league]. I don't think they would have had the budgets of Rovers, Dundalk and Derry back then. They were the three big payers at the time and we were probably just short of one or two players."
Source: Paschal N/YouTube
4. An Irishman abroad
The stint in England with the Valiants, a side who were in the Second Division (now known as League One) at the time, ultimately didn't work out.
"It probably just wasn't the right time for me," he says. "I felt I didn't get a fair crack of the whip when I went there."
Three months after moving across the water, with first-team football hard to come by, Swan spent a month on loan at FC Wageningen, making five appearances for the Dutch team.
"When I came back [to Port Vale], I was flying and I was scoring regular goals in the reserves. The [first-team] manager didn't seem to be at the games and didn't seem to be making [the effort to get to] them, so I just decided to come home really."
It was then that Swan opted to make the somewhat controversial move to Bohs' rivals, Shamrock Rovers. However, by that stage, the Hoops were a shadow of the side that won the famous 'four-in-a-row' in the mid 1980s. Most of the club's best players had left, they were no longer playing in their beloved former home of Milltown and it was a transitional phase for the team.
"Things were up in the air for them," Swan explains. "[They were] trying to build a new squad after winning so much for so long."
In three years there, the striker registered a tally of 25 goals in 75 appearances. The team were generally mid table at best, though they did come close to securing a trophy, reaching the 1991 FAI Cup final, but losing out 1-0 against Galway United thanks to an 86th-minute Johnny Glynn goal.
"After being a Bohs player, to go to Rovers was a bit different," Swan adds. "The rivalry is intense between the two of them.
I enjoyed my time there, but they had a change of manager. The manager who brought me in was Noel King. [His successor Ray Treacy] came in, we didn't see eye to eye, so I moved on."
After leaving Rovers, Swan had a brief and forgettable spell playing football up north with Glentoran, while also spending time on loan at Dundalk around this period.
"It was a mistake that I went up there in the first place. When I was trying to leave to come back to Bohs, Dermot Keely was a [former] Glentoran player — he pulled the strings and got me [to Dundalk] on loan. I didn't particularly want to go, to be honest."
Be part
of the team
Access exclusive podcasts, interviews and analysis with a monthly or annual membership.
Become a Member
In December 1994, Swan finally got the move back to Bohs that he wanted. Before long, it felt as if he had never been away.
"Everything just clicked," he recalls. "I scored in my first game against Cobh away. We ended up qualifying for the Intertoto Cup that season, so we ignited a little bit. We put a run together to finish fourth."
5. The day Zidane came to Dalymount
An exciting European adventure took place the following season. Bohs had previously played Bordeaux in the Uefa Cup in 1993, losing the first leg 1-0 at home before a 5-0 thrashing in the away tie. They consequently renewed their acquaintances with the Ligue 1 outfit again on 8 July 1995 in Dalymount Park.
As had been the case two years previously, the French side contained a glittering array of talent. Future World Cup winners Zinedine Zidane, Christophe Dugarry and Bixente Lizarazu were all on show, as was talented Dutch international midfielder Richard Witschge, who had been lining out for Barcelona two years previously. And not to mention defender William Prunier, who would soon be on his way to Man United for a brief, disappointing loan spell.
A Dugarry header from a Zidane cross and a free kick from the future Ballon d'Or winner saw Bordeaux emerge 2-0 winners in Dublin. Swan, in typically understated fashion, describes them as "a decent enough" team.
As the hosts were clearly second best in terms of ability, it was largely a backs-to-the-wall performance, with their prolific striker turned into a makeshift midfielder. And by the 81st minute, the frustrating end to the occasion got to Swan.
I think I was only sent off once and that was against them," he remembers. "It was Lizarazu, a World Cup winner, [I was dismissed for] for kicking him." 
The Irish side played three other matches in that Intertoto Cup campaign. Swan was on target against Finnish outfit HJK Helsinki, but they still lost 3-2 away from home. There were similarly disappointing outcomes in the other games, as they were beaten 2-0 and 5-0 respectively by Odense of Denmark and Norrköping of Sweden.
It was far from the only season Swan played in Europe. In 1987, Bohs came up against Aberdeen just shortly after legendary former Man United boss Alex Ferguson's departure as manager there, only suffering a narrow 1-0 defeat on aggregate having drawn the first match 0-0 at home. 
"They had a great team — Alex McLeish, Willie Miller, all those type of players were playing," Swan recalls.
Swan also scored inside the first minute in the 1996-97 Uefa Cup game with Belarusian side Dinamo Minsk at Dalymount Park. It was another near miss though, as that game finished 1-1, with their opponents going through on away goals after a 0-0 second leg.
But for the most part, Bohs struggled in Europe during Swan's time there, and looking back, he feels there was a sense of inevitability about these failures.
"You were only back from pre-season training. They would have been full-time, whereas we would have been part-time. We were always playing a bit of catch-up. If it was in the middle of the season, you might have a better chance against some of these teams."
Domestically, during the mid-to-late '90s, Bohs — who were coached by legendary former striker Turlough O'Connor at this point — generally performed well in the league but were invariably just short of a title triumph. In Swan's first full season back at Dalymount, the 1995-96 campaign, the team finished second to a Brian Kerr-managed St Patrick's Athletic. The following season, O'Connor's side were runners-up again, finishing 10 points behind Derry City.
6. A chaotic campaign
The Gypsies suffered a decline in form thereafter, with the club finishing the 1997-98 campaign in fifth place and missing out on a coveted European spot in the process.
O'Connor stepped down as manager in the summer of 1998. Bohs were redeveloping Dalymount Park at the time, meaning money for the first team was scarce. In an interview with The42 last year, the club legend recalled: "Bohemians had no money, no nothing. What they did was put money back into the stadium. That's when they built the new stand. What they were doing at that particular time was keeping afloat.
"It was good to be able to help them out. What happened then is they had the big offer to buy Dalymount just after I left.
"The move over the couple of years, that's what had them in the troubles they had. It was just unfortunate."
But rather than breathe fresh life into the club, O'Connor's departure exacerbated the situation. Bohs endured a disastrous 1998-99 campaign, with relegation looking a distinct possibility for much of the season. In the end, the club finished 10th and needed to beat Cobh Ramblers, which they did 7-0 on aggregate, in a play-off to preserve their top-flight status.
A new manager, Joe McGrath, had been brought in at the beginning of that season, and in Swan's opinion, tried to change too much too soon. McGrath dropped Swan before being sacked during the season owing to the team's run of poor results. When Roddy Collins took over, Swan got his place back in the starting XI, and the side eventually secured their safety.
We brought a few players in from New Zealand and it was kind of right down through the spine of the team," Swan remembers. "It was a bit strange as well. It just didn't click with the rest of the team. It was nearly too late to save us, but we survived. It was a big thing personally — I would have hated to be with a Bohs side that was relegated, so that was an achievement in itself — staying up that season."
The following campaign saw an increasingly settled team looking much more like their familiar selves. Having dramatically underachieved the season before, they were back near the top end of the table over the course of the 1999-2000 campaign. They finished third, 12 points behind champions Shelbourne, while Dermot Keely's men also beat their bitter rivals 1-0 in the FAI Cup final in a Dalymount Park-hosted replay, after the original encounter at Tolka had finished scoreless.   
It was a disappointing end in what turned out to be Swan's final season with Bohs, after 10 years and two stints at the club.
"We were just there or thereabouts [nearly] all the time," he reflects. "Sometimes you can be lucky enough and you keep 11 players that are very fit, but I just think we picked up injuries in vital positions at vital times with a lot of the teams that I played in."
7. Mature student
Swan initially hung up his boots after leaving Dalymount, but the star was convinced shortly thereafter to come out of retirement by his cousin and then-UCD captain Tony McDonnell.
It proved a difficult season for the Martin Moran-managed side. Having finished fourth and qualified for the Intertoto Cup the previous year, in the 2000-01 campaign, they became embroiled in a relegation dogfight. 
Ultimately, UCD only survived by the skin of their teeth, despite having performed commendably in Europe (losing out to Bulgarian side Velbazhd Kyustendil on away goals) and making a first-ever League Cup final appearance (before being defeated 5-3 by St Pat's on aggregate).
A late surge saw the Students finish a point above Finn Harps to qualify for the promotion-relegation play-off. The situation appeared ominous after they lost the first leg 2-1 in Athlone, but after the reverse scoreline in Belfield, Swan and co prevailed amid a 4-2 victory on penalties, much to the delight and relief of the home crowd. It had been an eventful night for the striker in particular. His goal gave UCD the lead after just a minute, before he missed a penalty in extra time. Nonetheless, the veteran forward made amends later, as he showed admirable character to step forward again and score one of the four spot kicks in the shootout.
It was a great feeling for the club, UCD, that they ended up staying up," Swan recalls. "It was a big achievement for them — 90% of the players were college students, then you've a couple of older lads. They might have had one or two other experienced players, so it was a great thrill for them and it was different as well for me — playing at the top and then playing at the bottom for the whole of the season and every game meaning so much.
"It was a totally different aspect of football to what I was used to. Everything was a lot more life or death. When the ball came up to you, you really had to hold onto it as much as possible and work a lot harder."
Swan signed on for another year, but soon regretted doing so. Just three games into the 2001-02 season, after UCD were hammered 6-0 by Bohs, Moran stepped down, having been struggling to combine the job with his work as a solicitor. Paul Doolin, his assistant, subsequently took over as player-coach.
"The new manager came in," Swan recalls. "He wanted me training [regularly]. I couldn't give that commitment at the time, so then I packed it in completely and that was the end of it for me."
8. Life after playing
After his playing career concluded, Swan remained passionate about the game. Although never tempted to get involved in senior management, he coached his eldest son's team and helped develop a number of young players at Home Farm who have gone on to have decent careers in football. Eight individuals in total from the side Swan coached went away and spent time playing in England, including Chris McCann, Darren O'Dea, Shane Supple and Owen Garvan.
"We just had good players, that was the thing — it's getting good players into the team," he adds. "You just try to help them as best you can and set them on the right track."
To put his impressive achievements into further perspective, Swan combined his career as a footballer with his job as a plumber in addition to spending time working with his father in the cinema industry on occasion. Juggling all these responsibilities was intense at the best of times.
You were straight from work to training and from training straight home to bed. And then to work and then you were gone for the weekend, because most of the games were on a Sunday .
"It wasn't easy, because back then, we had no motorways. You had to go through nearly all the towns to places like Finn Harps.
"Cork wasn't too bad, because we went to Cork and trained — except for the nighttime games, they would be long trips.
"Sometimes, you were late back and straight into work the next morning. But it was a great career and great to do all those things. 17 years just passed very quick."
Despite his remarkable goal haul, Swan never won a major trophy, which he admits is regrettable. Then again, few people even get the experience of competing in a cup final or title race, so from that perspective, the Bohs legend feels luckier than most.
"At least I was challenging all the time, that's the way I looked at it," he says.
"Obviously it's disappointing being beaten in the cup finals. I was always of the opinion that we'd get there next year. It didn't happen, but I enjoyed it anyway."
The42 is on Instagram! Tap the button below on your phone to follow us!