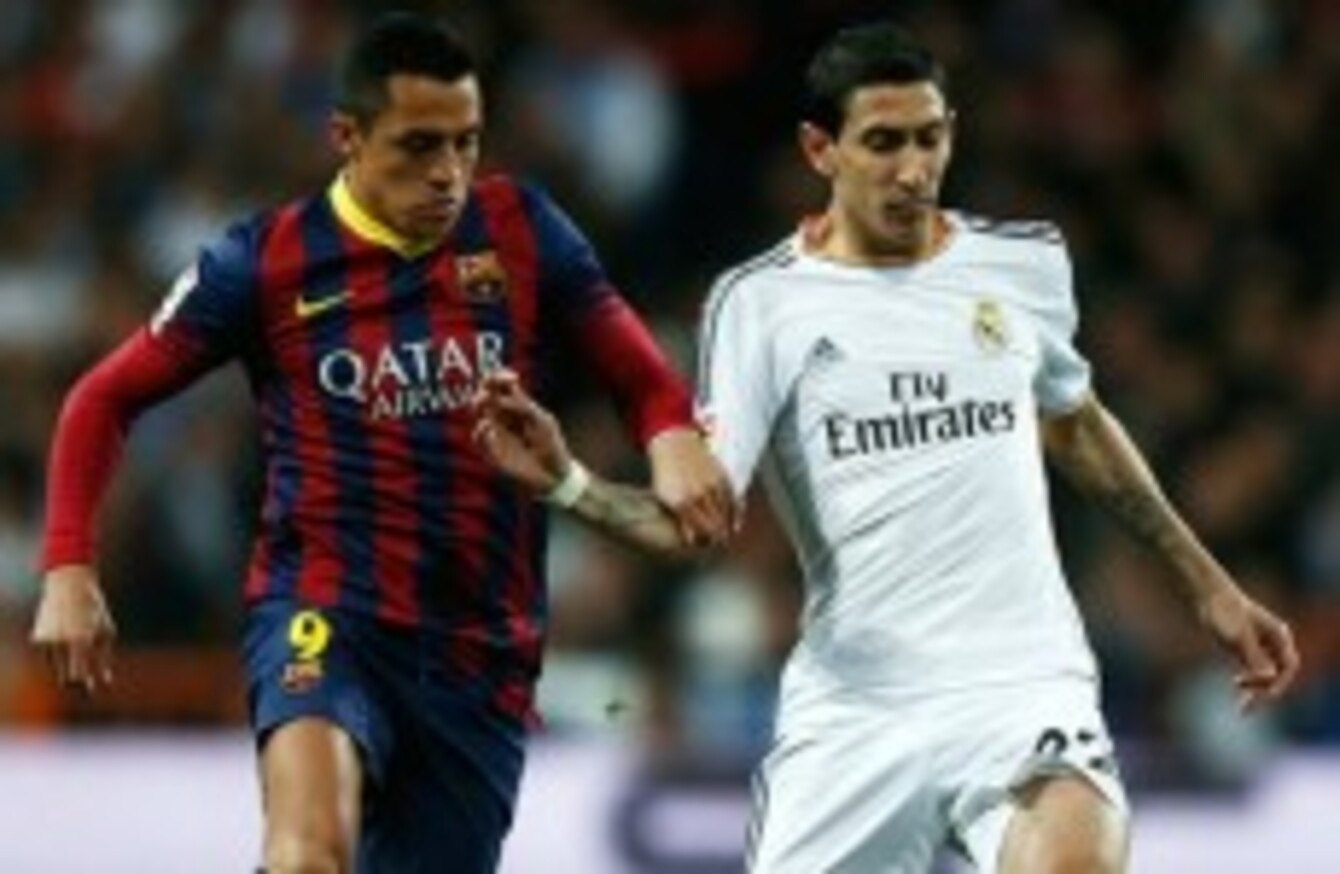 THEY ARE TWIN A-listers who forever seem as far apart as A and Z. Alexis Sanchez and Angel Di Maria are Arsenal and Manchester United, Barcelona and Real Madrid, Chile and Argentina. They are spectacular signings, symbols of a season, South Americans with marked similarities, but men who are always on opposite sides.
Come full-time on Saturday, only one can be happy. It seems always thus. They have shared experiences, these men who were exiled from the Santiago Bernabeu and Camp Nou because they weren't quite famous or glamorous enough for clubs who wanted to sign Luis Suarez and James Rodriguez. They are exceptions, players who were sold despite what they delivered on the pitch.
Yet their stars rarely seem to be in the ascendant at the same time. Go back to September and Sanchez was an unused substitute when Arsenal won at Aston Villa. He was on the bench again for the North London derby. He had endured an unhappy outing as a main striker at Everton, which lasted a mere 45 minutes. There were questions if, and how, he fitted into Arsene Wenger's strongest side.
Meanwhile, everything Di Maria touched turned to goals. After his underwhelming debut against Burnley, his next four United appearances produced three goals and three assists. Even his miscued shots became passes that allowed Juan Mata and Radamel Falcao to score. He delivered his goal-of-the-season contender with a delectable chip at Leicester.
Now, however, Louis van Gaal and Tata Martino have conceded he is below his best while Sanchez is the in-form man. He has struck six times in his last four games. He is emerging as one of the most ruthless finishers in the Premier League. The Chilean had the best shot conversion rate in La Liga last season. He could outshine the rest of the stars in England on tht front this year too. An impressive 27.5 percent of his shots are goals.
He is ridiculously clinical. It brings one contrast with Di Maria. He was branded wasteful by the Madrid boss who sold him. "Di Maria could break games with his energy, but also sometimes he lost control," said Carlo Ancelotti last week. "He lost the ball in important moments." The Argentine is willing to concede possession in his non-stop attempts to make something happen. He is the anti-Tom Cleverley, the footballer who never takes the safety-first option.
It is an equation of risk and reward. He gave the ball away 54 times in the World Cup game against Switzerland, but a series of misplaced shots, crosses and passes and misguided dribbles were overlooked because of his winning goal.
However, it showed his ubiquity. He has a competitive instinct he shares with Sanchez. Referencing the one he tried to sign in 2013, Wenger suggested it is a South American trait. "When Suarez gives the ball to an opponent, he wins it back straight away," the Arsenal manager said. "Sanchez is the same, there is no time between the offence and defence. The transition is very quick. And they are very quick as well." He could have been talking about Di Maria too.
He is another who does everything at 100 mph, another small, slight figure whose physical frame belies his big heart and athletic capabilities. Sanchez leapt like a target man, not a 5ft 6in flair player, to head in against Burnley. Di Maria has a cross-country runner's aptitude for covering ground.
They have the speed, skill and work ethic to equip them to play in various positions. The irony is that they are wingers who are not really wingers. Di Maria's best United performances so far have come on the left of a lopsided midfield diamond. Sanchez has been shifted to play behind a striker, Danny Welbeck, to get him off the flanks and into goalscoring positions more often.
Both bring urgency to sides that lacked it. Arsenal have too many one-paced passers. Sir Alex Ferguson criticised David Moyes for slowing United down, for playing without the required tempo, although the process began in the elder Scot's autumn years as his players aged and too many arrivals were not quick enough.
And so both clubs resorted to retail therapy to provide an injection of the qualities they lacked. United broke the bank to sign the €75 million Di Maria. Arsenal broke Liverpool's hearts to take Sanchez to London.
A couple of months ago, the Argentine looked the better signing. Now the most expensive player in Premier League history has struggled to live up to his billing in marquee matches against Chelsea and Manchester City while Sanchez has scored more goals than Wayne Rooney, Robin van Persie and Radamel Falcao have managed between them. At little more than half the price Di Maria commanded, the Arsenal man is looking the finer use of the big bucks.
- Richard Jolly, Goal.com