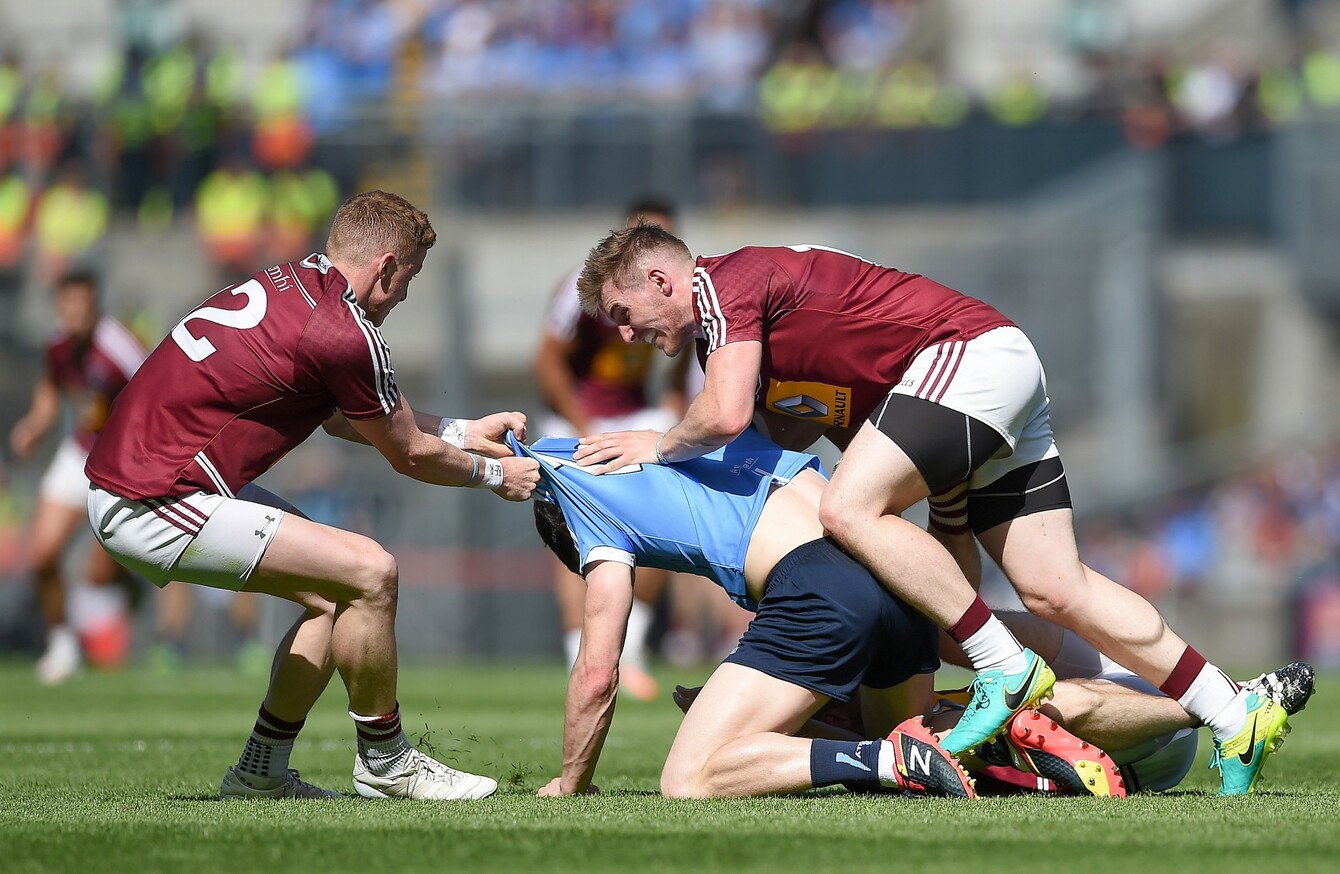 Westmeath players Ray Connellan and Kieran Martin targeting Dublin's Diarmuid Connolly.
Image: Tommy Grealy/INPHO
Westmeath players Ray Connellan and Kieran Martin targeting Dublin's Diarmuid Connolly.
Image: Tommy Grealy/INPHO
MAYO MANAGER STEPHEN Rochford said he does not expect any of his players to be targeted for provocation when they take on Westmeath in the All-Ireland qualifiers.
The admission by Westmeath manager Tom Cribbin that they tried to wind up Diarmuid Connolly during the Leinster final, is not something which is bothering Rochford ahead of their clash the weekend after next.
"I think my lads are well able to mind themselves, as is Diarmuid or whatever. My reading of it was more a sort of recognition to Diarmuid.
"Every team will target Diarmuid Connolly from the point of view that he is their best player and targeting can be, you can go on the extreme, be it sledging or it can be putting a man-marker on him.
"But I would see that in a positive and very much a recognition of the quality of footballer that he is.
"I certainly wouldn't be condoning the aspect of targeting someone from a physical point of view.
"It's not a concern, I don't think so. We have a couple of high profile players, quality players, be it Westmeath or any other team, they have got attention down through the years and I'm sure they are going to get attention again in the future.
"You expect the referees to be on the spot and to be able to rule it as they see fit," said Rochford.
The Mayo manager said that he is hopeful of selecting from a full squad for the Westmeath game with Tom Parsons, Conor Loftus and Chris Barrett all available, although full-back Kevin Keane still has a bit to go.
The Westport clubman had to go off with a shoulder injury in the qualifier win over Kildare at the weekend but is expected to make a full recovery.
"He didn't do any contact last night but he did all the physical aspects and skills work," said Rochford in Castlebar last (WED) night.
"We just need to monitor how he progresses over the next four or five days and we should have a better indication by next weekend.
"It would be the first time since I got the job that I would have everyone available, between injuries and U-21 commitments, so if it does play out in the manner in which we hope then it will be positive news for us," added Rochford.
The42 is on Snapchat! Tap the button below on your phone to add!