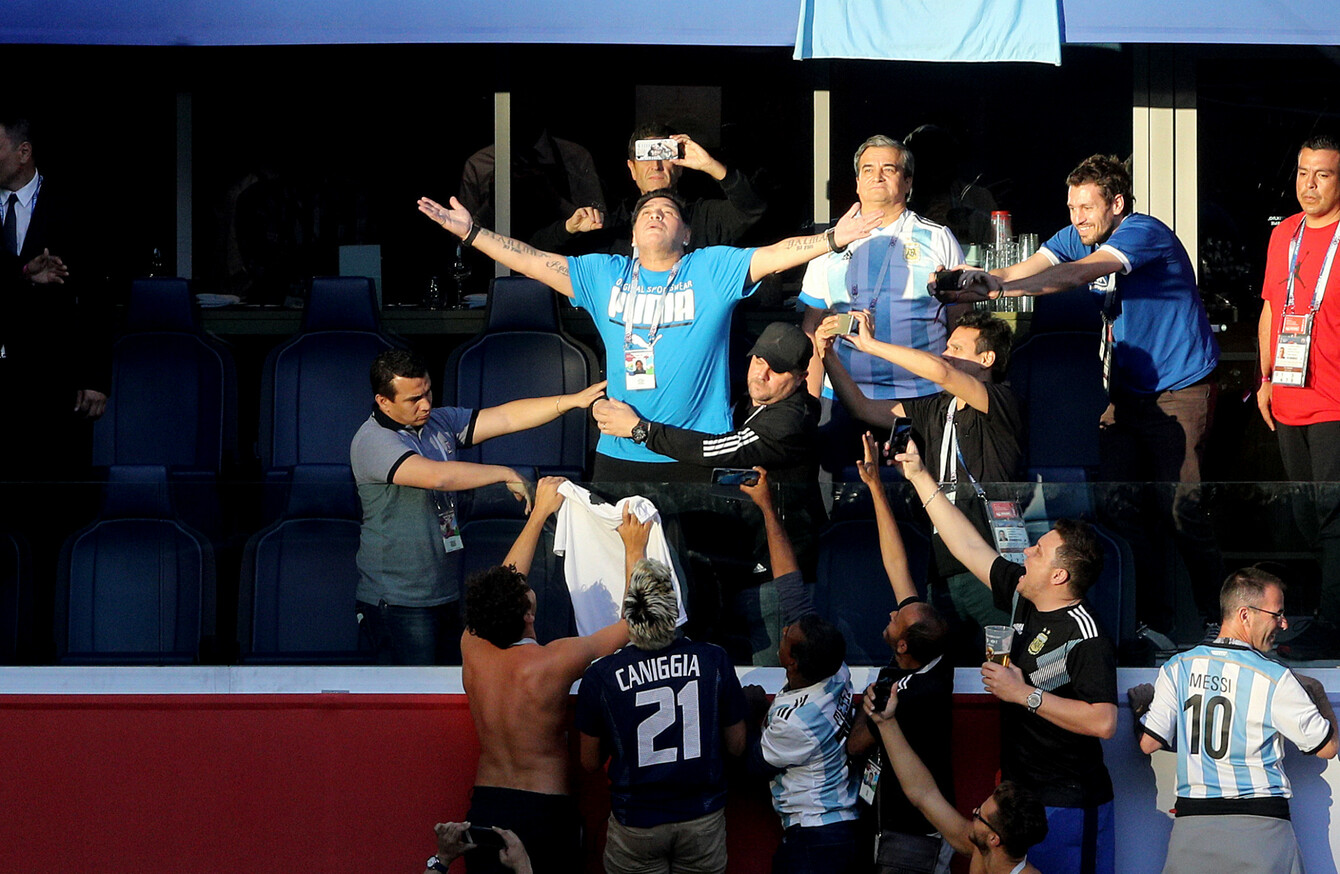 Diego Maradona pictured with fans at the Argentina-Nigeria game.
Image: Owen Humphreys
Diego Maradona pictured with fans at the Argentina-Nigeria game.
Image: Owen Humphreys
1. Halfway through the match between Argentina and Nigeria it looked as if something had begun to take hold as the image of Diego Maradona seemingly asleep in his VIP box appeared on TV screens all over the world. In reality his appearance had raised questions from the moment he entered the stadium. Memes of his demoniac look, arms crossed across his chest, had gone viral, as did the gif of him dancing with a woman in the crowd.
It looked like a man under the influence. Maradona's well-documented history of substance abuse, both legal and illegal – an issue he has been openly discussing for decades – gave us a clue as to what was going on but he says he has been clean for years and told reporters afterwards he had "only" been drinking white wine.
Writing for The Guardian, Marcela Mora y Araujo describes Diego Maradona's blatant disregard for the rules and norms.
2. There's a specific noise … I can still hear it today if I close my eyes. It wasn't the air sirens we were used to hearing. It was different — a whine. More like something from a movie. Somehow, it sounded terrifying. My friends and I turned our bikes around and started riding back home really fast.
We were just a few blocks from our street when we heard a new noise, a big explosion, and we looked up into the sky … and saw the plane falling to the earth.
There was fire coming out of it. And black smoke. It passed through the clouds, then behind the trees, and then it was gone.
Aleksandar Kolarov's Players' Tribune article is a must-read.
3. "In May, Deborah Epstein, director of the Georgetown University Law Center's Domestic Violence Clinic, resigned from the NFL Players Association Commission on Violence Prevention — the organization she joined, to much fanfare, in 2014 in the wake of the NFL's highly publicized bungling of the Ray Rice case that fall. Epstein, a woman who has dedicated her entire professional life fighting for victims of domestic violence, wrote in the Washington Post that she left because she could not "continue to be part of a body that exists in name only," and that the "NFL Players Association is no longer interested in even making a public show of concern about violence against women — a point driven home more forcefully during each new NFL draft season." Her piece was a moving, sad, and impassioned plea, imploring NFL fans to remember why they were once so angry that such a commission needed to be formed in the first place. You almost certainly did not hear about it."
The Sports World Needs Its #MeToo Moment, writes Will Leitch of New York Magazine.
4. So many things are wrong with Argentina we do not know what is wrong; so much is happening no one knows what is happening. You could start an article on the news pages with that same line but they fit on the sports pages too because these are turbulent times for our football. It was not always like this. For many years, football made up for our long political, social and economic decline.
There is no identifiable moment when it all started, nor one place where it began, and there is no dominant theory. What is true is that bit by bit we got further away from the ball, the one thing we loved more than the game itself. We got further from a style that used to draw us to the stadium, where we longed to shout "olé!" every time we saw someone dribble, trick an opponent, tease them; every time we saw a lightning one-two or some expression of cunning, that astuteness – that was our life. There was talent of the highest quality and in the greatest quantity and we allowed ourselves an act of genius once in a while.
Jorge Valdano gives an interesting insight into Argentine soccer in The Guardian.
5. Fans of dumb media angst always look forward to the NBA draft. During his Yahoo! pirate phase, Adrian Wojnarowski revealed ("tipped") the picks in advance. This year, ESPN—the network that televised the draft—commanded its TV reporters to stay silent and let the spectacle unfold. Now with Woj in the ESPN tent, Awful Announcing's Alex Putterman reported, the idea was that Woj would join the network's omerta. He didn't. Tonight, the tipped picks are coming from inside the house.
Woj Was the Real Star of the 2018 NBA Draft, writes The Ringer's Bryan Curtis.
6. The second half of Iran and Morocco's tightly contested group match contained nothing too out of the ordinary by World Cup standards. Each side used all three substitutes; there was only one booking; no goals were scored. In a group with Spain and Portugal, both teams presumably were eager to steal a crucial three points and break the 0-0 tie. When the game reached the 90-minute mark, the fourth official raised the electronic board to indicate six minutes of added time.
It should have read 14 minutes.
'We Timed Every Game. World Cup Stoppage Time Is Wildly Inaccurate,' says David Bunnell of fivethirtyeight.com.
7. '"He had a tic of speaking about himself in the third person. Even when I'd be playing squash, he'd say, 'Ah, you wouldn't be as good as Ring now!' Now anyone else you'd say, 'You're some langer!' but with Ring it was perfectly normal. And he gave me the holy water, put his hand on my head and said, 'Ring will pray for you tonight.'"
At that Ring made his exit while Coughlan and Dr Con burst out crying. They didn't know Coughlan's condition and were fearing the worst.'
Kieran Shannon in the Irish Examiner sits down with one of the best to swing a hurley, Denis Coughlan, before today's Munster final in Thurles.
8. Consider her grip. It is the most unseen element of her skill set, yet the essence of her game flows from its control and precision. The shifting configuration of her palm and fingers on the rounded octagonal handle determines the angle of the racket face, which in turn dictates the pace, spin and trajectory of a shot. The fan's eye naturally tracks elsewhere: the ball, her feet, her outstretched arm, her expression. But Petra Kvitova's dominant hand, armored with calluses and trained like a trellised vine around the same shape since childhood, is at the root of her strength.
Bonnie D Ford's ESPN profile of Czech tennis star Petra Kvitova makes for compelling reading.
The42 is on Instagram! Tap the button below on your phone to follow us!