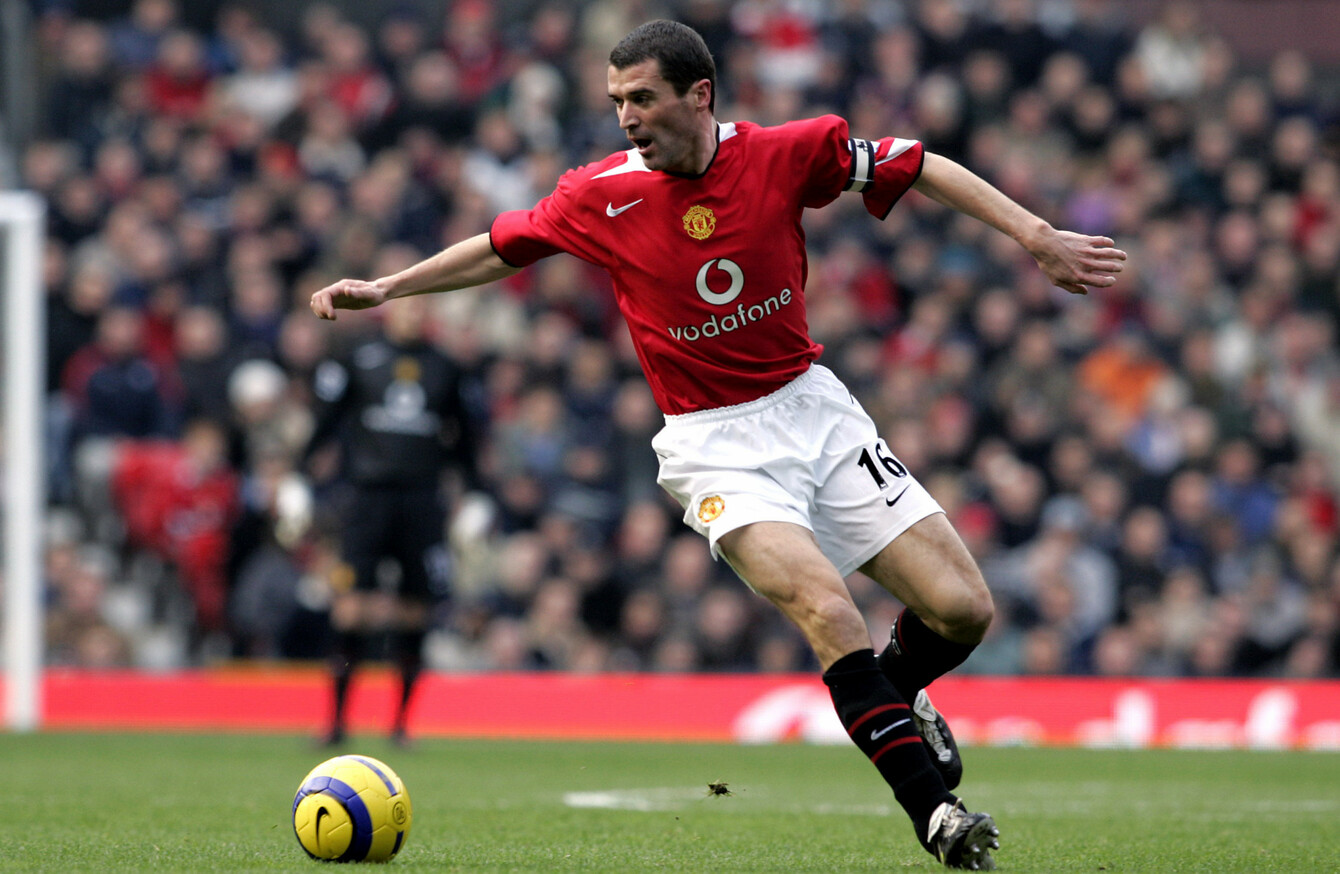 Roy Keane features in our all-time Premier League XI.
Image: PA Wire/PA Images
Roy Keane features in our all-time Premier League XI.
Image: PA Wire/PA Images
Petr Cech (Chelsea/Arsenal): A tough call — legitimate cases could be made for David Seaman, Peter Schmeichel and more recently, David de Gea, but Cech marginally wins out in the end. Four league title winners' medals is hard to argue with, as is over 400 appearances in England's top flight. Moreover, at 35, he has shown few signs of decline, and remains a vital player for Arsenal, having previously enjoyed 11 highly impressive seasons with Chelsea.
Denis Irwin (Man United): One of the most reliable and consistent full-backs the game has ever seen, Irwin was an often underrated but nonetheless important member of the Man United side that grew increasingly dominant during the 1990s. He ultimately won seven league titles, three FA Cups and was part of 1999 Champions League-winning team. He is also one of the most talented footballers Ireland has ever produced, with the Corkonian featuring in the 1994 World Cup and appearing 56 times in total at international level.
John Terry (Chelsea): There have been many fine central defenders in the Premier League over the years, but only two can make this team. Rio Ferdinand, Sol Campbell, Nemanja Vidic, Jamie Carragher and Ricardo Carvalho are among those unlucky to miss out, but John Terry, for all he achieved with Chelsea, pips the rest to a spot at centre-back. In total, Terry won five league titles and was part of the squad that triumphed in the 2012 Champions League (though he notably missed the final through suspension), while making 492 top-flight appearances for the Londoners in total.
Vincent Kompany (Man City): An admittedly controversial choice, there have been defenders that won more and played more than Kompany. But think of it this way: would Man City have two Premier League titles without the Belgian international at the heart of their defence? With the possible exception of Yaya Toure and Sergio Aguero, no individual player has been more responsible for City's success in recent years than Kompany.
Ashley Cole (Arsenal/Chelsea): Careers don't get much more impressive than Ashley Cole's — 107 England caps, three Premier League titles, seven FA Cups, one Europa League, one Champions League and four appearances in the PFA Team of the Year. He was part of the Arsenal side that went a whole season unbeaten and will rightly be remembered as a Chelsea legend. At 36, he is still playing now with LA Galaxy.
Roy Keane (Man United): The Premier League has had its fair share of formidable midfielders, but few could tackle as hard or pass the ball with such unrelenting accuracy as Keane. Often talked of as the onfield personification of legendary manager Alex Ferguson, the Corkonian's drive and perfectionism were fundamental to the numerous trophies he won with the Red Devils, including seven Premier League titles and of course, the Champions League in 1999.
Paul Scholes (Man United): Over the years, Scholes has been continually compared to Frank Lampard and Steven Gerrard, and while the latter two possessed more obvious star qualities and scored more goals, neither could control matches as convincingly as the Salford native so often did. While Gerrard never won the Premier League and Lampard managed to do so three times, Scholes retired with an incredible 11 titles and two Champions League trophies to his name.
Cristiano Ronaldo (Man United): In comparison to most players on this list, Ronaldo's time spent in England was relatively brief. Yet such was his impact in six seasons at Old Trafford that he earns a place in this team regardless. After starting out as a remarkably gifted yet consistently frustrating player whose end product left much to be desired, the Portuguese star gradually developed into the best player in the league. He was United's most important player as they secured three league titles as well as the Champions League in 2009. It's also hard to think of anyone enjoying a better individual season in the Premier League's history than he managed in 2007-08, when he scored an incredible 31 goals in 34 games.
Ryan Giggs (Man United): More so than any other type of footballer, wingers' abilities tend to decline more rapidly than others. Pace is a key part of their game, which is one major reason why they often fade away more swiftly than others — think of Shaun Wright Phillips, Joe Cole, Andrei Kanchelskis and even Damien Duff to a degree, none of them were the same player by the time they hit 30. Yet Giggs is the exception that proves the rule. A combination of good fortune and incredible professionalism mixed with unrelenting commitment meant he retired at the age of 40, after becoming most decorated player in the history of English football. He never had as stunning a standout individual season as Cristiano Ronaldo or even fellow Welsh player Gareth Bale, but the consistent excellence he displayed in a stint spanning three decades with United is breathtaking in its own way.
Thierry Henry (Arsenal): The Premier League has seen its fair share of prolific goalscorers in recent times, but few can compare to Henry. What made the Gunners legend special was not just his goals, but his overall contribution to games. He was not a pure goalscorer in the manner of an Ian Rush or a Gary Lineker, but his pace and dribbling ability made the Frenchman equally effective. With 175 goals, only four players have managed more, which is particularly impressive given that Henry spent a substantial portion of his career outside of England. His best years, however, were surely at Arsenal, and he will forever be remembered as a key figure in that remarkable 'Invincibles' 2003-04 team. While a total of two Premier League titles is a little disappointing for a player of his stature, six appearances in the PFA Team of the Year indicates how he remained as influential as ever, even when those around him struggled to emulate their star player's brilliance.
Alan Shearer (Blackburn/Newcastle): Another striker who underachieved in terms of trophies, Shearer won just the one Premier League title, albeit for a Blackburn side that punched significantly above their collective weight to stumble over the line in the 1994-95 campaign. Yet Shearer's goals tally suggests it was the bad fortune of playing with inferior team-mates rather than any personal failing that prevented him from securing a greater trophy haul. With 260 goals, no one has managed more in Premier League history than Shearer. Wayne Rooney, the player currently second on the list on 198, seems unlikely to ever pass him out.
Subs: Peter Schmeichel, Gary Neville, Nemanja Vidic, Patrick Vieira, Frank Lampard, Steven Gerrard, Sergio Aguero.
Formation (4-4-2)
Cech
Irwin Kompany Terry Cole
Ronaldo Keane Scholes Giggs
Shearer Henry
The42 is on Instagram! Tap the button below on your phone to follow us!