'THE END'.
Those two little words really pack a punch, don't they.
Tonight, America will feel the full extent of their weight when the final bongos are played on Breaking Bad (relax, there are no spoilers on this part of the internet). So, in the spirit of finality –  and before you all head to Netflix tomorrow for the big showstopper – here are some of the most dramatic, painful, euphoric endings in sport history.
Manchester United 0, Bayern Munich 1…
No Roy Keane, no Paul Scholes and no goals after 90 minutes of the 1999 Champions League final. It looked as though Manchester United's 31-year wait for a European crown would go on.
In stoppage time however, a scuffed Ryan Giggs shot was turned into the bottom corner by Teddy Sheringham. Less than two minutes later, the English striker made contact again, this time heading onto an out-stretched boot of Ole Gunnar Solskjaer.
Matthew Ashton/EMPICS Sport
Pacers 99, Knicks 105…
Fans of 30 for 30 will know this moment well, 18 seconds from the end of game one of the conference finals and Madison Square Garden was ready to greet a convincing victory.
Reggie Miller was not. He leveled the scores with two clutch three-pointers and turned the tide.
YouTube credit: NG Smoove
Offaly Limerick 1994 All Ireland hurling final. Limerick lead by 5 points with 5 minutes left, then Offaly scored 2-5 without reply.
Offaly 1-10, Limerick 2-12…
With five minutes remaining in the 1994 All-Ireland hurling final Limerick held a commanding five-point lead, but after 8.45 of this clip, Offaly Suddenly clicked.
YouTube credit:  Bryansford Gael
Giants 10, Patriots 14…
As endings go, this has more in common with the Mighty Ducks than Breaking Bad.
Against a record-setting New England defence, it looked like all of New York's efforts were for nothing when Tom Brady led his side into a 10-14 lead with just over two minutes remaining of the 2007 SuperBowl.
With the Giants up to their own 40-yard line on what would have been their last possession of the game, Eli Manning wriggled out of a sack and managed to connect with a 35-yard pass to David Tyree. A sack, a missed pass, a drop all would have handed victory to the Patriots.
YouTube credit: Simen S. Mork
Somehow, the receiver managed to pin the ball to his helmet (after 1.45 above) while being tackled in mid-air and come down with the reception.
After that, the game-winning play to find Plaxico Burress seemed easy.
Dennis Taylor 59 (17), Steve Davis 62 (17)…
The 1985 World Championship final remains one of the most recognisable on the BBC's highlight reel.
PA Archive/Press Association Images
Steve Davis and Dennis Taylor were locked at 17 frames apiece going into the decider. And when Davis' lost his positional sence with only colours remaining, it all came down to one ball.
Liverpool 2, Olympiakos 1…
Were it not for this moment, Europe would have never gotten the chance to witness the stunning comeback in Istanbul six months later.
Liverpool needed to win by two goals to avoid the Europa League and advance to the knock-out stage of the Champions League. That looked like a very unlikely prospect after Rivaldo gave the Greek side a half-time lead at Anfield.
Florent Sinama Pongolle was sprung from the bench to achieve cult status on Merseyside, and he duly delivered, but there is only one man who could have brought home the sweet, sweet Champions League bacon in front of the Kop.
YouTube credit: James Sussex
Ireland 14, Wales 15…
61 years is an awful long time to wait for a Grand Slam win, but even after Ronan O'Gara delivered "an aul' manky" drop-goal to put Ireland back in pole position, there was still time for an ending just as excruciating as anything Vince Gilligan could deliver to our screens.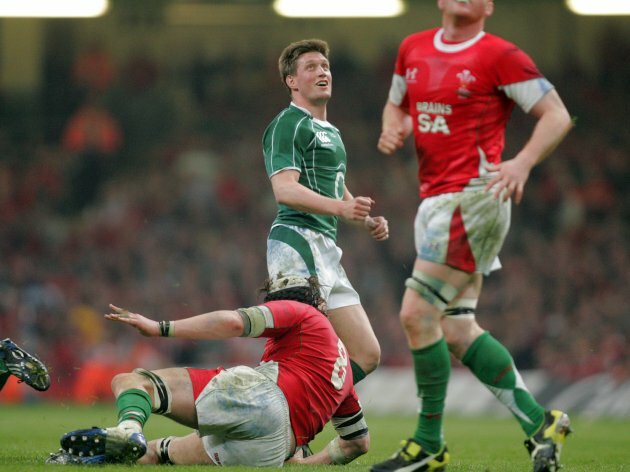 ©INPHO/Andrew Fosker
Stephen Jones' 49-metre penalty stayed in the air for an awful long time, but the nation gradually rose out of a slump in unison as it became clear that it was dropping short, beneath the bar and into the assured clasp of Geordan Murphy.
Ireland 0, Germany 1…
Germany came into this 2002 World Cup group game on the back of an eight nil win over Saudi Arabia. Mick McCarthy's Ireland endured 90 frustrating minutes shaped by a 20th minute Miroslav Klose goal.
Finally, in the 92nd minute, relief arrived thanks to a Niall Quinn knock-down and a Robbie Keane shot off the inside of the post.
©INPHO/Andrew Paton
Barcelona 2, Valencia 2…
We had a whiff of Rivaldo already, but here he is in all his glory.
In 2001, Valencia needed just a point from their trip to the Nou Camp to qualify for the next season's Champions League.
YouTube credit: Sergio Rosa
They might have gotten away with it, were it not for a pesky 89th minute Rivaldo bicycle kick – it also rounded off his hat-trick, no biggie – just after the 6.30 mark above.
Wasps 20, Toulouse 20…
Toulouse may have four Heineken Cups to their name, but only Clément Poitrenaud knows exactly why they don't have a fifth. With the scores level with  just over two minutes left of the 2004 European final, scrum-half Rob Howley returned a 22-metre drop-out into the corner.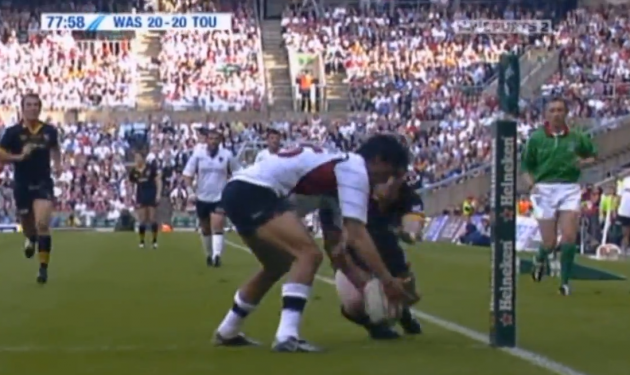 Poitrenaud hesitated, dillied and dallied all at once, but Howley lunged for the match-winning score.
Clare 0-24, Cork 3-16…
Holy Moses. Who predicted the goal-shy corner back would deliver the most important point of the hurling year?
Take a bow, Domhnail O'Donovan.
YouTube credit: theclareherald
Bulgaria 1, France 1…
Spare a thought for poor old France. It must be awful to be so close to World Cup qualification in Paris only for it to be whipped away from you.
This 1993 play-off is the game that cost Eric Cantona, David Ginola and Jean-Pierre Papin their international futures as Gerard Houllier raged at the future Newcastle winger's refusal to wast time. A decision which led directly to a stunning Emil Kostadinov strike at the other end.
YouTube credit: pacetoo
Europe 6, USA 10…
On home soil at the 2012 Ryder Cup, the USA had all the momentum and needed just 4 and a half points (out of 12)  to win.
Instead, Ian Poulter was a man possessed and helped rally the visitors to a stunning comeback.
Chris Carlson/AP/Press Association Images
A draw would have been enough to retain the trophy, and that was secured with Martin Kaymer's defeat of Steve Stricker. There was more drama to come however, when Tiger Woods elected to concede the final hole rather than force Francesco Molinari into a pressure putt.
Canada 1, USA 1…
From a man nobody expected to come up with the goods, to Sidney Crosby with the weight of the world's second largest country on his shoulders… at a home Olympics.
Sid 'The Kid' Crosby went into the 2010 Vancouver Winter Olympics still recovering from a long spell out injured. He was far from his best and struggled to make an impact for the host nation.
In the gold medal game however, with the USA pushing Canada into over time,  he delivered the killer golden goal and one of the most iconic moments in Winter Olympics history.
YouTube credit: pdrocks13
Ireland 4, Romania 4…
A nation held its breath. © INPHO / Billy Stickland
What have we missed? What was your favourite finale to a sporting event?