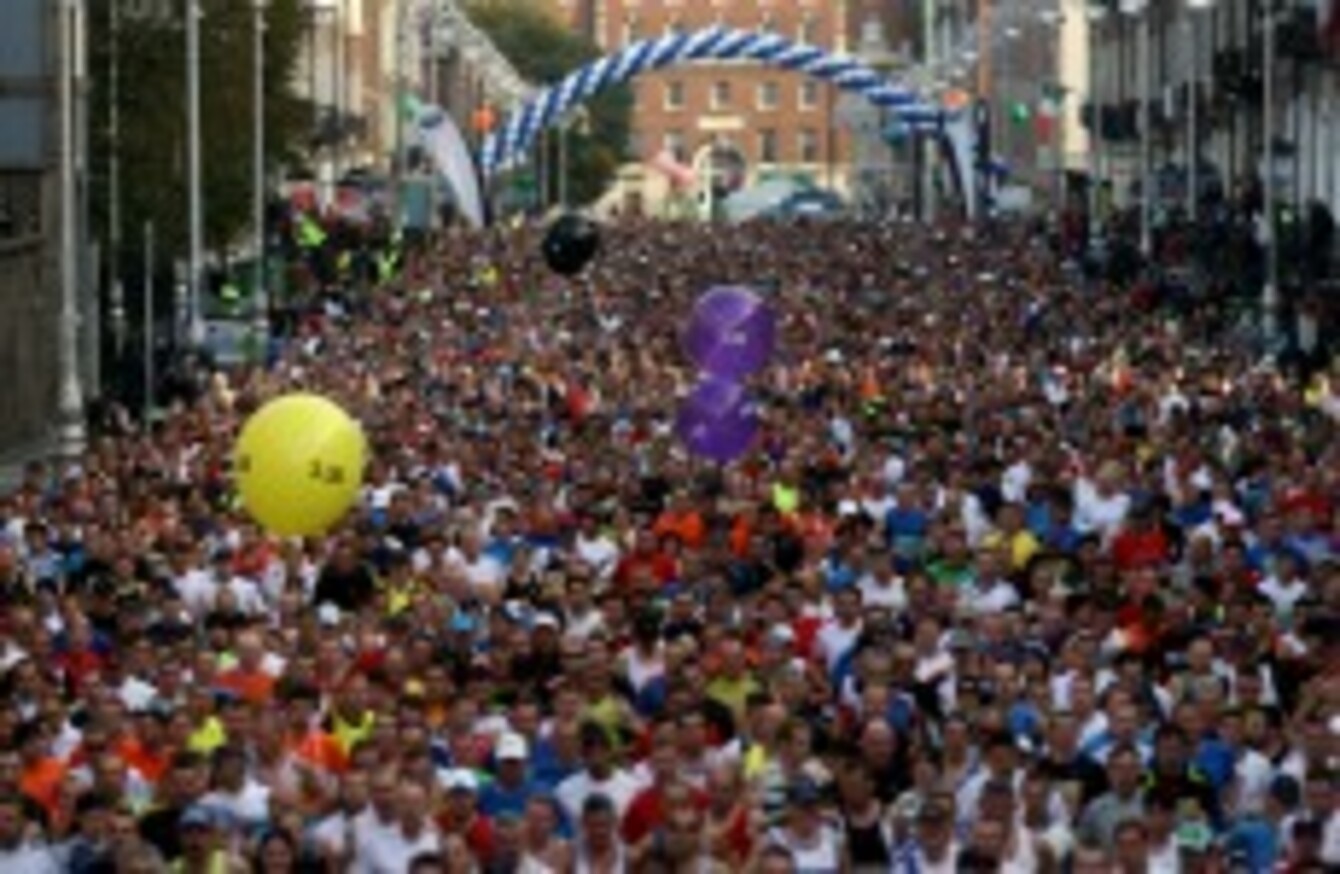 The start line of the Dublin City Marathon is not too far away.
Image: PA Archive/Press Association Images
The start line of the Dublin City Marathon is not too far away.
Image: PA Archive/Press Association Images
IF NEXT MONDAY'S Dublin City Marathon is your first, then you're in uncharted waters this week. Those of us who are old hands (and old feet) at marathons know how we'll prepare over the next few days – while still feeling excited and slightly apprehensive, of course.
Here's what I'm doing this week.
Sleep is my priority, so that at the start line I'll be as fresh as spring-meadow-flavoured washing powder. I'll be buzzing with adrenaline the night before, so I plan to get plenty of sleep this week, including some naps during Saturday and Sunday. Any sleep I get on Sunday night will then be a bonus – and even without much sleep that night, adrenaline at the start line will see me through.
Watering myself is something else to attend to all week, not just on race day. Regular sips during the day are more effective at hydration than glugging back a bottle in one go.
Because the marathon is a psychological challenge with some running attached, I think and talk positively about it in the build-up. Negative language, even as a joke or modesty, has a way of seeping into your subconsciousness and conditioning you to expect and fulfill a negative outcome.
If you tell others – and yourself – things like "I'm dreading the marathon, it'll be awful, I'm out of my depth and I'll never finish", you're increasing the likelihood of this actually happening. Talk about the marathon in positive and realistic terms: "I'm a bit nervous, it'll be tough, but I've trained as well as I could and I'll do my best. And I'll finish!"
My running this week will be a couple of short, light runs just to keep ticking over. My midweek run will include a mile at my target marathon pace, just to practise how it feels. I use these runs to mull over my race-day strategy: splits, target time and visualizing the finish. Then on Sunday morning, the day before the race, I do one easy mile to stretch the legs.
You've probably heard of carb-loading: eating loads of carbohydrates in the days before a marathon. This doesn't mean huge plates of pasta for every meal. Instead, from Friday I'll add a little more carb to my usual meals, while between meals I'll have small snacks like fig rolls.
I make sure to include fruit and vegetables, so that my system stays regular and I don't feel constipated. And on the morning of the marathon I'll have the same breakfast as before my long runs.
As if it were a mother-to-be's hospital bag, and to avoid the nasty surprise of finding it still in the laundry basket the night before the race, I've already got my gear ready. I have essentials like Vaseline (for pre-race anti-chafing), Sudocreme (for post-race treatment of chafing), plasters and soft, loose post-race clothes – so no jeans.
Also, bin liners – cut a hole in the bottom to make a disposable rain-proof poncho for keeping warm while waiting at the start. Tip: use a new bin liner rather than an old one.
Finally, on the big day I'll be at the start area an hour before the race begins. There's no such thing as arriving too early – I can relax, use the toilets, do my usual warm-up, enjoy the buzz and focus on the race. Meanwhile, last-minuters dash, panic and expend valuable energy.
Good luck with your final preparations and make sure you enjoy the marathon!