Liveblog
Result: Dublin 2-3 Galway 0-4
Afternoon all and welcome along to our coverage of the 2019 All-Ireland ladies senior football final.
It's Dublin against Galway and throw-in is at 4pm from Croke Park.
It's already been a great day for junior champions Louth and intermediate winners Tipperary. Who will be celebrating after the senior decider?
Dublin are aiming to complete three-in-a-row today and round off a superb weekend for the county at Croke Park. Galway's only previous title win came back in 2004 when they defeated Dublin and today is their first final since 2005.
The teams are out in Croke Park.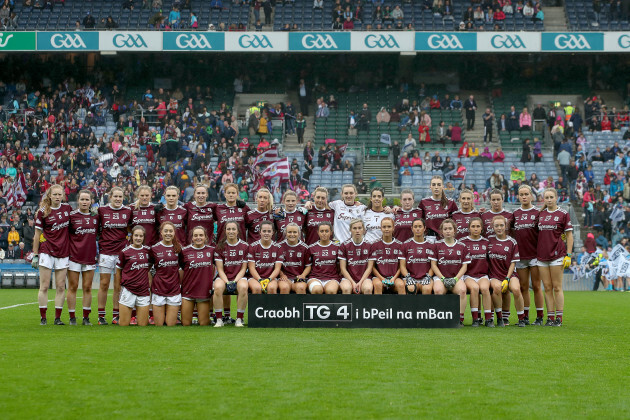 The Galway team for today's game.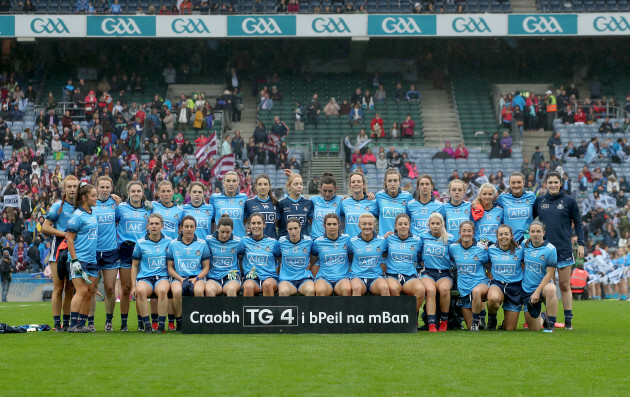 The Dublin side get set for today's match. Source: Bryan Keane/INPHO
Emma Duffy is at Croke Park for The42 today and here's how she called the intermediate final.
Here's the starting sides:
Dublin
1. Ciara Trant (St Brigids)
2. Éabha Rutledge (Kilmacud Crokes)
3. Niamh Collins (Foxrock Cabinteely)
4. Martha Byrne (Cuala)
5. Aoife Kane (Kilmacud Crokes)
6. Sinéad Goldrick (Foxrock Cabinteely)
7. Olwen Carey (Thomas Davis)
8. Lauren Magee (Kilmacud Crokes)
9. Siobhán McGrath (Thomas Davis)
10. Carla Rowe (Clann Mhuire)
11. Niamh McEvoy (St Sylvesters)
12. Lyndsey Davey (Skerries Harps)
13. Sinéad Aherne (St Sylvesters) – captain
24. Hannah O'Neill (Foxrock Cabinteely)
15. Jennifer Dunne (Cuala)
Galway
1. Lisa Murphy (Kilkerrin Clonberne)
2. Sinéad Burke (Ballyboden St Enda's)
3. Nicola Ward Kilkerrin (Clonberne)
4. Sarah Lynch (Naomh Anna Leitir Móir)
5. Orla Murphy (Claregalway)
6. Barbara Hannon (Dunmore McHales)
7. Shauna Molloy (St Fursey's)
8. Louise Ward (Kilkerrin Clonberne)
9. Áine McDonagh (Moycullen)
10. Olivia Divilly (Kilkerrin Clonberne)
11. Megan Glynn (Claregalway)
12. Mairéad Seoighe (Clonbur)
13. Tracey Leonard (Corofin) — captain
14. Sarah Conneally (Dunmore McHales)
15. Roisín Leonard (Corofin)
Emma Duffy at Croke Park…
There's colour aplenty as the stadium continues to fill up here before throw-in. Looks like it's going to be another big attendance with all the upper tiers opened. The crowd is loud, the flags are flying high and the rain won't dampen anyone's spirits here at HQ ahead of the big one.
All set for throw-in between Dublin and Galway.
Early scoring chance for Galway's Roisin Leonard from a free after Barbara Hannon was fouled but the shot drifts just wide.
And there's another chance that goes by for Galway. This time it was a shot from play from Roisin Leonard but her accuracy was off.
Still awaiting the first score as Sinéad Aherne sees her first free of the Dublin fall wide after Carla Rowe was fouled.
Really tough conditions for the players as they try to settle into the first ten minutes, heavy rain and a swirling wind.
Galway attack but Lyndsey Davey gets back for a big turnover. Dublin will hope to counter and relieve the early pressure.
Two scoring chances for the champions Dublin so far and four for Galway but we're still waiting for one of them to be on target on a difficult day for football in Croke Park.
Free in for Dublin after a foul on Jennifer Dunne, this looks to be from a good angle for Niamh McEvoy.
McEvoy takes it short, exchanges passes with Dunne and clips in a shot for Dublin that strikes the upright. Bit of danger for Galway with that rebound but they manage to scramble it clear.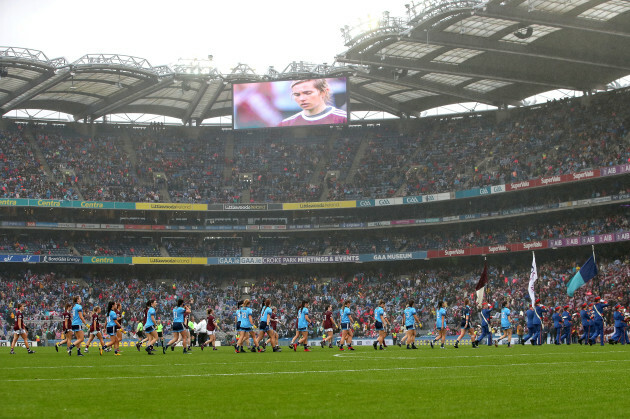 Source: Bryan Keane/INPHO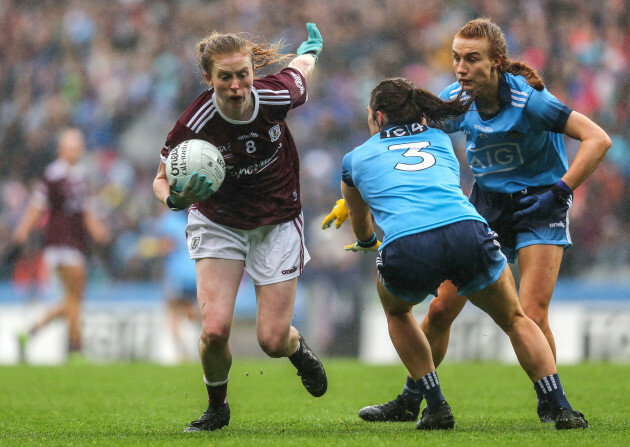 Carla Rowe with the latest wide for Dublin from a good position and then Tracey Leonard strikes a shot against the upright at the other end.
Galway recycle the possession after that Leonard shot but Áine McDonagh can't find her range with her attempt for a point.
Free in for Galway, frantic passage of play culminates in Tracey Leonard being fouled. It's about 30 yards out from a central position. Roisin Leonard to take it.
No joy for Roisin Leonard with that one. She drove across the ball but it flew to the left of goal.
Dublin 1-0 Galway 0-0
Sinead Goldrick hits the net! The first score of the game arrives in dramatic fashion as Dublin raise a green flag. Jennifer Dunne and Hannah O'Neill combined to play in Goldrick who had charged forward, did brilliantly to gather under pressure and fired in a shot that looped to the net. It might have taken a deflection off a Galway defender but that's a real boost for Dublin.
Dublin 1-0 Galway 0-1
And finally Galway get off the mark. It's a super point from Sarah Conneelly as she floats over a shot off her right.
Half-Time: Dublin 1-0 Galway 0-1
So that's the end of a low-scoring first-half with Dublin ahead by two points. Conditions a major factor in the scoreline but both sides have been wasteful in front of goal as well. Galway's defence is doing particularly well in frustrating Dublin. We'll be back with the second half action.
New attendance record at Croke Park with 56,114 for today's ladies football finals.
Second-half action is under way.
Dublin 1-1 Galway 0-1
Great work by Niamh McEvoy and Hannah O'Neill to set up Lyndsey Davey for an early Dublin point in this half.
Sub: Noelle Healy came on at the break for Dublin for Jennifer Dunne.
Dublin spurn a couple of chances for points from frees as McEvoy shoots wide and Aherne hits the post with her effort.
Yellow card for Galway's Mairead Seoighe, that's a big blow for them.
So that's ten minutes in the sin bin for Seoighe. Galway need something to settle them here.
Dublin 2-1 Galway 0-2
That looks a crucial score for Dublin! Hannah O'Neill palms to the net for Dublin after brilliant work by Niamh McEvoy, who took a quick free, and Lyndsey Davey who cut in from the wing. Galway fight back with Tracey Leonard tapping over a free.
Sub: Galway bring in Fabienne Cooney for Sarah Conneally. Dublin introduce Caoimhe O'Connor for Niamh McEvoy.
Dublin 2-1 Galway 0-3
Tracey Leonard points another free after Roisin Leonard was fouled.
Four in it as we approach the midway mark of the second half.
Sub: Charlotte Cooney in for Galway for Orla Murphy.
Galway hit the post as Roisin Leonard attempted to point a free.
Source: Oisin Keniry/INPHO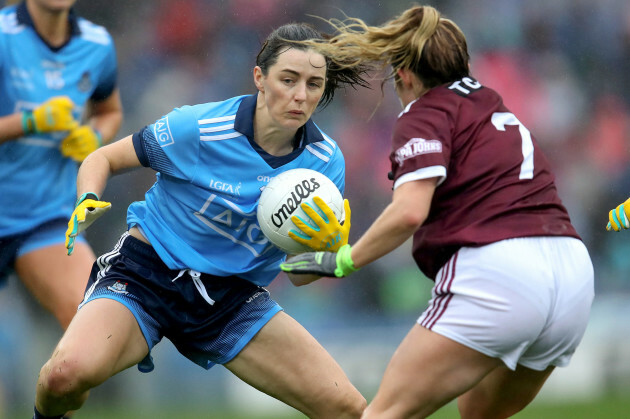 Galway back to 15 players now as Leanne Coen comes in for Seoighe who was sin-binned earlier.
Stoppage at the moment after Galway's Louise Ward ships a heavy challenge.
Sub: Oonagh Whyte in for Dublin for Hannah O'Neill.
Into the last ten, Galway badly need to get another score soon to chip away at that Dublin advantage.
Dublin 2-1 Galway 0-4
And there's a score to cut the gap to three. Roisin Leonard points, her shot going over via the crossbar.
Dublin 2-2 Galway 0-4
But Dublin counter with an inspirational point from Sinead Aherne and the margin is back out to four.
Sub: Rachel Ruddy in for Dublin for Aoife Kane.
Dublin 2-3 Galway 0-4
Super run from distance by Noelle Healy along the left wing and she rounds it off by clipping over a point. Five in it now, Dublin in the driving seat.
Sub: Mairéad Coyne in for Galway for Barbara Hannon.
Just a minute left and Dublin retaining possession.
Full-Time: Dublin 2-3 Galway 0-4
So that's it Dublin win out by five points, champions for the third successive year. Goals by Sinead Goldrick and particularly the second one from Hannah O'Neill after half-time proved crucial. Tough conditions to play in and a tough defeat for Galway to take but Dublin deserved this success. Thanks for joining our coverage!
Contribute to this story: