Liveblog
Result: Dublin 1-19 Monaghan 0-12
****************************
Afternoon all, we're building up to today's second All-Ireland football quarter-final with Dublin facing Monaghan in Croke Park.
Throw-in there is 6pm with the first game currently ongoing and Tyrone are in control against Armagh.
Join Kevin O'Brien for all the coverage of that match:
Here's the teams named to start for this game. Dublin have brought Jonny Cooper back into their side after he missed the Leinster final success against Kildare through injury.
Monaghan unchanged from last Saturday's All-Ireland qualifier win over Down.
Late changes are par for the course these days, we'll let you know if there are any alterations from Jim Gavin or Malachy O'Rourke.
Dublin
1. Stephen Cluxton (Parnells)
2. Philly McMahon (Ballymun Kickhams)
3. Cian O'Sullivan (Kilmacud Crokes)
4. Michael Fitzsimons (Cuala)
5. Jonny Cooper (Na Fianna)
6. John Small (Ballymun Kickhams)
7. Eric Lowndes (St Peregrine's)
8. Brian Fenton (Raheny)
9. James McCarthy (Ballymun Kickhams)
10. Ciarán Kilkenny (Castleknock)
11. Con O'Callaghan (Cuala)
12. Jack McCaffrey (Clontarf)
13. Paul Mannion (Kilmacud Crokes)
14. Paddy Andrews (St Brigid's)
15. Dean Rock (Ballymun Kickhams)
Monaghan
1. Rory Beggan (Scotstown)
2. Fintan Kelly (Clones)
3. Drew Wylie (Ballybay)
4. Ryan Wylie (Ballybay)
5. Colin Walshe (Doohamlet – captain)
6. Kieran Duffy (Latton)
7. Karl O'Connell (Tyholland)
8. Kieran Hughes (Scotstown)
9. Darren Hughes (Scotstown)
10. Gavin Doogan (Magheracloone)
11. Dermot Malone (Castleblayney)
12. Shane Carey (Scotstown)
13. Ryan McAnespie (Emyvale)
14. Darren Freeman (St Brigid's, Dublin)
15. Conor Mc Manus (Clontibret)
Referee for this one is Cork's Conor Lane.
Dessie Ward and Jack McCarron in for Monaghan for Dermot Malone and Darren Freeman.
Close to throw-in here, who's your tip to win?
Teams lining up for the start of this one. Tyrone await the winners on 27 August.
Dublin 0-1 Monaghan 0-0
Lovely kick by Paul Mannion gets Dublin off the mark.
First wide of the game is registered by Dean Rock.
Jack McCarron off target at the other end for Monaghan as James McCarthy is shown a yellow card for a foul on Kieran Hughes.
Dublin 0-2 Monaghan 0-0
Brian Fenton and Con O'Callaghan combine to slip Paddy Andrews through for a point.
Dublin 0-2 Monaghan 0-1
Conor McManus gathers a breaking ball and clips it over off his left for Monaghan's first score of the evening.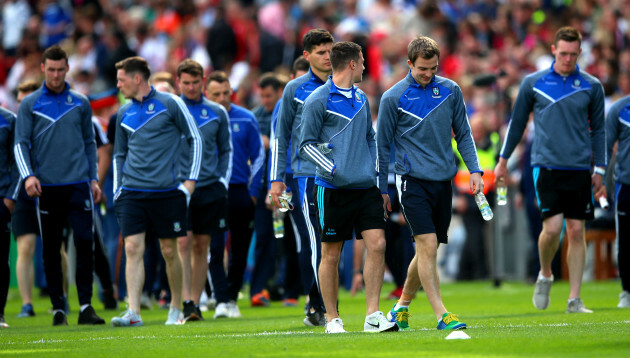 The Monaghan team before the game. Source: James Crombie/INPHO
Dublin 0-3 Monaghan 0-1
Superbly converted free by Dean Rock from the right wing for Dublin.
Interesting match-ups at the back for Dublin. Philly McMahon is following Jack McCarron with Michael Fitzsimons picking up Conor McManus.
Half goal chance for Dublin but Rory Beggan is equal to James McCarthy's snapshot.
Wides totting up for Dublin, Andrews with the latest.
Dublin 0-4 Monaghan 0-1
Rock knocks over another free, this time after Andrew was fouled.
Dublin 0-5 Monaghan 0-1
Mannion is fouled, Rock is presented with an opportunity from a free and the same result for Dublin.
Bad, bad miss by Jack McCarron for Monaghan after he did well to create the room to shoot.
Dublin 0-6 Monaghan 0-1
Monaghan can't capitalise when they create openings while Jack McCaffrey makes no mistake with a shooting chance for Dublin.
What a goal chance for Dublin! Beggan does well to block a Con O'Callaghan shot after a marvellous through ball from Brian Fenton. The rebound falls to Paddy Andrews but he can't connect cleanly when swinging a foot at it and Monaghan clear.
Dublin 0-7 Monaghan 0-1
Another Rock pointed free and Dublin are in complete command here.
Dublin's defending has been hugely impressive so far. Cooper gets a hand to a Ryan McAnespie shot and half blocks it allowing Dublin to gather and clear.
Dublin 0-8 Monaghan 0-1
He hit 0-12 in the Leinster final and Con O'Callaghan gets off the mark here, clipping over off his right.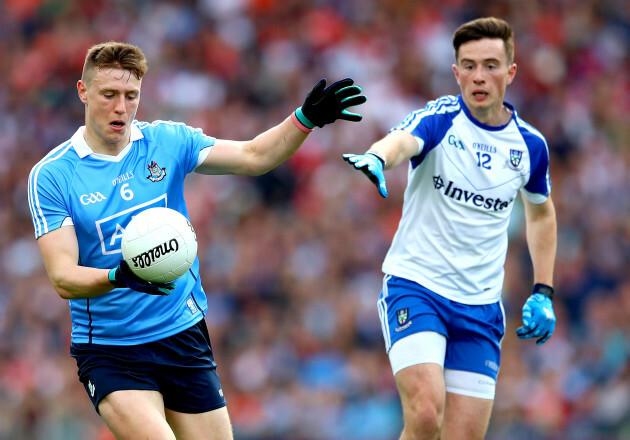 Dublin's John Small and Monaghan's Shane Carey.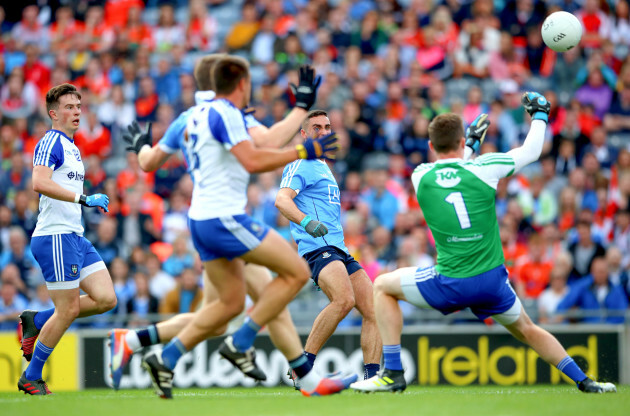 Rory Beggan proves equal to James McCarthy's shot. Source: James Crombie/INPHO
Yellow card for Conor McManus, off the ball incident with Jonny Cooper.
Dublin 0-9 Monaghan 0-1
The one way traffic continues, Mannion popping over his second point of the game for Dublin.
Dublin 0-9 Monaghan 0-2
Finally Monaghan add to their tally, a good score by captain Colin Walshe after being fed by Kieran Hughes.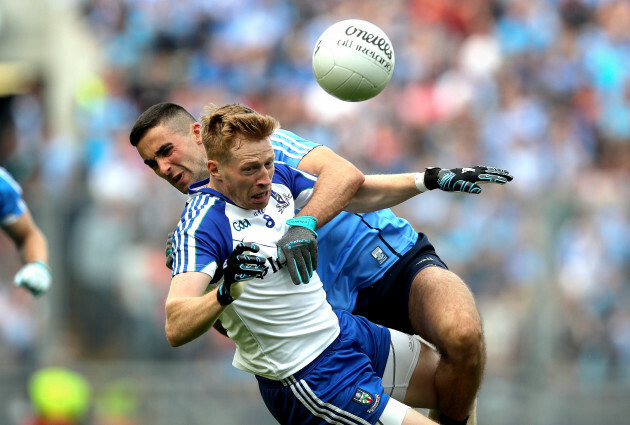 James McCarthy and Kieran Hughes challenge for possession. Source: Ryan Byrne/INPHO
Dublin 0-10 Monaghan 0-2
Rock with his fifth of the evening, a free after Mannion was fouled.
Dublin 0-10 Monaghan 0-3
That's another expertly-taken point by a Monaghan defender, Karl O'Connell moving forward on this occasion to split the posts.
Another yellow on the Monaghan side, Drew Wylie after a high tackle on Cooper.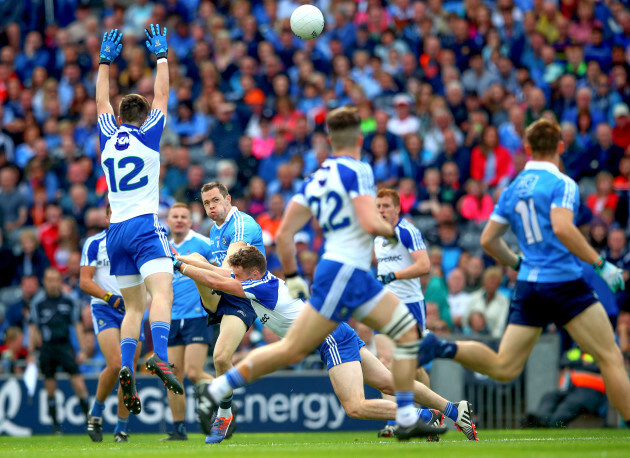 Dean Rock gets a shot away under pressure for Dublin. Source: James Crombie/INPHO
Dublin 0-11 Monaghan 0-3
James McCarthy weighs in with the latest Dublin point.
Sub: Conor McCarthy in for Monaghan for Gavin Doogan.
Half-Time: Dublin 0-11 Monaghan 0-3
Second-half is under way.
Sub: Monaghan bring in Owen Duffy for Dessie Ward for the second half.
Dublin 0-12 Monaghan 0-4
Early points swapped by Conor McCarthy and Paddy Andrews.
Dublin 0-12 Monaghan 0-5
Stunning point from distance by Conor McCarthy. He's made an instant impact off the bench for Monaghan and is their top scorer already today.
Dublin 0-13 Monaghan 0-5
Dublin back in front by eight as Dean Rock curls over a free following a foul on Mannion.
Yellow card for Monaghan's Shane Carey.
Goal for Dublin by Dean Rock!
Dublin 1-13 Monaghan 0-5
The first goal of the evening and it's Rock's first score from play. Fenton bangs in a free from the middle, Andrews gathers and turns clear of the Monaghan defence before unselfishly squaring the ball for Rock to palm home.
Sub: More bad news for Monaghan as Dublin wheel Bernard Brogan into action. Eric Lowndes makes way.
Sub: Monaghan bring in the experienced duo of Vinny Corey and Dessie Mone for Ryan Wylie and Karl O'Connell.
Dublin 1-13 Monaghan 0-6
Rory Beggan comes upfield to slam over a free for Monaghan.
Yellow card for Monaghan's Darren Hughes.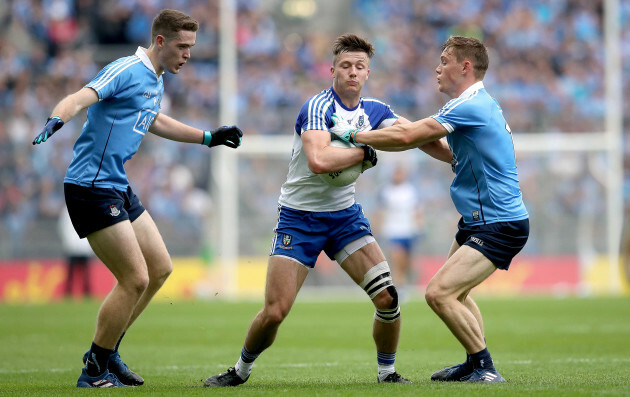 Source: Ryan Byrne/INPHO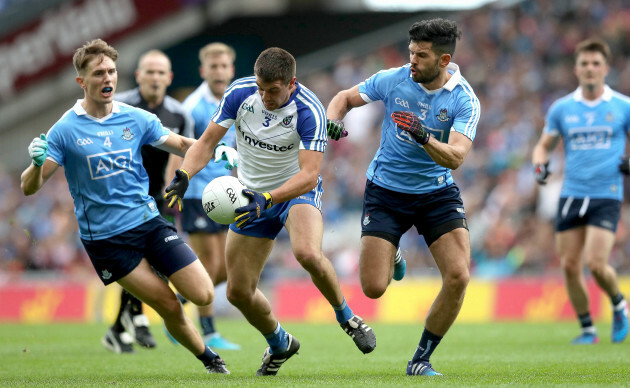 Monaghan nearly work a goal opening but Jack McCarron's piledriver is palmed away by Stephen Cluxton.
Dublin 1-14 Monaghan 0-7
Andrews lobs over a point for Dublin and McCarthy finds his range at the other end after being fed by McCarron.
Subs: Dublin bring in Darren Daly and Paul Flynn for John Small and James McCarthy.
Dublin 1-15 Monaghan 0-7
Excellent stop by Beggan to deny Bernard Brogan a goal and Rock pops over the resultant '45.
Dublin 1-16 Monaghan 0-7
Halfway through the second half and this one is going to peter out to an inevitable conclusion. Rock with another pointed free there.
Sub: Eoghan O'Gara in for Dublin for Paddy Andrews.
Sub: Dermot Malone in for Monaghan for Shane Carey.
Dublin 1-17 Monaghan 0-7
First chance for O'Gara to impress and he takes it with a point.
Dublin 1-17 Monaghan 0-8
Monaghan are going to keep battling gamely away. Darren Hughes curls over a lovely point into the Hill.
Sub: Ciaran Kilkenny off for Dublin and Jim Gavin takes the chance to press Michael Darragh MacAuley into action.
Dublin 1-18 Monaghan 0-8
The substitutes combine for Dublin. O'Gara to MacAuley to Flynn and the end result is a shot smashed over the bar.
Dublin 1-18 Monaghan 0-9
McManus pops over a pointed free for Monaghan.
Sub: David Byrne in for Dublin, Cooper comes off.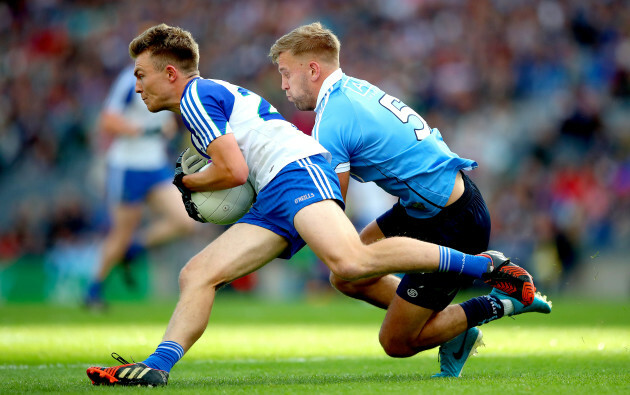 Source: James Crombie/INPHO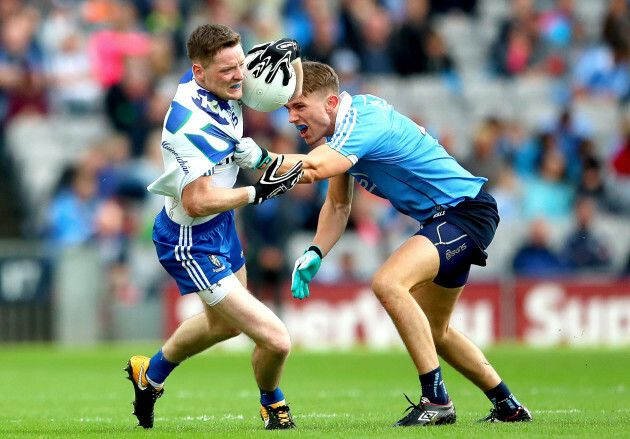 Sub: Neil McAdam in for Monaghan for Darren Hughes.
Dublin 1-18 Monaghan 0-10
McManus points a free. Dublin are thinking of a semi-final date with Tyrone on 27 August. That'll be a test. This hasn't been.
No way past Cluxton in goal for Dublin, Owen Duffy's shot from close range deflected out for a '45.
Dublin 1-19 Monaghan 0-10
Nicely curled shot between the posts by Mannion. Dublin twelve clear now. They beat Monaghan at this stage by 17 points in 2014, this has been just as emphatic.
Dublin 1-19 Monaghan 0-11
Well struck point by Ryan McAnespie, his first of the evening for Monaghan.
Dublin 1-19 Monaghan 0-11
McManus kicks over another free for Monaghan.
Full-Time: Dublin 1-19 Monaghan 0-12
So Dublin cruise into an All-Ireland semi-final clash on 27 August after this win over Monaghan. That should be a game to savour against Tyrone, who were in dominant form earlier against Armagh.
Two hugely disappointing quarter-finals here today, one way traffic in both matches. We'll hope for better tomorrow as Galway meet Tipperary in the All-Ireland hurling semi-final while Mayo and Roscommon meet in Monday's football quarter-final replay.
That's all from us, thanks for joining in.
Contribute to this story: