IN GAA, THE mantra is "Nothing beats being there."
And many of us supporters are actually dumb enough to believe it. (Seriously, have you ever been on those exposed terraces at Pearse Stadium when the rain is whipping in off the Atlantic? A custodial prison sentence would probably beat being there.)
But when it comes to the World Cup finals, assuming FIFA are never persuaded to stage the event in Salthill, or Thurles, or Ballybofey, most of us will remain perfectly content to watch the drama unfold from afar.
I've been to two European Championships. But I've never been to a World Cup.
The World Cup is undoubtedly the greatest sporting competition on earth. Yet I'm not convinced my not being there has ever impacted on my enjoyment of the spectacle.
My earliest World Cup memories are of Mexico '86. Given the time difference, and the non-negotiable nature of my bedtime as a six-year-old, I didn't get to see too many of those games. But we had a newspaper wall chart tacked to the side of our fridge, and every morning I'd pencil in the scores as they came in over on the radio.
In a low-scoring tournament, one scoreline that stood out was USSR 6 Hungary 0. Instinctively, I felt for Hungary. As a kid, I knew no one was at their best on an empty stomach.
Even a strategically-timed Liga biscuit, sometimes, could make the difference between my behaving in public like Dr Jekyll or Mr Hyde. Those poor Hungary players, I felt, had the deck stacked against them from the start.
Northern Ireland were also represented at those finals. But for reasons I couldn't quite fathom at the time, nobody I knew seemed to be cheering for them. I understood Billy Bingham's side represented a different jurisdiction from our own. But we had cousins living in Derry and they weren't supporting them either. Very strange.
Like any Irish person who lived through Italia '90, I could probably write a book about that tournament. Our last-16 clash with Romania took place in the afternoon, while my father was still at work. When Dave O'Leary's penalty found the net, my normally shy and retiring mother made a startling executive decision. She bundled her four kids in the back of the car and drove down the Main Street in Ballyhaunis honking the car horn furiously.
When I related this story to my niece recently, she wondered if people in town thought our mother had gone crazy? Not at all, I assured her. They were all doing the same. My sisters and I were leaning out the back-seat windows exchanging high-fives with kids and parents in other cars.
Ideally, that's how you'd have liked things to continue. Your first preference, as an Irish supporter, would of course have been to see Irish sides achieve continued success on the world stage. But failing that, watching England punch themselves in the nuts at successive major finals turned out to be a very close second.
When I think back on their so-called 'golden generation', it can sometimes seem as though all of the joyous memories which Beckham, Rooney, Gerrard, Lampard et al should have delivered to their own fans, were misaddressed and arrived by accident at my door instead. I was in Dan Murphy's pub in Amsterdam when Portugal dumped them out of Euro 2004.
When Postiga equalised in the 83rd minute, to send the game into extra time, I jumped out of my seat and screamed "YESSSS!' A roomful of baffled faces stared back at me in silent horror. I'd spent that afternoon soaking up the local cafe culture, in a manner of speaking, so I'd failed to notice that my friend and I were literally the only Irish people in this Irish bar. The rest were all English. They looked more hurt than offended, thankfully.
I was in Sarajevo when Portugal repeated that trick in 2006. My friends and I had been travelling from Mostar the previous day, so we'd missed the Germany / Argentina match. I was so determined to avoid a repeat of this fiasco that, upon arrival in the city, I dumped my bags, dumped my friends, and headed out the door to catch it on the big screen in town without ever taking note of the name of our hotel or it's address. (Which would come back to haunt me later…)
EMPICS Sport Lamps, mate: England midfielder Frank Lampard after his effort on goal was incorrectly not given against Germany in 2010. EMPICS Sport
During South Africa 2010, I happened to be in Berlin when Die Mannschaft bulldozed past England into the quarter-finals. I was impressed at how nonchalantly the German supporters greeted their victory. The next morning I was driving on the autobahn with a German friend of mine. I told him if Ireland had beaten England 4-1 at the World Cup the night before, there'd be bodies stacked in piles on those grass verges on either side of the road. "Drunk… or dead?" he asked. Either/or, I shrugged.
This admittedly rather nasty, anti-English enmity probably stemmed from the fact we live so close to them and consume so much of their media. We saw the jingoistic headlines in their tabloid press. ("Auctung Surrender!" "England expects…" etc.) We saw the xenophobia among a certain section of their fans. We saw Geoff Hurst wheeled out every four years to anoint the latest batch of overpaid underachievers the best squad he'd seen assembled since 1966.
Exclusive Six
Nations Analysis
Get Murray Kinsella's exclusive analysis of Ireland's Six Nations campaign this spring
Become a Member
But it feels like that era is over now. England's defeat to Iceland at Euro 2016 was just too abject. The well of schadenfreude finally ran dry that day. This year, England are going to the World Cup with no illusions that they have any chance of winning it. And from my perspective, at least, that kind of takes all of the fun of cheering against them. (Plus, given the blatantly racist treatment Raheem Sterling has received at the hands of their tabloid press, I'd be quite pleased if he went out to Russia and scored four or five goals.)
So then what am I hoping for from this tournament? Well, an African team to reach the semis would be nice. A jaw-dropping wondergoal in some big game, like Robin Van Persie's diving header against Spain in 2014, or Esteban Cambiasso's team effort against Serbia in 2006, to set the world agog.
I'd love to see another relatively obscure striker to come from come from nowhere, like Toto Schillaci did in 1990, or James Rodriguez in 2014, to win the Golden Boot. And maybe, just maybe, it'd be nice to see someone other than Germany win it this time. If that isn't asking too much…
***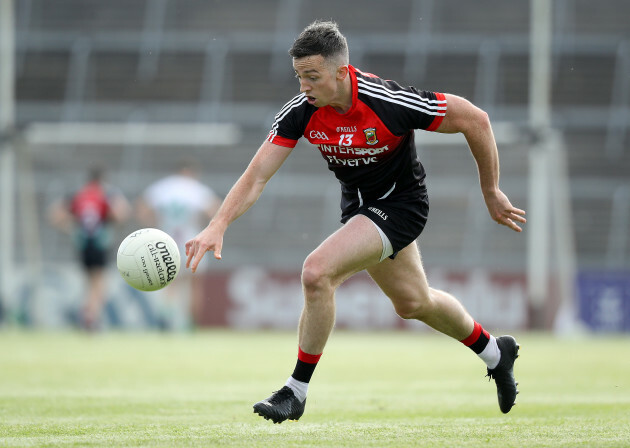 Oisin Keniry / INPHO Mayo's Evan Regan in full flight against Limerick. Oisin Keniry / INPHO / INPHO
Finally, I was at the Gaelic Grounds in Limerick to see Mayo beat the home side in a Saturday evening qualifier. With Diarmuid O'Connor suspended, and Andy Moran and Jason Doherty, this was a chance for a new scoring forward to announce themselves for Mayo. Championship debutants James Durcan and Cian Hanley both showed promise, but neither look quite ready for primetime at this point.
Evan Regan has received quite a few opportunities at this level. If he couldn't impose himself against a team of Limerick's limited ability, you'd have to wonder what are the odds he'd be able to contribute much at the business end of the the season?
It wasn't until Andy Moran came in and he and Cillian O'Connor started banging in goals for fun that the fun really got started. Yes, I know it was a meaningless victory over a Third Division opposition who appeared to have almost no support whatsoever behind them. But it was a balmy summer's evening and we all stopped for ice creams afterwards… Ach, you probably had to be there!