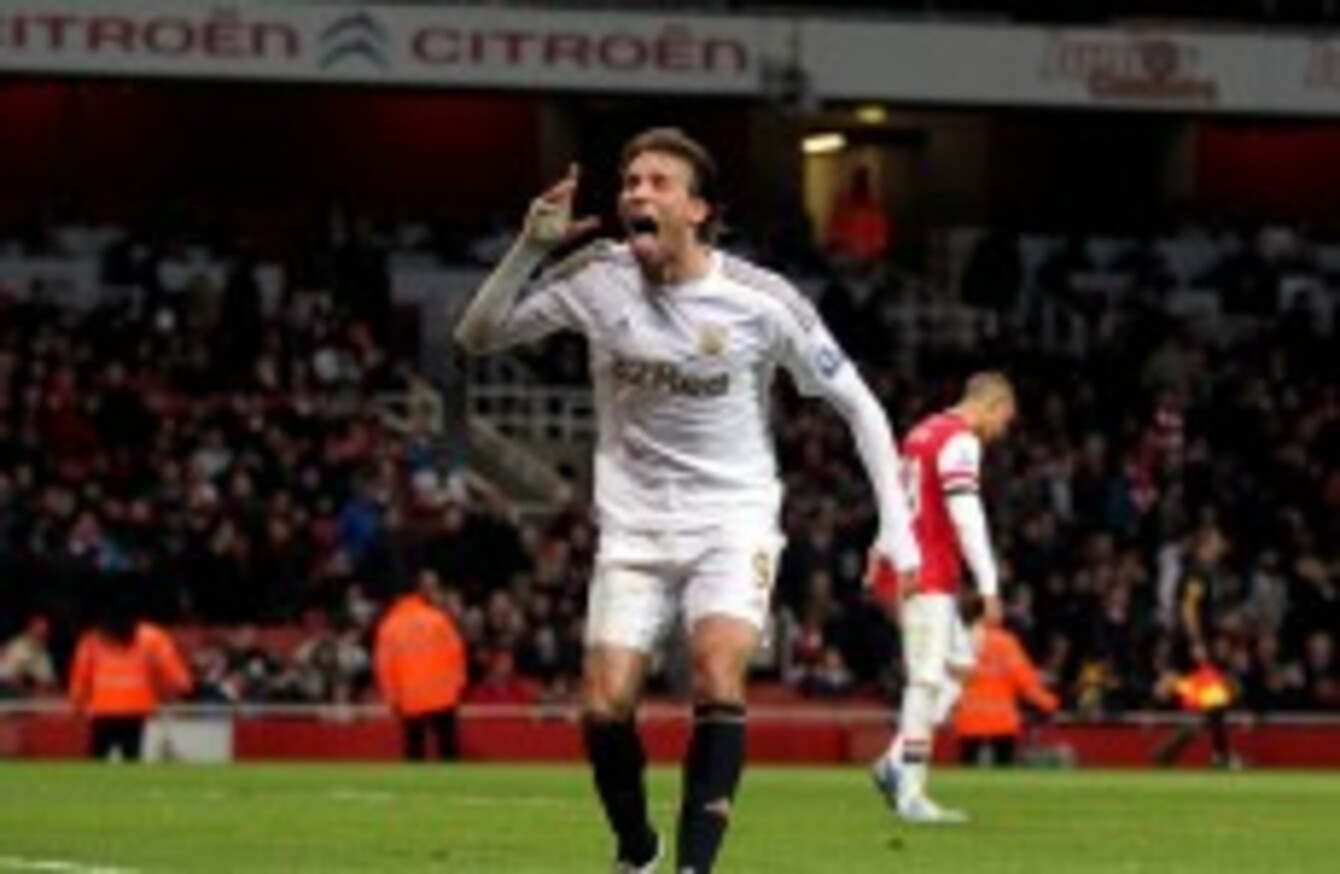 Miguel Michu has been one of Swansea's most influential players this season.
Miguel Michu has been one of Swansea's most influential players this season.
BOTH MAN UNITED and Man City had less than convincing performances in the Champions League during the week, nonetheless the two sides clearly had one eye on this weekend's game.
With City only three points behind United, it's too early in the season to be thinking of it as a make-or-break encounter.
Yet a positive result is arguably more important for City than United right now, as their morale needs lifting in light of their recent Champions League exit.
And of course, it's also an important weekend for Fantasy Football enthusiasts – such tightly fought games are the ones where players must be selected with particular care.
Filling your team with an influx of City or United players is a gamble that needs to pay off for those with hopes of triumphing come the end of the season.
Two players to pick
Jermain Defoe: At 30, the striker is looking as good as ever, contributing hugely to the more positive aspects of the Tottenham's play this season. While there have been several false dawns for Spurs this year, the fact that they have one or two key players back from injury means they could thrive. Though against Everton, Defoe and his teammates should expect one of their biggest tests yet.
Michu: The attacker has turned out to be an inspired signing for Swansea, scoring the two all-important goals against Arsenal last week. They face a seemingly far less taxing encounter at home to Norwich on Saturday, so it should be another fixture in which he features heavily. In addition, the people behind Fantasy Football consider him a midfielder, even though he's often deployed as a striker, so Michu is a handy player to have in your side from that perspective too.
Two players to avoid
Carlos Tevez: Tevez has looked excellent at times this season, though the forward has been somewhat inconsistent of late, with his manager clearly reluctant to trust him in big games – he barely played at all in the Champions League this season, for instance. So given that they face arguably their most important Premier League match of the season so far this weekend,  it would hardly be a surprise at this stage if Mancini opts to leave Tevez on the bench.
Pepe Reina: The Liverpool stopper has been excellent so far this season, but his side face a tough task as they travel to Upton Park, where only Arsenal have triumphed of the teams that have played the Hammers during this campaign. Consequently, expect Liverpool to have a tough time there too, especially given their inconsistent form of late, and it would therefore be no surprise should they concede at least one goal.
Predictions:
Arsenal 3-1 West Brom

Aston Villa 1-1 Stoke

Southampton 2-1 Reading

Sunderland 1-2 Chelsea

Swansea 2-1 Norwich

Wigan 1-1 QPR

Man City 2-2 Man United

Everton 1-2 Tottenham

West Ham 2-2 Liverpool

Fulham 1-1 Newcastle

Sunderland 2-1 Reading
How my team got on last week
A late flurry of Newcastle player-inspired points helped save what looked destined to be a dismal showing at one point.
Who's leading TheScore.ie Primera Division?
Our resident golf columnist Neil Cullen has opened up a lead at the top on 872 points, while PJ Corcoran's Kilglass Kickers XI are second on 863 points.