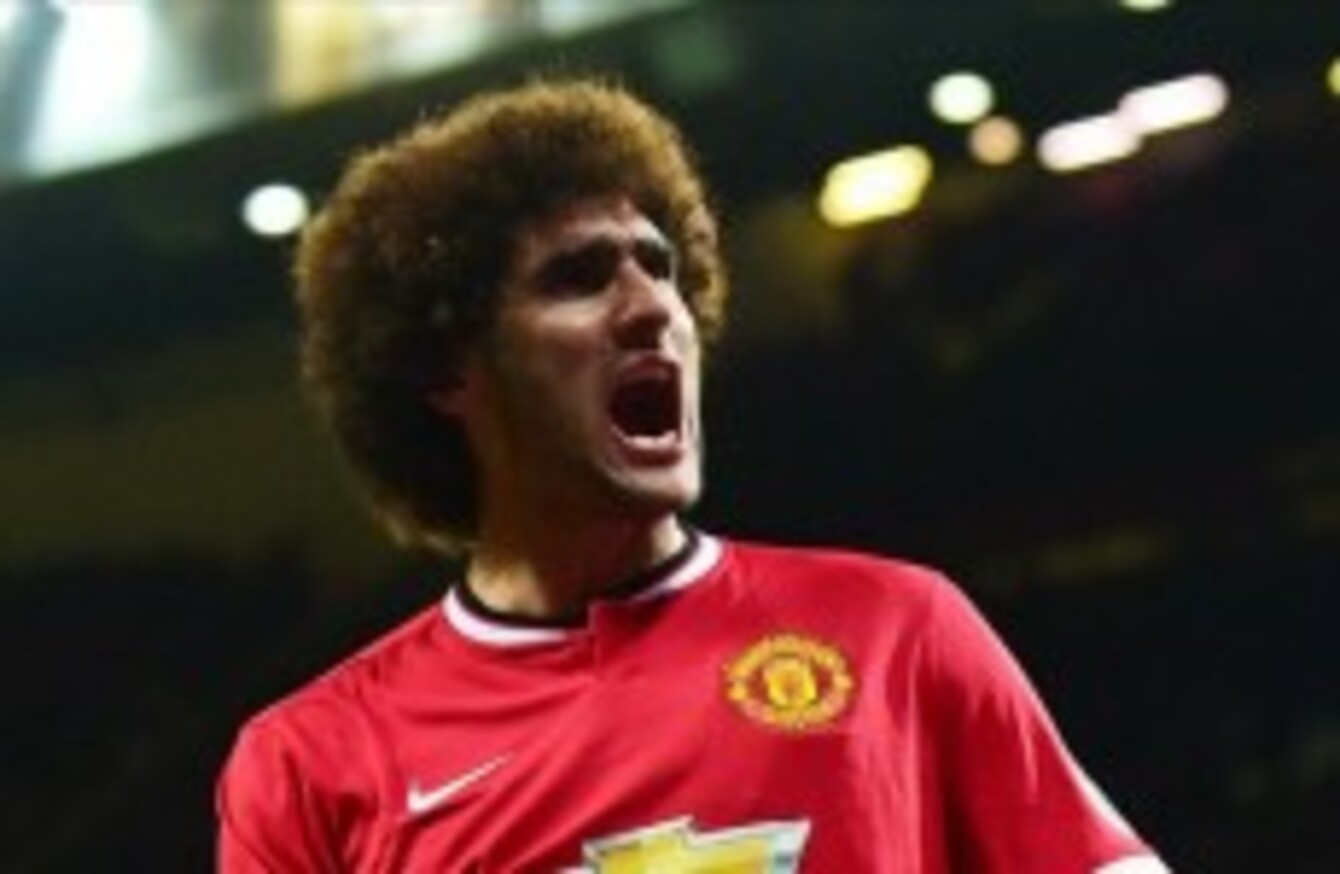 Fellaini is vital to Manchester United at the moment.
Fellaini is vital to Manchester United at the moment.
IT WAS TWO David Moyes signings that gave Manchester United a 2-1 win over Stoke City after Marouane Fellaini and Juan Mata scored the goals that ensured their winning run stretched to four league games.
Louis van Gaal's men remain fourth in the Premier League table, just a point behind Southampton, although, they've now played a game more than the Saints. There's definite progress being made at Old Trafford after a season of alarming regression.
Fellaini's goal came courtesy of a thumping far-post header after Ander Herrera's cross, providing the latest example of his ability to cause problems when utilised correctly. His first season was an unmitigated disaster, but despite his technical limitations, he is now showing that he can add some value if United play to his strengths.
He's not a typical United player. He struggles in possession, looks uncomfortable when given the ball and tends to slow down the tempo of his side's passing game. He often appears flat-footed and unable to turn on the ball in anything like a fluid motion.
Being part of a flat midfield, as he was last season, can make him look desperately short of the required level to be a top player, and United, it's clear, overpaid when they signed him from Everton.
Clearly, though, when placed high up the pitch close to the strikers he can use his height and physicality to cause problems for defenders. No one enjoys marking him – not least because of his tendency to use his elbows in a way that many feel is illegal – and his ability to make a nuisance of himself creates openings for others.
"I am not happy with the performance," Van Gaal summed up after seeing his side shorn of craft. "I was not pleased with the first half. We were not so aggressive as in the last match and we want to play in the same style. I think we don't keep our positions on the pitch so we don't create so many chances in the first half."
It may not be typical of United's style, but for a side in transition and missing some key players – most noticeably Wayne Rooney and Angel Di Maria here – Fellaini is proving a useful option to have.
Quite why Moyes, a manager who got the very best out of Fellaini during their time together at Everton, didn't employ him in the same way is baffling and indicative of his failed tenure at United.
Moyes instead tried to reinvent him, playing him as part of a midfield two, a role which requires a much more fleet-of-foot approach and better quality in possession. Fellaini looked completely lost, and his performances became so poor his stock with the United fans hit rock bottom and his confidence followed suit.
Some time away appears to have done him good. He no longer looks a shell of the player he once was, imbued instead by the faith shown in him by Van Gaal.
It would have been easy to discard him, but a goal away at West Brom helped kick-start a mini renaissance and United are now seeing the benefits of making him feel valued and positioning him in a way that's more suited to his style.
It would be a surprise if Fellaini was still at United next season – he is too deficient technically and intellectually to make the grade long-term, particularly with United seemingly hell-bent on improving their decaying squad by adding the very best to their ranks – but in the meantime, as they make steady progress and right the wrongs of the Moyes era, their giant Belgian, if used properly, can at least play some part in helping them move towards better times.
- Rob Pollard, Goal.com