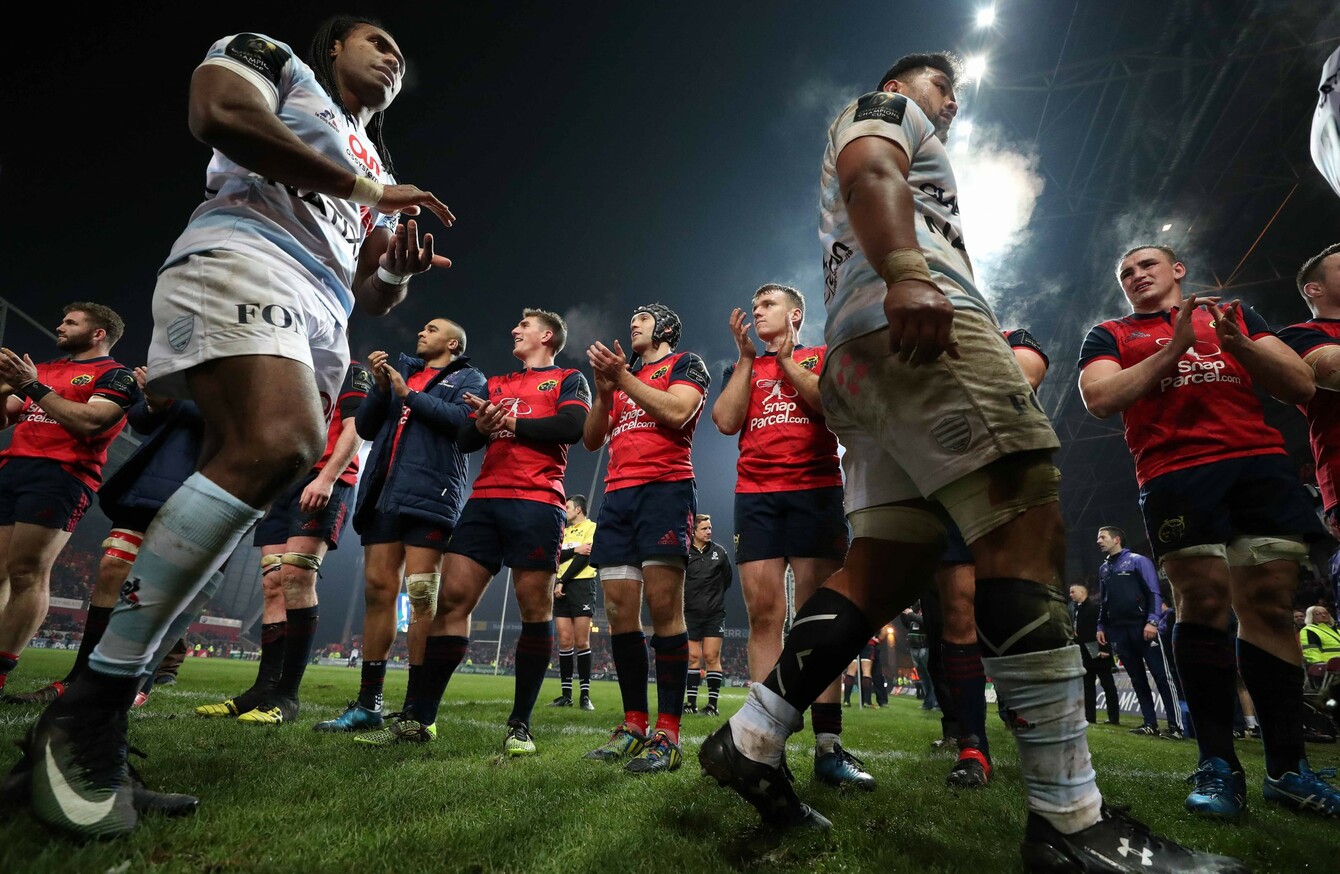 Image: Billy Stickland/INPHO
Image: Billy Stickland/INPHO
FIVE WINS AND an 'almost' in the Champions Cup pool, second seed and a home quarter-final in store plus a relentlessly swelling belief.
Munster are an impressive animal these days.
As Ronan O'Gara points out, they've come an awful long way from 'a team nobody believed in' to this return to the top echelon of European rugby in a very short space of time.
And yet, the change in surroundings and fortunes hasn't fazed anyone at the province. The raised expectations are only welcomed, if heeded at all, by the men at the heart of the movement.
"We just go: 'we train as hard as we can, we play as hard as we can and we analyse as hard as we can and let's see what the result is, it's not the end of the world," explains director of rugby Rassie Erasmus before nodding to the tragic death of Anthony Foley as the constant sobering reminder that the pressure of sport figures way down the list of things worth worrying about.
We've had much worse things happen to us this year than losing a game. We'll always have that little bit of a reality check. We don't get too tense about things. Hopefully that helps."
It certainly does. Munster are playing with a certain freedom to their game. The great old traits of aggressive impacts and unforgiving directness remains, but they have no shortage of intelligence and creativity to bring it all together. That combination is perhaps why Erasmus continually looked slightly apologetic about the way Munster played in the three-try 22 -10 win over Racing.
"Listen, we didn't have the most beautiful gameplan, but it's something they buy into. It's nice to see when it kicks on, how the belief grows and how individual players step up and do something great.
"I know there's a long way to go to get a nicely fitted gameplan for this specific team, but we're certainly going in the right direction and believing in it. So that's nice."
"This team has got great potential. We definitely make a lot of individual errors tonight, small missed tackles which we didn't make the previous game. Some system errors which wasn't great. But then again, the mental side, making the right decisions under pressure was better. I won't be too critical on the guys, but certainly we can play much better than we played tonight.
"It was definitely not a polished performance."
While some sides feel pressure rain down from the stands. For Erasmus' Munster team, the expectation comes from inside the camp.
"If (fans) demand it, then you'll never play well. I think the Munster fans are really supporters, they are supporting the team, not demanding.
"The players feel that. Even this performance, three tries against Racing and not the most beautiful game, they never got frustrated with that. They kept supporting and when we won they were happy. I think the type of supporters help a lot and the Munster supporters are knowledgeable enough for us not to have a massive expectation worry for us."
Connacht's performance in Toulouse yesterday means the French giants missed out on a bonus point win and will have to come back to Munster for a repeat of the 2014 quarter-final. In this form, Munster weren't going to fear anybody coming from the second tier of seeds, but having seen the trouble Pat Lam's men gave them, Erasmus should be confident his team have the skills to advance to the final four.
Obviously, the desire and the will is there in abundance.
"I wouldn't say the expectation is a thing that gets to us. The most important thing I'm trying to get right is: 'this should be a hell of an opportunity for you to express yourself and enjoy it'.
"It shouldn't be: ' oh we've made it…'
"The players are starting to get that and with me being in those positions before, I think I understand that the moment you say ' oh we're here now' there are massive expectations.
"The moment you go into that mode there is too much pressure, you're not enjoying the week. At this stage I think the players enjoy the fans and the crowd's a sell-out, so that helps a little bit. Otherwise we're so focused on 'we must go a step further'.