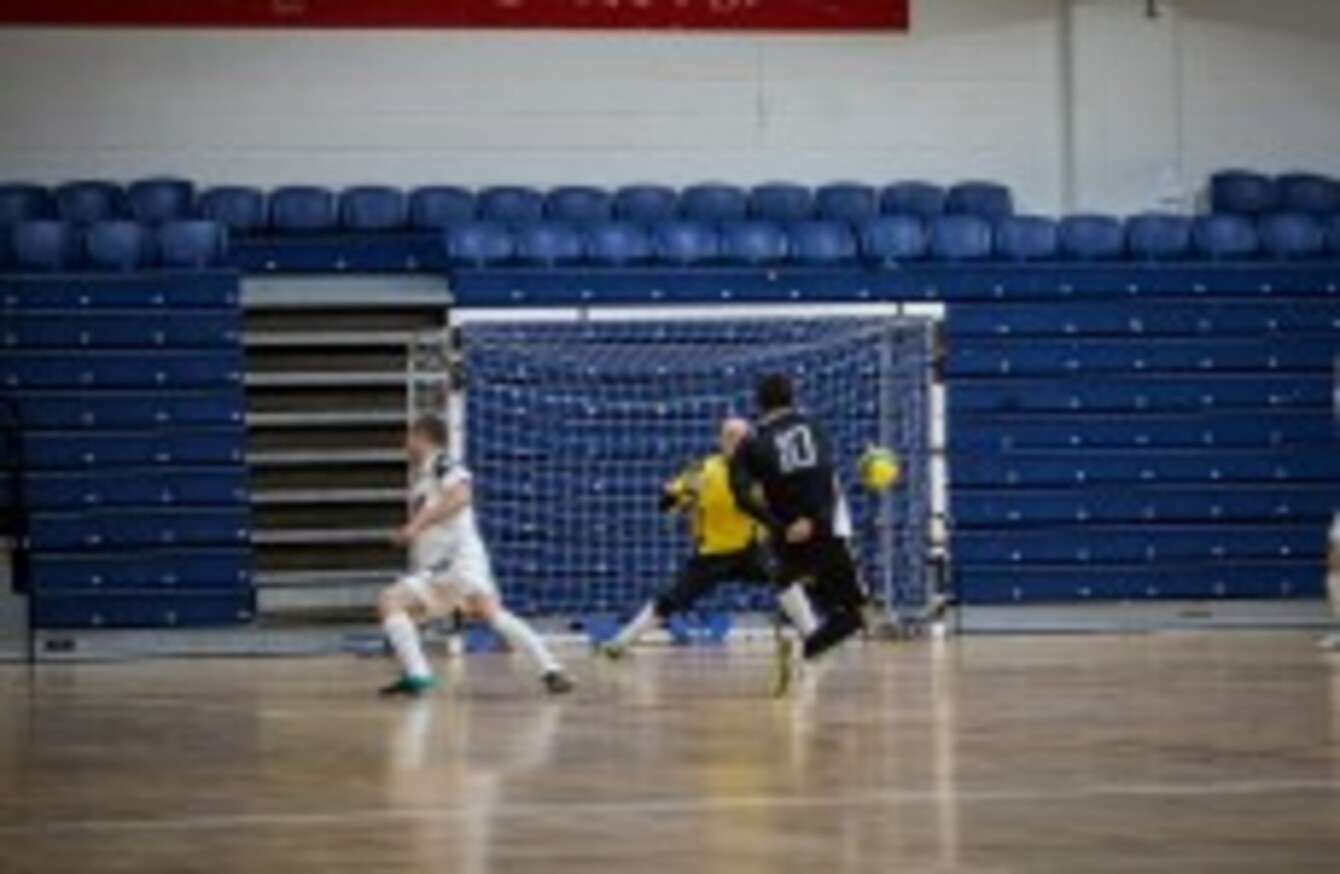 Futsal is hugely popular around the world despite remaining relatively low key in Ireland.
Image: Patryk Szafranski
Futsal is hugely popular around the world despite remaining relatively low key in Ireland.
Image: Patryk Szafranski
ASIDE FROM BEING great footballers, what do Lionel Messi, Neymar, Xavi, Pele, Cristiano Ronaldo, Zico, Luis Figo and Ronaldinho have in common?
The answer is that they all cite Futsal as a key part of their development as footballers.
The non-contact five-a-side sport has loosely similar rules to football but is mostly played indoors.
On Futsal, arguably the greatest footballer of all time, Pele, says: "Futsal was important in helping to develop my ball control, quick thinking, passing… Also for dribbling, balance, concentration… Futsal was very, very important, no doubt."
Meanwhile, the footballer who some argue is the best in the world currently, Cristiano Ronaldo, adds: "In Portugal, all we played growing up was Futsal. The smaller court helped my footwork skills, the nature of the game made me feel so free when I played. If it wasn't for Futsal, I would definitely not be the player I am today."
Moreover, Futsal is supported by FIFA and UEFA and is played using a size four ball that restricts bounce so it stays on the floor, while it encompasses two halves of just 20 minutes each, owing to its relentless speed and intensity (the ball can't be out of play for more than five seconds).
The sport originated in Brazil and Uruguay in the 1920s, and has since become hugely popular throughout the world, with approximately 30 million participants.
In Italy, for instance, there are four times more registered Futsal players than footballers, while in Brazil and Argentina, it's a professional sport.
(Futsal has roughly 30 million participants worldwide)
Nevertheless, in Ireland, the Futsal scene is virtually "non-existent," according to Patrick Szafranski, the Business Development Secretary for Futsal in Ireland.
There is a conspicuous lack of interest, particularly among adults, with 72% of eight-year-olds who play the game dropping out by the age of 14.
Futsal was ultimately a victim of FAI cutbacks, having originally been supported by the organisation from the mid-2000s up until 2011, it is now expected to survive on its own. The result is that, unlike Azerbaijan, Belarus and Malta, Ireland is one of the few countries in Europe that doesn't have a national Futsal team.
The situation is in marked contrast to across the water in England. Last year, the FA agreed to invest £150million into the sport, in the hopes that it would produce technically better players than the national side has tended to have available to them in recent times.
And on a related note, FAI CEO John Delaney spoke in a recent interview with RTÉ of trying to help upcoming Irish players to be better technically and "learn to love the ball". Szafranski believes there is no better solution than Futsal to enable these changes to be implemented.
"100%, there's no question of that," he says. "If you have players like Messi, Pele, Xavi, Ronaldinho and many more citing Futsal as key to their development, there's so much proof in other countries, so I can't understand why the FAI aren't listening to the best footballers in the world."
"We see a lot of local teams that just kick the ball forward and run for it and fight for it. This reminds me of Gaelic."
Szafranski, who is originally from Poland, played the sport every winter as a youngster in his native country, when it was too cold to play football out on the fields. Hence, climate is one of the reasons why Eastern European countries, in particular, have embraced Futsal, in addition to also being another example of why it should be perfect for Ireland.
While there is currently a Leinster League, with the games played in the the National Basketball Arena in Dublin, the majority of participants are foreigners — Brazilians, Romanians and Polish among others.
Source: Emerald Futsal League/YouTube
So of the eight teams competing in the league, just two are local Irish teams — Crumlin United (a team that Szafranski is involved with helping) and St Ita's. Yet somewhat miraculously given the current lack of interest in the sport on these shores, Eden Futsal (the winners of the FAI Futsal Cup & Emerald Futsal League) were just five seconds away from progressing in the preliminary round of the UEFA Futsal Cup (the Futsal equivalent of the Champions League), before being cruelly knocked out by the Dutch champions.
Consequently, there are small signs of optimism amid a generally pessimistic outlook and no immediate sponsorship opportunities for the organisation behind the sport.
"What I hope in five years' time is that we have one national league and perhaps other local leagues," Szafranski says. "But the most important thing is to have junior leagues and a national team.
"You can hope that the mentality in Ireland will change and suddenly, the whole view on Futsal will change. I don't think it's going to happen by itself. It has to be somebody from the top trying to push it and make it happen."
He continues: "The simple solution is in the development of kids and I think Futsal can be the answer. This can take 10 years. It's great to have on board Crumlin United, St Ita's, Transylvania Futsal, Eden College and teams like that. If we manage to get a sponsor, it will help us cover the cost of running the senior and junior league, so we could have 11-year-olds playing Futsal. This could be a huge step forward and it would definitely help the Irish national teams."
Moreover, one of the more notable beneficiaries of Futsal has been Micah Richards. The English defender was instructed by his parent club Manchester City to compete in the sport in order to improve his touch. He subsequently told BBC Sport: "I improved my technique by playing Futsal. It helps you remain more composed on the ball."
Yet despite Richards' glowing recommendation, Szafranski says he seldom comes across any footballers from the League of Ireland or other levels of 11-a-side trying out Futsal to improve their touch and other aspects of their game.
"It's mainly because of the thinking of the clubs," he explains. "If they see a player who has huge potential and would maybe benefit from developing their technical skills, awareness and quick thinking, Futsal can provide that.
"Understanding Futsal from a young age helps, because it would then come through very naturally in 11-a-side football.
"So if you ever want to have ball control like Ronaldinho, or simply make the ball listen to you and be your 'best friend,' then you better get involved in Futsal."
To find out more about Emerald Futsal Ireland, go to their website: www.futsalleague.ie. You can also follow them on Twitter and Facebook.