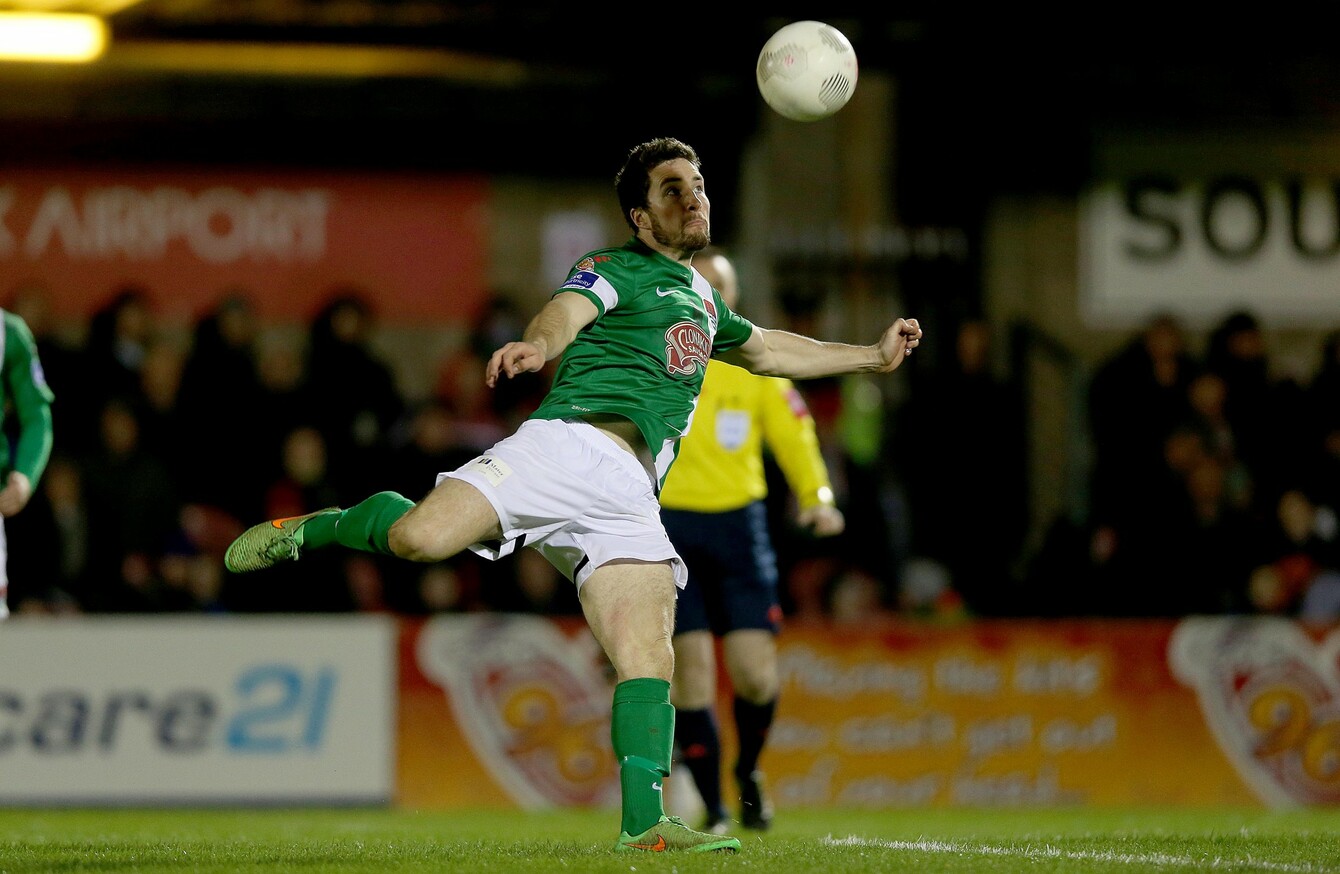 Gearoid Morrissey pictured in action for Cork against Bohemians last week.
Image: Donall Farmer/INPHO
Gearoid Morrissey pictured in action for Cork against Bohemians last week.
Image: Donall Farmer/INPHO
CORK CITY MIDFIELDER Gearóid Morrissey may still only be 24, but he's already had an eventful, rollercoaster career.
At the age of 16, he caught the eye playing for local side Ringmahon Rangers. A move to Blackburn followed, but unfortunately, life in England was not all he had hoped for.
"I was very homesick in my first stint in England, I struggled a lot with it," he tells The42. "In the end it was the reason I came home. I would be for lads staying around (in Ireland) and maybe playing on the fringes in and around the squad and in the team until they come to a certain age where they're mentally mature enough.
"Don't get me wrong, there are some lads who are mentally mature enough at 15 and 16. There's a couple of them that go over and are successful. But I think in the long run, lads are better off (staying) — you look at Alan Browne at Preston, Paul Corry, lads who go over a bit later. They're more mature mentally and can make the transition that bit easier."
After leaving Blackburn, the midfielder — who comes from a big sporting family — spent four years with his native Cork, making over 100 appearances for the side during that time, helping them achieve promotion back to the Premier Division in 2011 and taking little time to make an impact in the League of Ireland.
Morrissey's impressive form meant England came calling again. He joined League Two side Cambridge United on 22 December 2014, and made his debut the following February, appearing as a substitute at Old Trafford against Manchester United amid a 3-0 loss.
It was just a taste of it — what it's like to play in the Premier League week in week out. There's a lot of glitz and glam associated with it and rightly so, it's a top level. It was really good to be a part of something that big. It was an experience I'll treasure.
"It was weird because I've been more nervous going into games. I've been a lot more nervous for lesser games. The whole occasion was almost dreamy stuff.
"Obviously you have a little bit of nerves, but not the nerves you'd expect to have. It was so surreal, so the nerves weren't actually that bad. You'd have a little bit under the surface, but it was nothing too bad."
A number of star names, including Wayne Rooney, Robin van Persie and Angel Di Maria appeared on the Man United teamsheet that day. Did Morrissey pick up anything in particular from observing these top players at close quarters?
"It almost serves as a measure of where you are as a player," he says. "It shows you the level they're at and how far ahead they are collectively and individually. Just the quality on the ball and their knowledge of the game, it's the elite level. It really gives you a feel of where you are as a footballer."
Overall, however, Morrissey's tenure in England was brief and injury-ridden, as he struggled to find a way into the Cambridge first XI more often than not.
I think the biggest thing I took from it was mental toughness," he explains. "As a footballer, the best tool you can have is mental toughness. I think that mentally, I became a lot stronger and a lot tougher because of my year in Cambridge."
Moreover, in an interview with The42 last December, Cork striker Sean Maguire suggested there wasn't much of a difference in standard between the League of Ireland and League Two. Morrissey agrees with his teammate's assessment.
"I would go along with it… Structurally League Two would be better just purely because every club is 52 weeks (for contracts)… But in terms of the players, yeah it would be very similar to the standard in League of Ireland."
And does Morrissey believe there are a few more hidden gems such as Jamie Vardy or Deli Ali, who are capable of thriving at Premier League level, in League Two or perhaps even the League of Ireland?
"There are definitely players you look at and think, yeah, potentially he could do it. I suppose you need to have a bit of everything. You need to have the right mentality, the determination, the desire, there are a lot of factors other than just ability. "
Be part
of the team
Access exclusive podcasts, interviews and analysis with a monthly or annual membership.
Become a Member
But when the offer to re-join former club Cork cropped up, Morrissey was "delighted" to take it.
So far, the return could not have gone much better. Last month, Cork beat Dundalk 2-0, in the President's Cup, gaining the upperhand on the side who rendered them runners-up in both the league and FAI Cup last season.
Even though it occurred in pre-season, Morrissey says this victory was far from insignificant.
"Dundalk have been dominating the last two seasons but for us going forward, for that bit of self-belief to know that we can do it, we are good enough to beat certain teams on our day. If it was to happen again, and they were to win again, it would have left a bad taste in the mouth going forward."
They carried this excellent form into the opening day of the season last week, as Cork registered an opening day 2-0 win over Bohemians.
"We knew it was going to be scrappy. The weather wasn't great leading up to it. There was a lot of rain. We knew the pitch was going to cut up a bit. We kind of expected it to be a bit of a scrappy game but I think we solved the first half, which was probably not a great footballing half, it was more a battle. We just kind of got through that spell.
Second half, we got it down and started making one or two passes here and there. There's a lot to improve on, but all in all, we were happy with the result considering everything."
Despite this positive start, Morrissey says the side won't be getting carried away with talk of a potential title anytime soon. The excellent starts for fellow new signings bodes well for the future, however.
21-year-old former West Ham and Dundalk player, Sean Maguire, who scored the brace to beat Bohs last week, is one player who has caught the eye.
"He has such a good knowledge of the game, his movement is very good and then he has the ability to back it up," Morrissey says. "His ability is unbelievable at times as a striker. It's priceless to have a striker who knows where the net is."
Similarly, it's no surprise to hear Eoghan O'Connell — cousin of recently retired Irish rugby star Paul — being described as a "natural leader".
Even for a young lad, he does a lot of organising and a lot of talking on the pitch. He can win his headers and do the defending side of it, but he's a footballing centre-half or right-back. I think he could even play as a defensive midfielder and do a job — he's got that footballing ability.
"He's got a bit of finesse and he suits us down to the ground for what we're trying to do. He's settled into the group unbelievably well. He's a Cork lad — for him it's like coming back home and having a game of ball with the lads."
More than anything else though, Morrissey is just happy to be back home.
"All the old feelings came flooding back," he says of last week's emotional return. "Being in Turner's Cross on a matchday, there's a great atmosphere and the fans have been great. It was a really good feeling."
The42 is on Snapchat! Tap the button below on your phone to add!