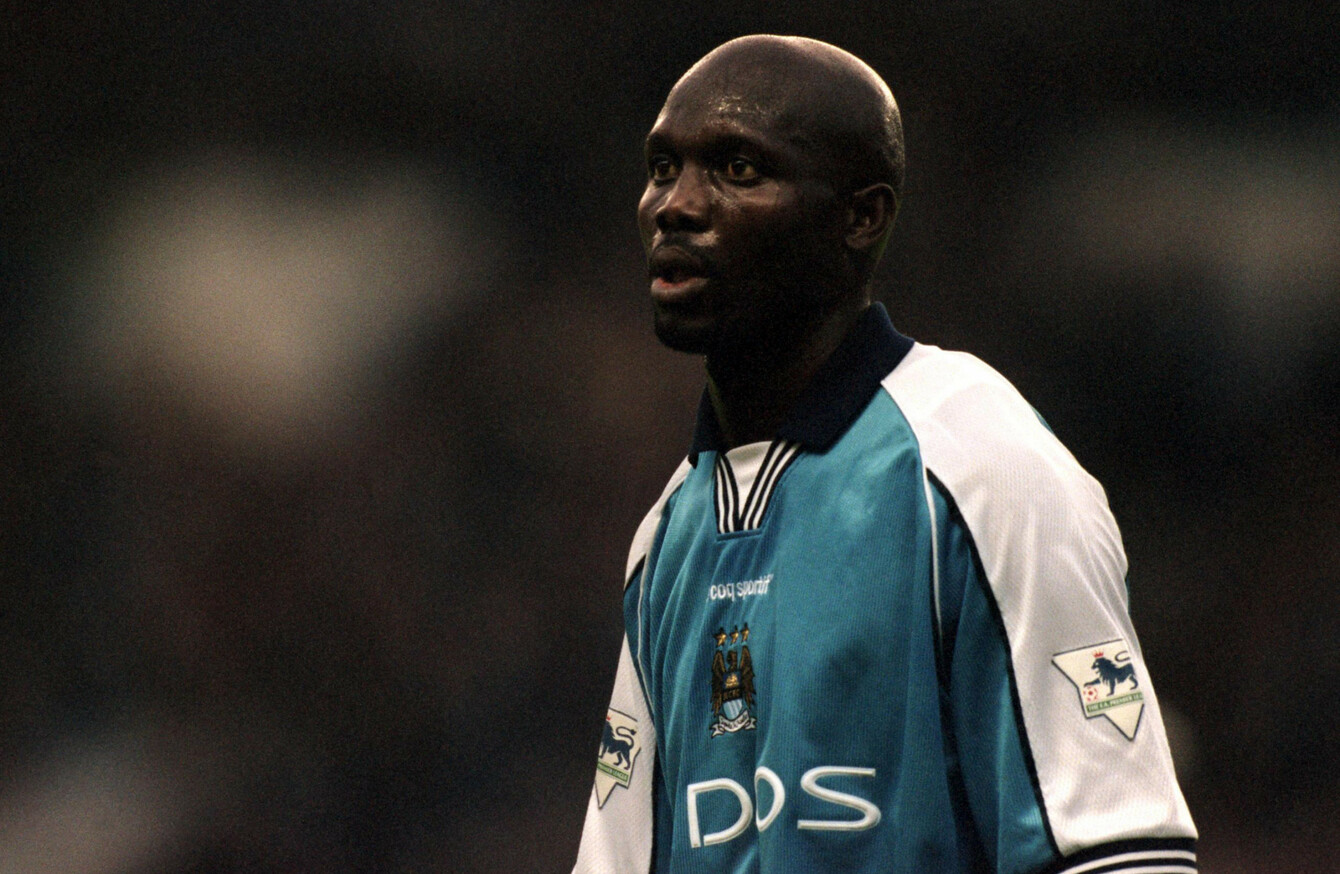 Image: Matthew Ashton
Image: Matthew Ashton
IT WAS LONG before Robinho arrived at Manchester City in September 2008 and changed everything that the club first attempted the superstar signing.
Unsurprisingly, the whole experience proved largely comical and hopeless. It seemed a perfect metaphor for City's entire bumbling, tumbling personality: a perennial Frank Spencer. 
Of course, the story didn't start out that way.
In fact, there was plenty of enthusiasm and positivity when Joe Royle's side returned to the Premier League in 2000 after a four-year absence.
The feel-good nature of the promotion was understandable. Royle had guided the team back from the brink. Stranded in League One in 1998, he'd overseen quite the comeback.
Before the first derby of the season, he was quizzed on the team's journey.
"We've come a long way in a short time, so there is a sense of reality among the fans," he said.
"Two seasons ago, our derby game was Macclesfield."
Facing United at Maine Road, David Beckham's solitary strike condemned City to their eighth loss of the season.
It was their 14th league fixture.
But, even before that game, the wheels were well and truly off. 
Returning to the top-flight, the plan was to go big. City needed some razzmatazz. They needed to make a splash.
So, they splurged £4m on West Ham's Paulo Wanchope.
And they also landed George Weah on a free transfer from AC Milan.
The Liberian striker, who won an historic Ballon d'Or in 1995, had been sidelined by the Italian giants for a while and spent the second-half of the 1999/2000 season on loan with Chelsea. Despite certainly being past his best, he managed five goals in 15 appearances at Stamford Bridge but the club didn't bite regarding a permanent deal.
But City did.
They offered him a two-year contract worth about £2.5m and weekly wages of £30,000. At 33 and winding down his career, Weah gleefully accepted.
"I think we will go into Europe," he said upon signing.
His arrival certainly stirred something. The club was lifted. Everyone stood up and took notice. Newspapers referred to the move as 'audacious'. 
"It's a big statement as to how the club feels and which way we are going," Royle told reporters.
The words proved perversely prophetic.   
Weah's first high-profile appearance came days before the season formally began. At Old Trafford, he started in Denis Irwin's testimonial and certainly made an impact.
In a spiky affair, Weah didn't seem particularly interested in following the script. 10 minutes before half-time, he mis-controlled a pass and when Irwin intercepted, he lunged at the headline act, catching him on the ankle and forcing him out of the game.
Things got worse when the competitive action got underway.
On the opening day, Weah started at The Valley as City were torn to shreds by Charlton, eventually losing 4-0.
It seemed jarring. An iconic football figure playing alongside Gerard Wiekens, Danny Tiatto and Richard Edghill while being schooled by Kevin Lisbie, Andy Hunt and Radostin Kishishev.
Still, as much as Wanchope offered some hope by scoring a hat-trick in a 4-2 win over Sunderland in the next game, it was the unglamorous members of the squad – like Paul Dickov, Kevin Horlock and Alfie Haland – who were stepping up.
By the end of September, Weah had managed as many league goals as Tiatto and Steve Howey and Royle simply lost faith.
His biggest moment came at Priestfield in the second-leg of a League Cup tie against Gillingham when he scored twice. But it was four days later – in a league clash with Newcastle – that Weah took his curtain call.
Again, it was underwhelming.
He was hauled off after 70 minutes and replaced by Ian Bishop. Shortly after, Alan Shearer scored what proved the winner. An ignominious end. After that, he was benched and frozen out of the first-team picture.
On 16 October – just 10 weeks after he joined the club – City announced Weah's contract had been terminated.
"He brought some moments of magic with him but it was always going to be a delicate situation with him," Royle said.
"He's 34 years old and he just wants to play all the time. I can understand that fully but I have to do what I think is best for Manchester City. It is always regretful when things do not work out between club and player. George is a true professional who has a great stature throughout European football and we wish him well."
Royle played the diplomat but Weah had little interest in doing likewise. He offered a withering critique of both the club and the manager.
"I'm not upset just because I'm not playing," he said.
"I do accept because of my age that I won't play all the games. But I will not accept being at a club where the manager names me in the team and then calls me five hours later to tell me that I am not in the team. In my opinion that is unprofessional and disrespectful and shows a lack of confidence in me. I was made to feel old and of no real use to the club. I felt I was being used for publicity to attract other players."
"I didn't come for the money," Weah continued.
I could have stayed at AC Milan but instead I sacrificed $2m [£1.4m] from them in order to come here. I didn't leave that for somebody to tell me to shut up and fuck off."
"I respect the people I work with and I expect the same in return. My reasons for leaving are the lack of respect, the lack of communication and the dishonesty shown to me by Joe Royle."
By the following January, Royle had also lost patience with Wanchope – placing him on the transfer list after one too many transgressions.
He'd force his way back into the side but only when the manager ran out of ideas to try and save the season.
As the side hurtled toward the trap door, Weah was still chirping from a thousand miles away.
Having joined Marseille immediately after rubber-stamping his golden handshake in Manchester, he hit the ground running and showed he still had plenty to offer. He scored in just his second appearance and even managed a brace against his former club Monaco. In total, he managed five in 20 appearances.
As the season drew to a close, he was asked about the fortunes of his former employers and, once again, he didn't hold back.
"It is the fault of Royle and his technical staff that City have been unable to play good football in the Premiership," Weah said.
They needed at least six new players at the start of the season. They needed to be a lot stronger throughout the team. The mistake Royle made was to remain too faithful to the men who had got City up.They needed a top-class striker, a midfielder of similar quality and an entirely new defence. The whole back four was simply not good enough."
"Do not think that I'd be happy to see them go down just because I was so poorly treated there. I regret what has happened to the players I left behind. But, if I am to be honest, I am not in the least surprised by their situation. I do not feel I have anything to reproach myself for."
When he signed for City, Royle offered up the following description of Weah.
"He's a great man, you can feel the presence about him. He's tri-lingual and a politician."
Nobody could've predicted he'd go on to become president of Liberia.
But equally, nobody could've predicted City would go on to become the envy of the Premier League.
The42 is on Instagram! Tap the button below on your phone to follow us!