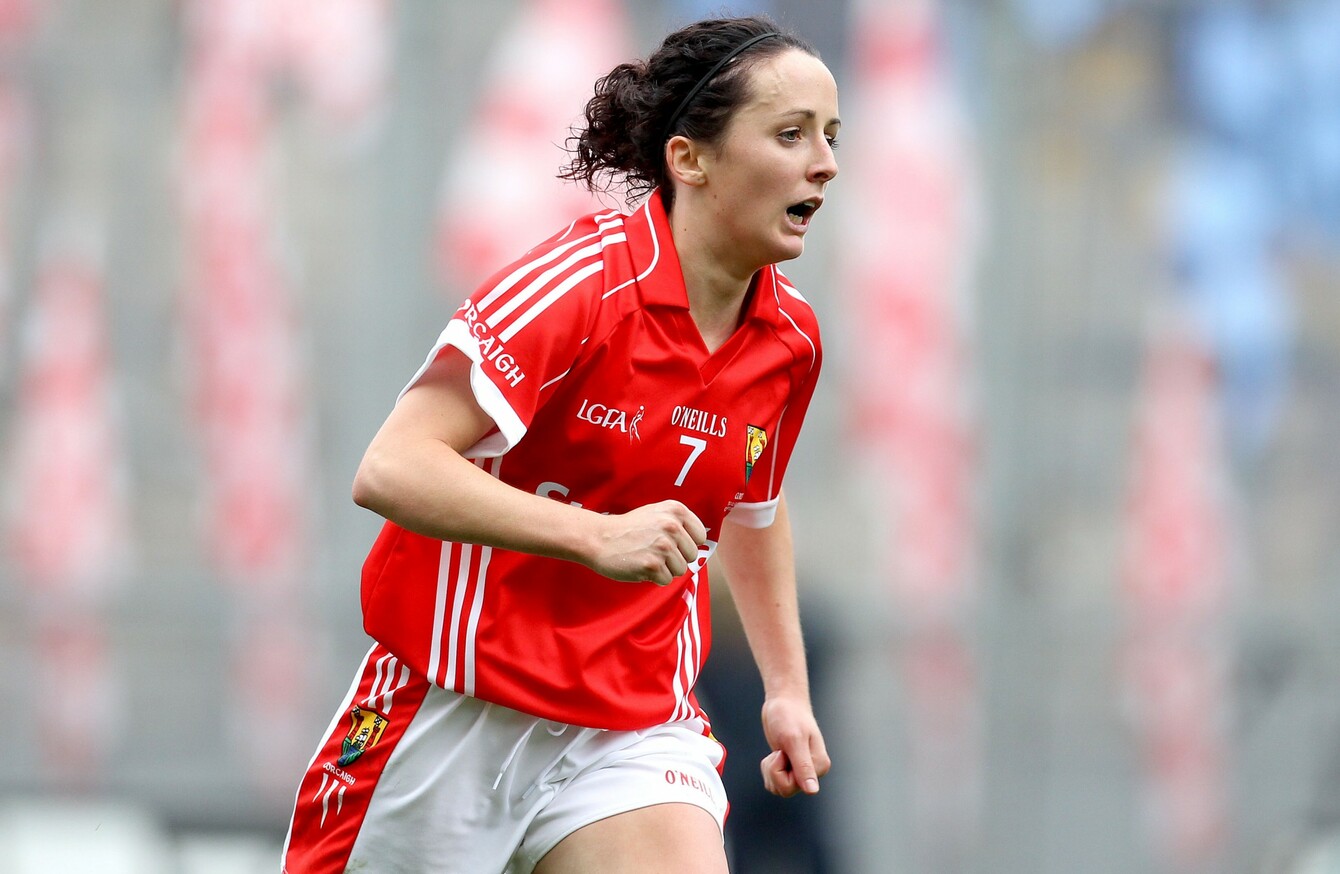 Image: Ryan Byrne/INPHO
Image: Ryan Byrne/INPHO
WHEN GERALDINE O'FLYNN received confirmation of a second torn cruciate after the 2015 All-Ireland final, she was already anticipating bad news.
Her physio Declan O'Sullivan, who supervised her rehabilitation from the injury in 2010, had similar worries. And when word finally came through via an MRI examination, O'Flynn's instinct was to immerse herself into a recovery program with a view to resuming her training with Cork.
But then something happened. As the days tumbled into the summer and championship season was approaching, her mindset shifted.
The return date from her injury was set for early June, leaving her with plenty of time to reclaim her place as Cork's resident half-back. But the PE and Maths teacher wanted something else. The torture of an enforced break from inter-county football was receding and a sense of appreciation for other things was in bloom. This wasn't a prelude to retirement of course, more that she was putting things on ice for a while.
"We had an awful lot played and we've a huge amount of miles built up," she explains, "and I think it was an opportunity to take a break.
The league had started and I still hadn't made a decision. Then as it was coming closer to the summer I made a decision. I think when you make a decision you're happy enough with it. There was no defining moment, just time had built up.
She adds:
"The commitment is huge and that definitely was a big decision whether I'd make the commitment again. When you're in at inter-county level, it's 100%. You're talking about it, you're watching your sleep, diet, training everything. So I just wasn't able to give that kind of commitment again this year."
Cruciate tears typically take six months to recover from, and half a year is a long time to allow the patient gain some perspective.
"It gave me time to reassess things and look at things differently. You have more time out and you're not training as part of a team. When you get long-term injuries you do think about other things and I'm a teacher so I'm off for the summer so every other summer I would have been staying at home training. An opportunity came along and I suppose everything happens for a reason."
Even as she took her seat in Croke Park for the All-Ireland final last Sunday, there was no resentment towards the players occupying the red jerseys. There was no sense of entitlement or a temptation to claim another All-Ireland on top of the 10 she already has; this is a sport where silverware is earned on the pitch and not through years of service.
"It was definitely different. You kind of hear things that go on outside of Croke Park so to experience it was different. I was able to enjoy it and at half-time we knew the girls hadn't played well so you knew the performance was in them to come out in the second half and I was delighted they won."
"I hadn't the training done," she adds diplomatically, "and hadn't been with the girls all year. When you don't put in the work you don't expect to get the rewards.
Be part
of the team
Access exclusive podcasts, interviews and analysis with a monthly or annual membership.
Become a Member
"For the league matches that I went to, I was missing it a bit because the injury was kind of fresher but I couldn't have played so I think that gave me some kind of solace that you can't play rather than you should be playing."
And then the longer the year goes on the more I've come to terms with it so it wasn't that much of an issue then in the All-Ireland final. I hadn't been part of it so I didn't feel like I should be there.
When O'Flynn first sustained the injury during Cork's All-Ireland quarter-final defeat to Tyrone in 2010, the pain was almost instant. The rehab was tough and often lonely but the drive to win back the All-Ireland crown in 2011 "was an incentive to try to get back." There was some tentativeness when she gradually returned to full contact training but her confidence was fully restored by the time she played her first game.
Strangely, when it recurred in the 2015 All-Ireland final, the sensation wasn't immediate and O'Flynn puts that down to the significance of the occasion.
"I think it was just the shock of being in an All-Ireland final. I just couldn't believe that the pop could have been the cruciate again on the other leg (right leg). I stayed on and then it totally went from me again so I had to go off and tried to strap it but in the warm up area I knew from my movement that it kept going so I knew I had torn it."
She adds:
The first time it happened, I didn't even know what a cruciate was. I had heard about it but didn't realise what kind of pain or what kind of injury it was.
During her recent absence, the new Cork management led by Ephie Fitzgerald checked in to reassure her that the option to return to the fold was entirely her own and that it would be well received by the camp.
But she politely declined the invitation in order to pursue other things. O'Flynn spent five weeks of her newfound freedom in Australia visiting friends before travelling elsewhere. She hasn't touched a football since her return and any decisions about next year will be settled over the Christmas break.
For now, things will remain on ice.
The42 is on Snapchat! Tap the button below on your phone to add!