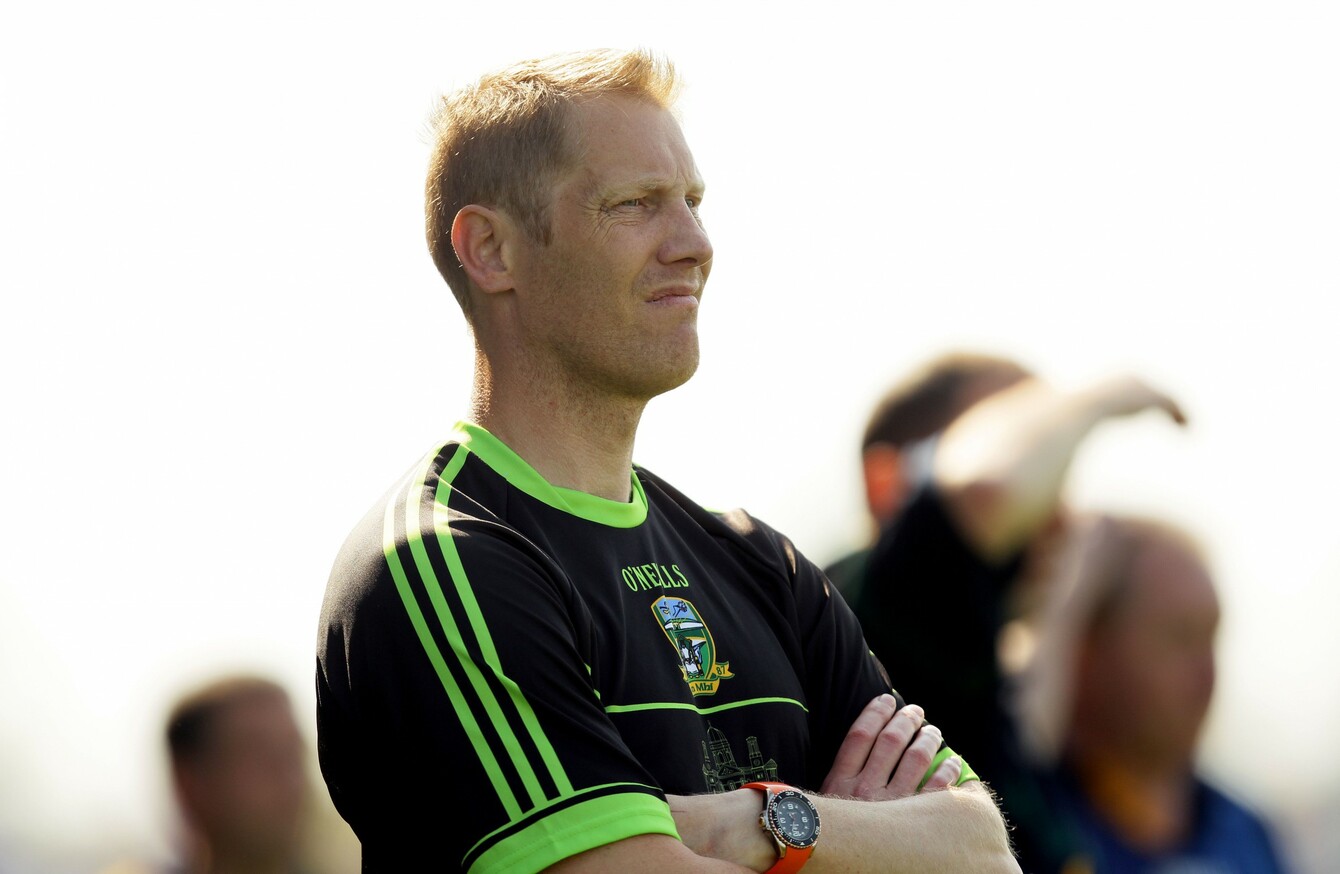 Geraghty: All-Ireland winning skipper has ambitions to be boss one day.
Image: Cathal Noonan
Geraghty: All-Ireland winning skipper has ambitions to be boss one day.
Image: Cathal Noonan
FORMER MEATH ALL-Ireland winning captain Graham Geraghty believes the current squad are "too nice" and reckons the current mix of players is wrong.
After a golden period under Sean Boylan, the Royals have fallen on hard times. They haven't won the All-Ireland since 1999 and last played in a final in 2001.
Last summer, they suffered a first championship defeat at the hands of Westmeath and Geraghty wants to see Meath take a more physical approach to the game.
"We are just too nice, that's all. With the rule changes as well you could say that it doesn't allow for that but you can be physical and fair.
One thing Sean Boylan would always say to us is go out and hit hard but hit hard on the ball. He never sent you out to take anyone out of the game.
"The game is probably after speeding up so much if you are a split second late now, you are getting a black card, and players tend to pull out of tackles and maybe just don't go in as hard as they should."
Geraghty was in the shake up to replace Seamus McEnaney as manager before current boss Mick O'Dowd was handed the role.
And while the 1999 winning skipper believes O'Dowd is doing a "decent job," he wants to see a different type of player brought into the set-up. Meath have seen a considerable overhaul in personnel in recent years with O'Dowd handing out 18 championship debuts in three seasons, with 14 of those coming in the last two campaigns.
"Micko is doing a decent job in there and I suppose next year is a huge year for him. They really need to push on and do something.
"Meath fans probably over the years would have been expecting more and over the last two years anyway, we haven't been reaching the highs that we should be.
"The mix of players is probably just not right. We seem to have gone for small speedy players rather than what we have been before.
"I think the mistake is saying that we need to bring in younger players. There are plenty of players out there in their mid-20s that haven't had a chance. Because probably they don't fit the profile that is thought to be expected of county players, they haven't been brought in.
(O'Dowd) has gone for pace, but they are small players as well that he has gone for. At county level you will get away with one or two small players if they are quick, but you need a mix of everything.
"If you go back to the teams that we had success with, we had John McDermott around the middle of the field. We had Jim McGuinness as well. They were huge men. They were able to throw themselves about and they were athletes as well."
Having missed out on managing the Royals last time, Geraghty still has ambitions of taking charge in the future.
"I think I would (like to manage Meath). I think anybody that's involved in coaching or who has played football for the county would like to aspire to that.
"Obviously I'd have different ideas to the present coach and you would probably be bringing in different players."