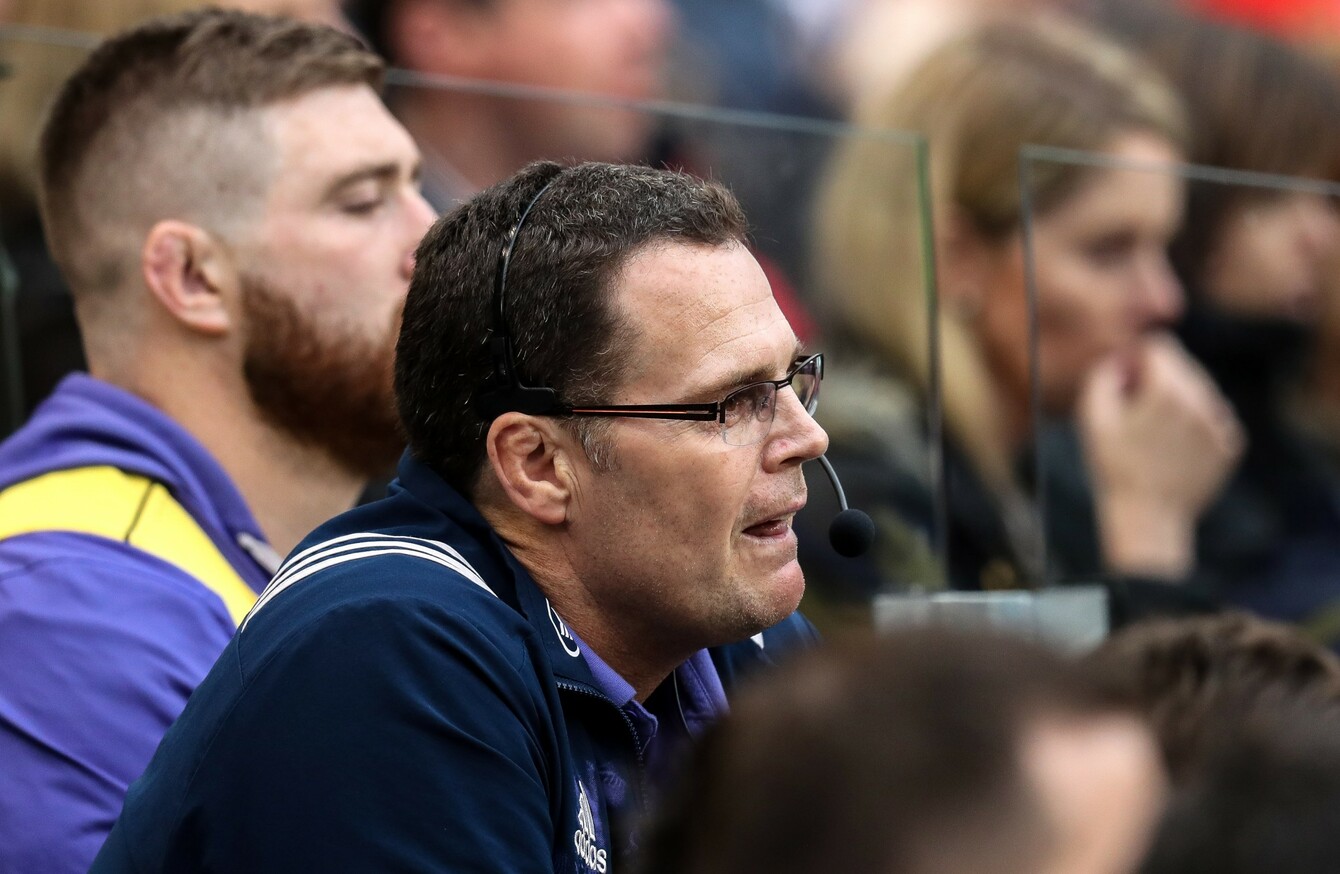 Reports on Monday said Erasmus is leaving Munster to head back to SA.
Image: Billy Stickland/INPHO
Reports on Monday said Erasmus is leaving Munster to head back to SA.
Image: Billy Stickland/INPHO
THE IRELAND MANAGEMENT have not heard any confirmation that Rassie Erasmus may be departing Munster.
Scrum coach Greg Feek said they were unaware of any developments and that it had no impact on the Munster players in Tokyo preparing for Saturday's concluding test with Japan.
"I think these guys are probably used to that rumour by now. I don't know why it keeps coming up. Obviously, the South Africans are trying to get him back, so there is always going to be that rumour.
"At the end of the day we haven't heard any confirmation and I haven't heard anything from the guys as such."
"I heard it this morning and a few of us just went, 'Jeez, again?' I feel sorry for Rassie is some ways," he said.
But whatever about their existing coach, several Munster players linked up again with Rob Penney yesterday in Tokyo.
Ireland are using Penney's NTT club as a training base this week and the former Munster coach is assisting them.
"I think the Munster boys firstly were happy to see him. They all went over and were chatting to him," Feek added.
"I've known Rob for a long time back at Canterbury and obviously when he was Munster he was a great man to have a chat to and Joe knows him. He's got a great way about him. He loves rugby.
"He always innovative and got new ideas and hopefully we get to catch up with him properly over a coffee in the next few days while we're here."
But Feek said they weren't expecting to get much of an inside track from Penney about what Japan might produce next Saturday.
"He's pretty loyal. He probably won't give us too much inside info on it and such, but he'll definitely point us in the right direction in terms of lifestyle parts."
Meanwhile, three players who sat out training yesterday morning are expected to be available for selection later in the week.
Prop Finlay Bealham, scrum-half Luke McGrath and flanker Dan Leavy all suffered either facial or eye injuries.
If McGrath does not recover then it will pave the way for John Cooney — the only uncapped player in the touring party — to make his bow.
Feek said there was no danger of complacency despite the 50-22 win on Saturday and feels there is plenty of room for improvement.
"Well, we missed a lot of tackles at the weekend, that's one thing we want to focus on because the Japanese attack is really good. It is something we need to get right. Although the scoreline was high, some of the tries were fortuitous and I think we are going to have to work a lot harder this week to those tries this week.
"It's going to be physical and it was a step up from the US, I think, in some exchanges and the way they play the game and if you look at the way the Highlanders played in the past under Jamie Joseph, they like to pressurise teams by field position, by contact and by good defence. So, they keep a good spread of the field."
The42 is on Instagram! Tap the button below on your phone to follow us!