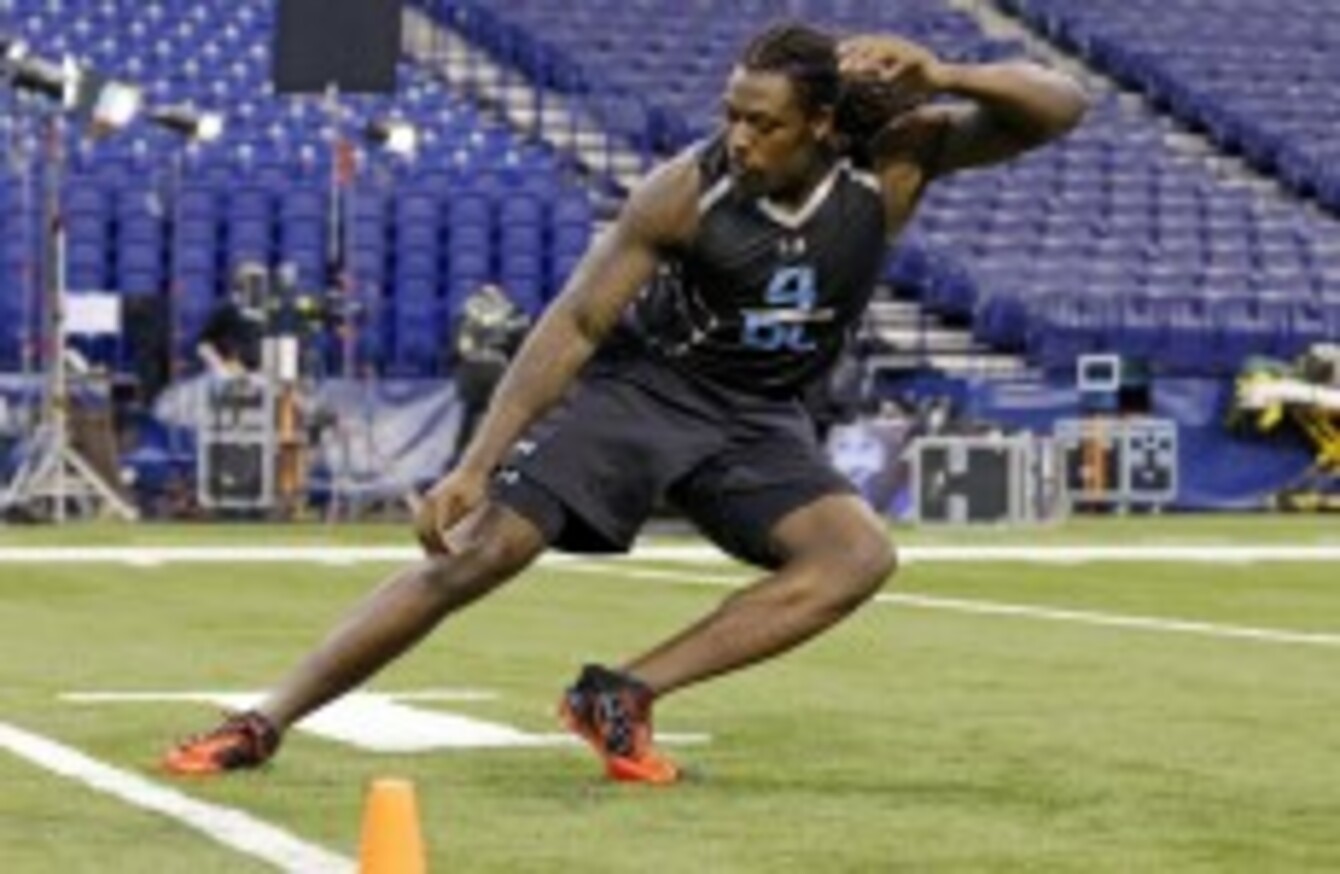 Jadeveon Clowney is tipped by many to be the top pick in this year's NFL Draft.
Image: Michael Conroy/AP/Press Association Images
Jadeveon Clowney is tipped by many to be the top pick in this year's NFL Draft.
Image: Michael Conroy/AP/Press Association Images
OFFICIALLY KNOWN AS the National Football League Player Selection Meeting, the NFL Draft is an annual event that allows teams recruit the best college football players available in order to replenish rosters depleted by injury, retirements and players moving on to other teams.
A huge amount of time and effort goes into studying these recruits, from watching hours and hours of footage of their games in college to testing their mental and athletic abilities during the NFL scouting combine. Anything that can be measured – and even some things that can't – is analysed in the most minute detail.
As we'll see later, the scouts and general managers whose job it is to secure the future of their franchises don't always get it right. Indeed, sometimes they get it spectacularly wrong. However, it is the opportunity to see teams make huge mistakes or unearth a diamond in the rough late in the draft that makes the event so compelling.
History
The very first draft took place in 1936 when 81 recruits were selected over the course of nine rounds with very little known about the players, other than sparse media reports from college football beat writers.
Jay Berwanger, the inaugural winner of college football's Heisman Trophy for player of the year, was the first player selected in the 1936 draft. However, Berwanger, along with 56 others selected that first year, opted not to play in the NFL in 1936.
The draft has undergone a number of changes since that first event and has been televised since 1980, with viewing figures increasing almost every year.
How it works
There are seven rounds in the 2014 NFL Draft which has found a new home in May for the foreseeable future. The first round takes place in Radio City Music Hall on Thursday May 8, with rounds two and three the following day and the remaining four rounds taking place place on Saturday.
The draft is designed so that each of the 32 NFL teams can make one selection – known as a pick – per round. There will be 256 players selected this year.
However, as draft picks are historically traded between teams – last year there were 26 trades – and others have to be forfeited as punishment for indiscretions on and off the field, the number of actual picks per team varies between five (Tampa Bay, Indianapolis and Baltimore) and 12 (San Francisco) in 2014.
The order in which the picks are made is determined by a team's record the previous year. In 2013, the Houston Texans had the worst record in the NFL so they will pick first in the 2014 draft. The Seattle Seahawks, because they won the Super Bowl, will have the last pick and so it continues throughout the seven rounds (with the exception of conditions picks, trades, etc which we won't get into here).
The draft order is designed to keep the NFL competitive, at least in theory. By giving the worst team from the previous year the choice of the best young players available, it should allow that team to rebuild and compete for a Super Bowl.
Making a pick
In round one, teams have 15 minutes to make their choice. This falls to ten and five minutes for later rounds putting teams under pressure if all the players they were looking at have already been selected.
However, this shouldn't really happen as teams begin planning for the NFL Draft months, if not years, in advance. By using scouts, coaches and general managers, teams compile a list of the players they would like to draft, based on a number of factors.
While not set in stone, a player is usually drafted because he fills a positional need. If a team has played badly the season before, it is generally because they need a quarterback or an offensive lineman to protect their existing quarterback. For this reason players who play those positions are often selected first overall in the draft.
Sometimes, especially towards the end of a round, a team might pick the best player available, regardless of whether they need a player in that position or not. The main reason for this is because that team has already filled their positional needs through free agency and trades.
Best and worst of the NFL Draft
There is some debate over the worst draft pick of all time but, for my money, there are really only three contenders (JaMarcus Russell, Ryan Leaf and Ricky Williams) and one of them rises – if that's not an oxymoron – above the other two.
JaMarcus Russell was selected first overall by the Oakland Raiders in the 2007 NFL Draft and, in just 25 games with the Raiders, managed to turn the ball over 48 times, scoring only 18 touchdowns. When Russell reported to the Raiders training camp weighing more than 20 stone in 2009, his days in the NFL were numbered.
Leaf and Williams warrant mention because of the spectacular personal implosion of the former and the latter because Mike Ditka traded all but one of the New Orleans Saints' picks in 1999 to Washington – as well as a first and third round pick in 2000 – to move up just seven places to get the running back. He would move to the Dolphins just three seasons later without reaching 1,500 yards rushing in a season for the Saints.
At the other end of the scale, the biggest draft steal of all time is New England Patriots quarterback Tom Brady. Since being the 199th player selected in 2000 NFL Draft (sixth round), Brady has led his team to five Super Bowls, winning three and in 2007 he set a then NFL record with 50 touchdown passes in a single season.
While there's unlikely to be another Russell in this year's draft, the new collective bargaining agreement stops teams from betting the franchise on rookie players anymore, there could potentially be another Brady.
To see who it might be, keep an eye out for The Redzone's 2014 Mock Draft later this week.
A version of this article first appeared here.