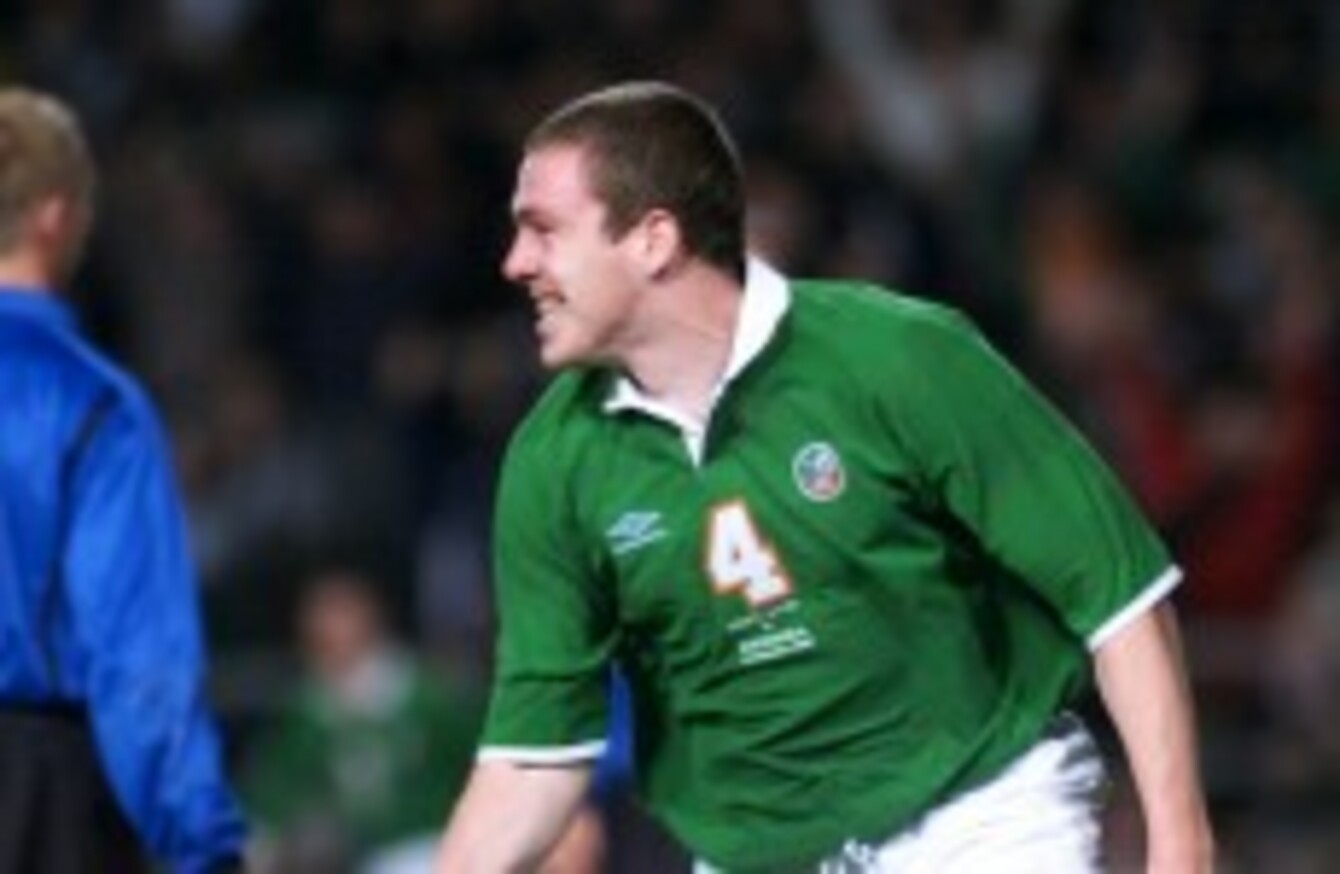 Dunne is the only Irish player with the possibility of starting in all four matches between the two sides.
Dunne is the only Irish player with the possibility of starting in all four matches between the two sides.
IRELAND GO INTO this Friday's play-off with the minor psychological advantage of knowing that they have beaten Estonia before.
So not at all wanting to tempt fate, we decided to look back at the previous two fixtures in which the two sides were involved.
So will it be deja vu all over again? Will our 100% record against Estonia continue? Will Richard Dunne be the hero once again? Will doubts over Robbie Keane's fitness prove immaterial to the eventual outcome? Let's hope so.
Ireland 2-0 Estonia (11 October, 2000)
(Steve Mitchell/EMPICS Sport)
Ireland enjoyed a comfortable two-goal victory over their opponents.
They had previously secured draws against Portugal and Holland, and Mark Kinsella's drive from just inside the box halfway through the first half accentuated their burgeoning confidence.
Richard Dunne then sealed the victory, as he blasted home from close-range just after half time.
Before the final whistle, Ireland spurned several chances to add to their lead, while Estonia rarely threatened.
Speaking after the game, Mick McCarthy told reports (BBC) that he was happy with how his side performed:
"There was plenty of application and professionalism from the players.
"Niall Quinn might not have scored but he was terrific tonight with his little touches and flicks."
IRELAND:

A. Kelly, Carr, Breen, Dunne, Harte, McAteer, Kinsella, Roy Keane, Kilbane, Robbie Keane, N. Quinn.

Subs: Holland, Foley, Staunton, Duff, Kiely, Finnan, Delap.

ESTONIA: Poom, Lamslau, Stepanov, Allas, Saviauk, Viikmae, Terekhov, Oper, Anniste, Reim, Zelinski.
Subs: Tohver, Haavistu, Jurisson, Ustritski, Kristal.
(Gareth Copley/PA Archive/Press Association Images)
Estonia 0-2 Ireland (6 June, 2001)
Ireland beat Estonia in an equally comfortable fashion away from home just under a year later, with goals from Richard Dunne and Matt Holland.
Despite the enforced absence of Roy and Robbie Keane, Dunne opened the with a toe poke from close range.
Ireland then scored their second just before the break, courtesy of a sweetly struck Matt Holland drive.
Mick McCarthy echoed the tone of his statements in the sides' previous clash, telling reporters (BBC): "It was a good professional performance and I can't speak highly enough of my players."
ESTONIA:

Kaalma; Saviauk, Stepanov, Piiroja, Rooba, Reim, Haavistu, Novikov, Zelinski, Kristal, Oper

IRELAND: Given; Carr, Harte, Dunne, Staunton, Holland, Gary Kelly, Kinsella, Niall Quinn, Duff, Kilbane
Subs: Robbie Keane, O'Brien, Connolly, McAteer, Finnan, Doherty, Alan Kelly.