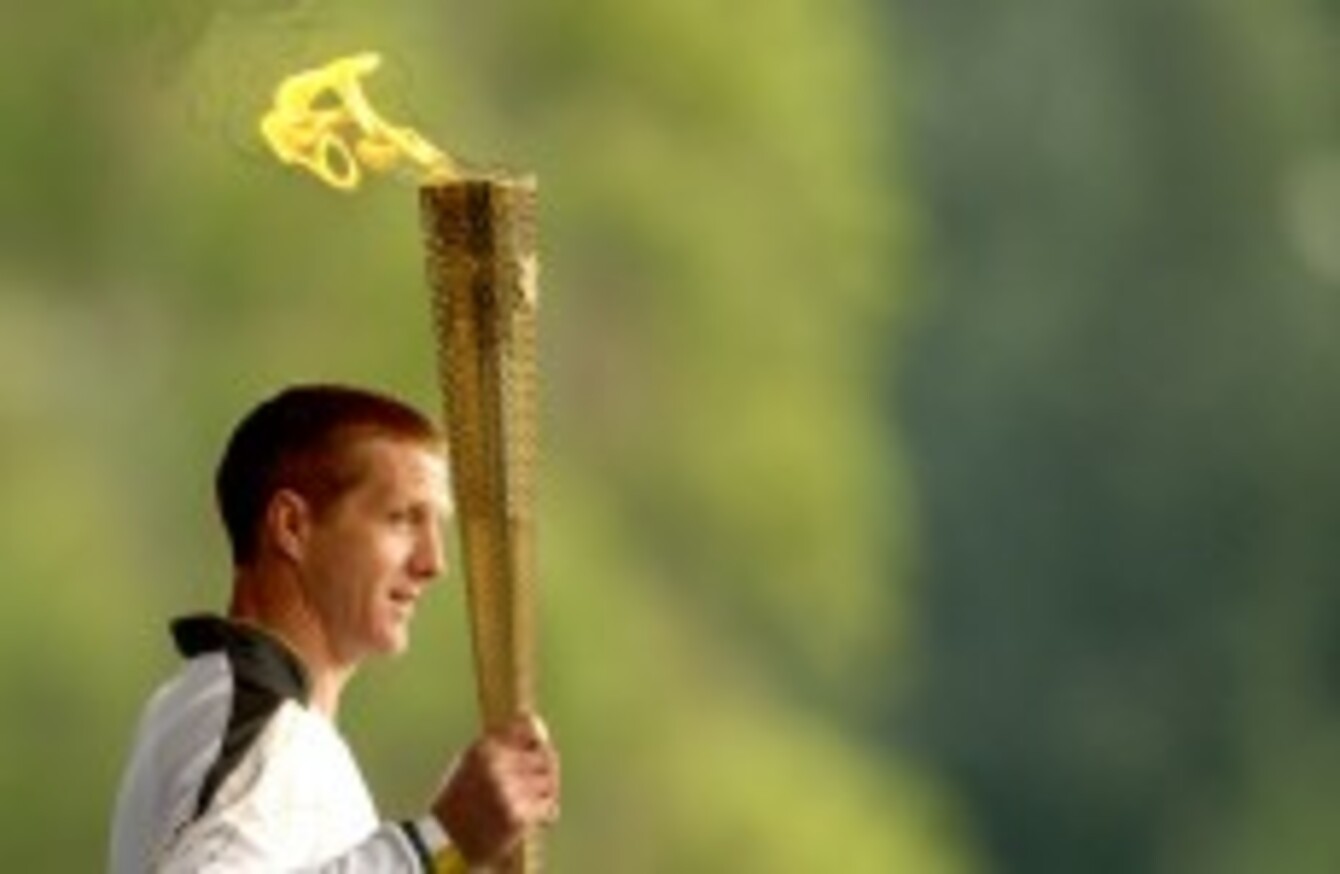 Henry Sheffin toured Croke Park with the Olympic torch in 2012
Image: James Crombie/INPHO
Henry Sheffin toured Croke Park with the Olympic torch in 2012
Image: James Crombie/INPHO
Henry Shefflin's retirement brings the curtain down on a glittering intercounty career with Kilkenny. He'll continue to hurl with his beloved Ballyhale Shamrocks and there could be more glory to come with the All-Ireland club specialists.
But for now, here are King Henry's 10 best moments to date for club and county:
1. 2009 All-Ireland final
With the destination of the Liam MacCarthy Cup very much in the balance, Shefflin was presented with the chance to get the Cats back on track against 14-man Tipperary. In a situation like this, is there anybody you would trust more than Shefflin to oblige? And he did, finding the net with a 63rd minute penalty to hand Kilkenny the lead at a critical stage.
Source: tommyn147/YouTube
2. 2012 All-Ireland final
Shefflin's performance in the second half of the drawn 2012 All-Ireland final was simply imperious. With Kilkenny desperately devoid of leadership, Shefflin almost single-handedly kept them in contention and ensured that the Noresiders secured a replay, which they won. But it shouldn't be forgotten that Shefflin was going right to the bitter end of the Leinster final of that summer too, when Galway whipped Kilkenny.
3. 2010 All-Ireland final
Would Kilkenny have won the five-in-a-row in 2010 if Shefflin was fully fit? It's a question we'll never know the answer to but they wouldnt' have been too far off. The fact that he even lined out at all was a remarkable feat in itself. Shefflin tore the cruciate ligament in his left knee against Cork in the All-Ireland semi-final but after undergoing intensive treatment with Ger Hartmann, he was deemed fit enough to line out.
Shefflin's day ended after just 12 minutes, however, and as he limped off he was afforded a standing ovation by fans of both Kilkenny and Tipperary.
4. 2015 All-Ireland club hurling semi-final
Brothers TJ and Eoin Reid may have scored the goals but Shefflin pulled the strings as Ballyhale comfortably disposed of Gort in last month's All-Ireland club hurling semi-final. Shefflin scored five points from play and delivered a performance that left Ballyhale's joint-manager Colm Bonnar drooling. Bonnar's insisted after the game that Shefflin could continue playing for Kilkenny at the highest level – if he so wished.
5. 2000 All-Ireland final
Shefflin collected the first of his ten All-Ireland senior hurling medals in 2000. Having suffered defeats to Offaly in 1998 and Cork a year later, a third successive final defeat was an unconscionable prospect for Kilkenny fans. They need not have worried as Shefflin collected 1-3 against Offaly as the goal-hungry Cats ran riot. Shefflin was one-third of a lethal inside line that also contained DJ Carey and Charlie Carter. The trio bagged 4-10 between them on the day.
Source: Bryansford Gael/YouTube
6. 2002 All-Ireland hurling final
Shefflin was now emerging as THE key man in the Kilkenny attack, even with Carey still in the frame. In the 2002 decider, the pair hit 2-13 of Kilkenny's 2-20 total against Clare at Croke Park. Shefflin notched 1-7, with Carey adding 1-6. Shefflin created the game's opening goal for Carey before being denied by Davy Fitzgerald's brilliant first half save. But Shefflin would not be denied as he dived full-length to touch home Martin Comerford's delivery from the left touchline approaching the finish.
Source: Bryansford Gael/YouTube
7. 2007 All-Ireland hurling final
In a fixture charged with emotion following the death of Vanessa McGarry, wife of Kilkenny goalkeeper James, Shefflin called the tune in the first half before going off with cruciate knee ligament damage. Shefflin and Eddie Brennan scored early goals as Kilkenny torched inexperienced Limerick with a quick start. As team captain, Shefflin lifted the cup with Darragh McGarry, son of James and Vanessa (RIP).
8. 2008 All-Ireland hurling final
The knee injury sustained by Shefflin in the 2007 All-Ireland final ruled him out of the League campaign of 2008. But Shefflin was back to his brilliant best in the championship, collecting a ninth provincial medal before Kilkenny obliterated Waterford in the All-Ireland final. Shefflin scored eight points, including six from placed balls, as the Cats won by 23 points.
9. 2013 All-Ireland senior hurling qualifier
Those who were present will never forget the crackle in the air at Nowlan Park when Kilkenny hosted Tipperary in the 2013 All-Ireland senior hurling qualifier. The PA announcer whipped the home crowd into a frenzy with his confirmation that Shefflin was on the bench after recovering from injury and the roar that greeted his introduction in the second half was ear-splitting. Despite only coming on for the last six minutes, Shefflin still managed to supply a crucial late score for Richie Power.
10. 2014 All-Ireland senior hurling final
Brought on for the final 12 minutes of the 2014 All-Ireland final replay, Shefflin finished the day with a tenth All-Ireland senior hurling medal. Not content with that, Shefflin went on to play a pivotal role for Ballyhale Shamrocks en route to club glory on St Patrick's Day. All-Ireland medals with county and club within the space of six months is pretty good going, we're sure you'll agree.