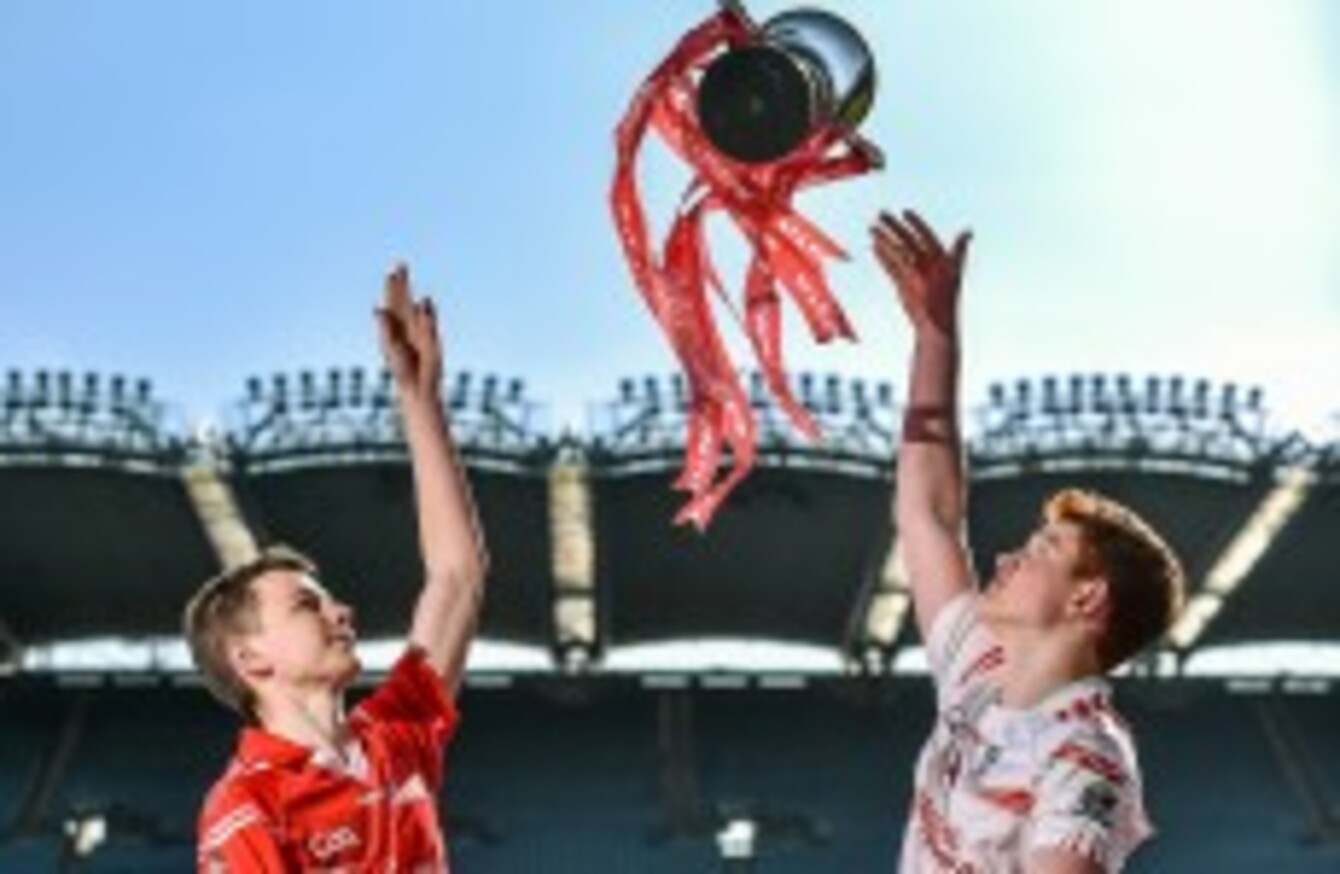 PS Chorca Dhuibhne take on Roscommon CBS this afternoon.
Image: David Maher/SPORTSFILE
PS Chorca Dhuibhne take on Roscommon CBS this afternoon.
Image: David Maher/SPORTSFILE
1. Brian Ó Beaglaoich (PS Chorca Dhuibhne – An Ghaeltacht) 
A huge defensive talent, Ó Beaglaoich was corner-back on the Kerry minor team that won the All-Ireland title last September after being full-back on the PS Chorca Dhuibhne side that lifted last year's Hogan Cup crown.
He's been released to centre-back at schools level and it was his surging run forward that set in motion the move that resulted in the PS Chorca Dhuibhne goal in last month's Hogan Cup semi-final. Ó Beaglaoich's ability was reflected in the fact that he made the starting Kerry U21 side for last month's Munster semi-final against Cork. He'll be a key figure this afternoon.
2. Noel Gately (Roscommon CBS – Creggs)
The principal scorer in the Roscommon CBS line up. Shot 0-4 in the Connacht final win over Summerhill College last year and struck one of the vital goals in the provincial semi-final success over St Gerald's Castlebar.
In the Hogan Cup semi-final against Good Counsel, Roscommon CBS's defensive unit repelled their Wexford opponents but the 0-5 haul that Gately weighed in was invaluable. A Roscommon minor last year and an U21 this year, the Creggs forward will need to be policed today by the Chorca Dhuibhne rearguard.
3. Tom O'Sullivan (PS Chorca Dhuibhne – Dingle)
Like O Beaglaoich, O'Sullivan was a Kerry minor last year as he started at wing-back on that team. Corner-back on last year's Chorca Dhuibhne winning side, he's taken up a post at left half-back this season.
His form has been impressive and he also got recognised by being part of the extended panel of the Kerry U21′s this year. Another important part of Chorca Dhuibhne's aspirations today.
Be part
of the team
Access exclusive podcasts, interviews and analysis with a monthly or annual membership.
Become a Member
4. Richard Hughes (Roscommon CBS – Roscommon Gaels)
Hughes lines out at wing-back on a Roscommon CBS side who have shut down several attacks in this year's championship action. He's been integral to that as Roscommon CBS have improved notably since losing heavily in the Connacht schools league final against Summerhill College when they conceded 3-11.
In their last three games, Roscommon CBS have not conceded any green flags and an average of just over seven points. Hughes contributes at the other end of the pitch as well as he slotted over 0-3 in the provincial decider against Summerhill and matched that in the semi-final victory over Good Counsel.
Source: Post Primary/YouTube
5. Conor Geaney (PS Chorca Dhuibhne – Dingle)
Geaney lined out at corner-forward on last year's Hogan Cup winning side and was part of the extended victorious Kerry minor squad. In 2015, his influence has grown notably.
He fired 0-5 in the Corn Uí Mhuirí final draw against Rochestown College, bagged 1-3 in the final replay win and then landed 0-7 in the Hogan Cup semi-final against St Pat's (Cavan). His accuracy from placed balls and open play will be key weapons in PS Chorca Dhuibhne's aspirations of triumphing this afternoon.
6. Gearoid Keenan (Roscommon CBS – Oran)
Midfield for the Connacht side, Keenan's influence will be important. He excelled particularly in the provincial semi-final triumph against St Gerald's and has showed up consistently well since then.
Mark O'Connor is a totem around the middle in the PS Chorca Dhuibhne team and was a Kerry All-Ireland minor winner last year. Keenan will be key to the Roscommon side's hopes of curbing his threat.