THE FIRST LEG is hugely important. They all are, of course, but the first leg determines the staggers and like anything, a good start is half the battle.
Sitting in the blocks, waiting for the gun to go, 101 different things could run through an athlete's mind.
But not for Molly Scott. Not on this day.
Saturday, 14 July 2018. Tampere, Finland. The IAAF World Under-20 Championships. The women's 4x100m final.
The day that four young women won a world sprint silver for Ireland.
"Everything was kind of quiet," Scott recalls. Spaced out in her own little world, she just knew she had a job to do.
That calmness flowed from their time together in the call room. Scott and her three Irish team-mates, Gina Akpe-Moses, Ciara Neville and Patience Jumbo-Gula, sat quietly away from the hype, heroes-in-waiting.
"I think we were all individually really nervous but we were acting calm even though we were kind of dying on the inside," Scott continues.
"It's a different type of pressure, not individual. If I messed up, I messed up for everybody. I knew I had to get it right. I think we all knew we did, and we knew we would."
There was some dancing done in that call-room and plenty of positive vibes, she smiles, epitomising the spirit and team bond between this group of rising stars. Counting down to the biggest moment of their young careers, they never stopped enjoying themselves.
"Once you step out and walk down, it gets easier," she adds.
Lagos-born Akpe-Moses echoes her words. "We were all really, really chilled," she says. "In previous years, we put a lot of pressure on ourselves before and messed up a little bit.
"This year we just kept a level head and kept calm, we just wanted to do the job. It was less thought and more action. We didn't have to stress out, we didn't have to be nervous, we just had to replicate what we did in the heat.
"It wasn't an impossible task. We knew we could do it again."
Again.
Watch the @irishathletics women's U20 4x100m Relay team qualify for the World U20 final today pic.twitter.com/64pCtezASt

— Pierce O'Callaghan (@Pierceathletics) July 13, 2018
The dream of medals had become reality, just fingertips away, with a brilliant qualifying run. Ireland's time of 44.27 was comfortably good enough to win the second of the two heats, and the second-fastest time overall with only Germany, the eventual world champions, clocking faster.
But the team, coached by Karen Kirk, failed to make it through the race unscathed. Fifteen-year-old sensation Rhasidat Adeleke — who had won 200 metre gold at the European Under-18 Championships in Hungary just five days prior — flew around the bends in the third leg of the heats and felt her hamstring go while doing so.
Adeleke powered on to get the baton safely to Patience Jumbo-Gula, and now that's just what her team-mates would have to do: power on for her. Neville would slot in to run the third leg of the final in her place, and it would be as you were. Onto the big one. Where they wanted to be.
"I didn't think of anything," says Scott, on the blocks. "That's when you run your best race, when you get into the blocks and nothing goes through your head because you're calm."
This was it. Showtime.
Marks… set… BAM.
Out of the blocks fast.
Everything started to plan in lane five. You'd often think, in retrospect, that it's all a blur for the athlete. Between the sound of the gun, the adrenaline and the chase to zone two, it's over in a flash. But Scott has some clear recollections.
"I remember it all," she continues. "Obviously the girl outside me, that's always the person I'm aiming to catch for the majority of the leg. It was 100%, give it everything I had.
"When I get around the corner, it's scary because I can't see Gina when I'm running into her. I'm almost in the zone by the time I do."
Baton in the right hand, check. In the zone, check. Gina's hand is there, check. Just get the baton into it safely and she'll take it from there.
By the time Scott arrived at full tilt, Akpe-Moses was at ease again after a stressful few minutes before the gun sounded.
When she arrived down to zone two, there was no tape to be found for the runners' markings. It was a key part of her preparation: focus, get the tape, do the markings. Of optimum importance for the baton change, but also a welcome distraction from the hustle and bustle around her.
"It was quite hectic, I'm not going to lie," she admits.
"I was honestly thinking, 'I'm not running. They can start the gun but I will not move because if there's no tape, I don't know where I'm going to go off or where Molly's going to hit the mark.' I was getting really pissed off, I was getting so frustrated.
"If Molly went off, I wouldn't have ran the race. I would have sat there on the track and not done anything — until I got my tape!"
Luckily enough, it didn't come to that and everything was in order by the time Scott powered around the bend. The first and second leg duo had been in this situation many, many times before so they knew they could pull the changeover off and get on with it.
"Our changeover is always pretty good," Akpe-Moses continues. "We've been through it together for so many years. We've never, ever had a bad changeover because we're just so used to each other. I haven't even got to hear her say, 'Hand,' I just know. I never worry with her."
"It was pretty outstretched but in a good way," Scott adds.
Smooth, steady, moving on. Baton in hand, Akpe-Moses rocketed up the back straight. 'Run, Gina, Run,' is all she thought to herself as she made a beeline for Neville.
"I was just chasing the German girl outside of me. They were our only proper competition in the final because they ran the quickest time in the heats. I was aiming for her, just chasing her the whole time."
All eyes on the changeover, and next in line.
Two days earlier, Neville had been in the stands watching on, most definitely more nervous than she was before running. "I was shaking, I was sweating," she laughs.
As she walked to take her place in zone three and wait for the starter's gun, the nerves were of a different kind, and a little less shaky, luckily. This time, things were in her control.
"It was nerve-wracking, it was really hot as well. We kept rubbing our hands off our kit to make sure they weren't sweaty or whatever."
En route to her destination, she walked past some Irish supporters. A few cheers — "Best of luck, Ciara" — and no shortage of green, but she had to shut it all out. Head down, walk on.
There was no apprehension from Neville. It was just like any other race. She hadn't really ran the third leg much in competition before, she admits, but everything had been practiced meticulously in training. Any one of the four could run in any position.
The team knew they'd be without Adeleke from Friday night so there was no last-minute drama in that sense. They trusted one another to go out and do their job, each confident in their own abilities and in their team-mates.
"She was just tearing down the back straight," Neville recalls as she watched the onslaught of the second leg runners. 'I was like, 'Right, just get the baton and run as fast as you can and get it into Patience's hand.'"
There were a few Irish fans at the zone, the volume turning up a few notches as the Girls in Green grew more and more into the race. Scott, on the other hand, says she couldn't watch. Neville hadn't ran the third leg a whole lot before. She wasn't overly used to getting the baton in her right hand. But getting it done was all that mattered.
And Akpe-Moses was fully aware of that too.
"It was a bit tricky to get it in. We did get it in, we were always going to. It wasn't that smooth, it could have been better, we could have gotten more out of it.
"We made so many mistakes in the final but I think because we were so calm and experienced as well, we were able to handle it with such ease. If that was any other team, I guarantee you the baton would have dropped.
"If we were a younger team or if we were less experienced, I know for a fact the baton could have dropped so easy, but we just kept calm."
Neville knew it was far from perfect too, but they got through it and off she went, her legs moving as fast as they possibly could. The chase was well and truly on.
"I just took the baton and literally attacked the bend, kept running until I got it into Patience's hand."
As Neville rounded the bend from lane five, the teams were all still fairly staggered. Ireland were in fourth position with France on the outside and Switzerland next in lane seven but, as expected, it was Germany who had the edge as they all rounded the corner for the final changeover.
Now everything rested on one moment of coordination. The heartbreak, the shortcomings, the fourth-placed finishes could all be erased with one final changeover and a dash to the finish line. Scott was watching on, as was Akpe-Moses. Both powerless, they had done all they could. It was out of their hands.
It was down to the final two. This was it: from Neville's right hand to Jumbo-Gula's left and then up that home straight like the hammers of hell.
Again, the pass could have been cleaner.
"Our changeover was a little bit messy but we still got it into her (Jumbo-Gula's) hand safely," Neville continues. "She literally took it and she knew she had to run as fast as she could.
"When I passed over the baton, I think I stopped for like a split second and then I just ran down the home straight behind her, shouting at her."
There was just a sense sheer relief from the sea of green around the stadium when Jumbo-Gula had the baton firmly — and securely — in her left hand.
Big congrats to #Irelands under 20 women's team in winning a historic silver medal at the World U20 Championships in a national record time. 🌎🥈🇮🇪
Remember that the path to future golds are always paved with silver.#WorldU20Championships#Athletic
pic.twitter.com/Nj2qHoPCPx

— Rob Cross 🇮🇪 🇪🇺 (@RobCross247) July 14, 2018
"I knew once Patience got away and got the baton in her hand she was fine," their coach Karen Kirk told The42 shortly after the team's return to home soil.
"Once Patience got the baton in her hand, it was then that I started to shout because I knew all of the changeovers were done and there was nothing more I could do."
Jumbo-Gula had watched the other three legs closely, calm rather than nervous. The atmosphere, the support, the buzz was unreal, she recalls, but she didn't get too caught up in it. As Neville came into view, she braced herself.
"I could see where Ciara was, I think we were coming fourth or third, I'm not sure," Jumbo-Gula begins.
"The Great Britain girl was to my left and the German girl was to my right, so I was trying really hard to catch them.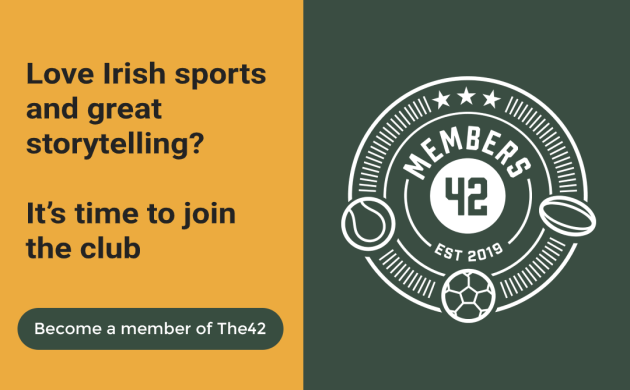 "Our changeover was really bad. I wanted the baton as soon as possible because I knew the Germans were going to be gone, and that was our main target: to beat the Germans.
"It was just a bit slow because Ciara has never passed the baton to me. It was the first time, so it was a big risk, but it was ok.
"When I got the baton, I was sprinting really hard and I could see that I was passing the Great Britain girl, and I could see myself getting to the German girl."
She passed the Italian finisher too in a phenomenal kick. The memories come thicker and faster the more she describes her closing leg.
"All I remember is people screaming, the crowd screaming. I remember gritting my teeth and trying really, really hard. And then when I could see myself come up from fourth to third, to second, I was like, 'OK…'"
But then the ending came, and it was all over. Just like that.
"The finish line was just there,' she sighs with a sense that maybe, just maybe, if there were just a few more metres in the race, it could have been gold.
"We were so close but we're still happy that we got a medal. I can't even describe it. It was a shock. After I crossed the finish line, I didn't celebrate. I was just waiting for our country's name to come up on the board. I wasn't sure.
"Then when it came up, I wanted to faint. It was unreal. I'll never forget that."
Just like Jumbo-Gula, Scott, Akpe-Moses and Neville stood, watching, waiting until the standings flashed up on the board. And there it was.
Ireland. 43.90. National Under-20 record. World silver medallists.
After chasing her down the home straight, Neville was first to reach Jumbo-Gula at the line.
They held hands, embraced and screamed their heads off as they waited for Scott and Akpe-Moses to join the party.
"It was actually almost a blur," Neville smiles. "We just couldn't believe it.
"We were all screaming. Patience was crying. It was absolutely amazing, we couldn't get over it. We just saw all the Irish fans coming down to the gate, we all ran over and they were giving us flags and hugs and everything. It was amazing."
"It was crazy," Scott echoes her sentiments. "We were all screaming and shouting, it was so good. It was pretty overwhelming.
"There was a big expectation on us too from the whole country. We didn't really think about that. I think it was just about the four of us and our coach Karen Kirk…. It was about us five or six and the whole squad wanting to get a medal. We didn't really feel the pressure around us and I think that's why we got the medal.
"We enjoyed every single moment."
Meet your WORLD SILVER MEDALLISTS pic.twitter.com/FIU6g8O1oy

— Athletics Ireland (@irishathletics) July 14, 2018
Like life itself, there are always lows that go hand-in-hand with the highs. For Adeleke, watching on from the sidelines, it wasn't exactly ideal.
"Ohhh… it wasn't great," she admits. "I was forcing myself to act like I was okay, but I wasn't. I was devastated because I knew the girls would be able to medal and just not being able to run in the final was really devastating."
She too is now a world silver medallist, delighted for the team-mates who went on to finish the job in her absence.
Akpe-Moses meanwhile, was the last to join the celebrations as she had the longest walk around the track. Cool as a breeze, she took it all in though — well, as much of it as she could wrap her head around at the time.
"To this day, I'm not that good at understanding the depth of winning a medal and everything — even when I came first at Europeans last year, I still don't get it. It hasn't hit me. I'm like, 'Oh yeah, that happened.'
"I think what was really special was just all the fans. There was loads of people asking for pictures. It was really cute. I was like, 'Ah, people actually really care about us and wanted us to medal.' That was quite special really, the support."
In a few years, they will all look back on the phenomenal feat and fully appreciate it no doubt, a silver success which paves the way for future gold Irish sprinting is in the best place it's been in years, and its future is most definitely in good hands. There's a truly special crop coming through, and there's still some time to go before they reach their peak.
"It's really exciting to know that Irish sprinting has such a good future," Akpe-Moses concludes.
"Ireland is finally getting the recognition we deserve, it's good. We came second, we're at the level. We know we can do basically almost anything."
That they can. And that they will.
– First published 14.34, 10 September
The42 is on Instagram! Tap the button below on your phone to follow us!