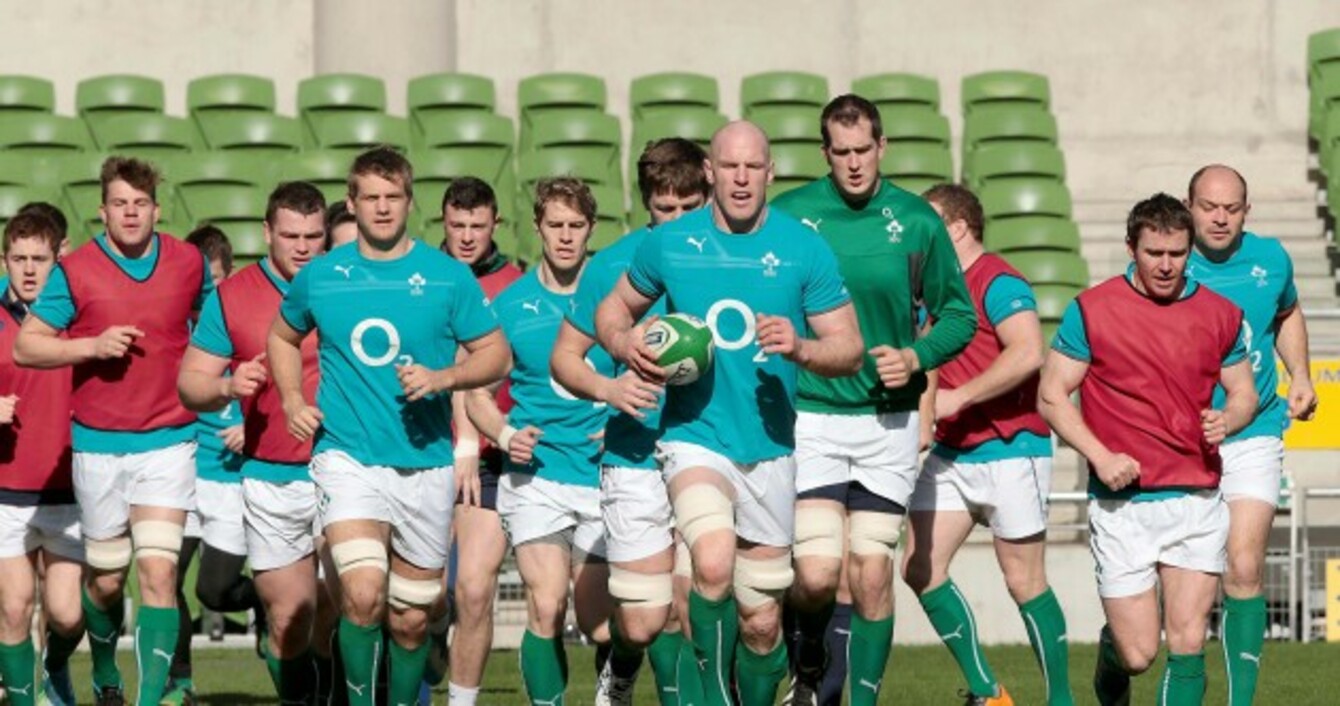 Image: Morgan Treacy/INPHO
Image: Morgan Treacy/INPHO
IRELAND'S COACHING TRIO of Joe Schmidt, Les Kiss and John Plumtree had some late-night cramming to do after Jacques Brunel made some surprise selection calls.
The absence of both Sergio Parisse and Alessandro Zanni from an Italy line-up for the first time since 2007, along with the selection of Tito Tebaldi and Luciano Orquera at half back, speaks of a team who will take one last big run at a victory in this year's Championship when England hit Rome next weekend.
"They do make me a little nervous, I must say," says defence coach Kiss, adding that the half backs are "dangerous characters."
However, rather than fuss too much over what Italy can do with ball in hand, here are the four key areas Ireland will target in their hunt for victory… and maybe even a decent points differential too before full-time.
Line-speed
We're getting ahead of ourselves a little by putting this defensive pattern ahead of the set-pieces, but Schmidt sends his attack into this game expecting an intense rush defence from the visitors.
It's this facet of their game that made Paddy Jackson's ability to come up with deft grubbers in behind the line seem like a decent choice to us for this game. Obviously, though, there is nothing the Ulster 10 can yet do better than Jonathan Sexton, so we'll dispense with the selection complaints until the summer.
Speaking at the Captain's Run today, Kiss told TheScore.ie than the key to getting around fast line-speed was to expect it.
"They're a very aggressive team across the park with the ball and without the ball. They like to bring that Italian flavour to it, they just back their natural instincts, their agility and ability to move quickly across the ground.
"We just  have to be aware of those things so that we're giving ourselves the chance to play through it under our terms. The biggest danger is playing the ball behind our line too much. We want to be able to place as flat as possible and take those spaces that do open up when teams get too aggressive off the line."
If Ireland can maintain a collective clear head and Sexton can impose his variety so that the backline continually change the point of attack, then gaps will open up.
Scrum
You don't have to scroll far up the team-sheet numbers to find Italy's greatest strength.  Tomorrow, their front row will be as formidable as ever with Alberto de Marchi, Leonardo Ghiraldini and Martin Castrogiovanni squaring off against Cian Healy, Rory Best and Mike Ross.
Kiss is expecting "a massive set-piece battle" with Italy throwing everything at scrum and line-out. If Ireland's eight can negate Italy's favourite part of the game then they will have set a tone and a base from which to attack.
The contest is unlikely to yield at any stage through the 80 minutes either. While Ireland is rightly proud of our breakthrough back-up props Martin Moore and Jack McGrath, they will like come into the game opposite Michele Rizzo and Lorenzo Cittadini – two big experienced campaigners who won't worry too much about matters outside the scrum.
Breakdown
"Ultimately," adds Kiss, "the truth of anything that comes from any passing game from 10, 12 or anything outside; your game revolves around what you do at the ruck."
While the maul has earned most of the praise in Ireland's two victories so far this year, it is the breakdown expertise shown that has really laid a winning platform.
England shaded this area a fortnight ago, and so took the victory with it. Afterwards, Schmidt bemoaned an inability to cope with English players coming into rucks at an angle, so it will be interesting to see if Ireland, without Peter O'Mahony, can address that this time out.
"Your ball-carrying and the way you handle the ruck – get  the cleaners there early to present good ball – is probably the best form of attack that you can have against line-speed.
"Because if you can create and generate the type of quick momentum that you want, invariably a line-speed heavy team can get stuck. If it's coming out quick and everyone's not set and everyone's coming off the line at different speeds, hopefully we can exploit that as well."
Parisse's clear-outs may not be the first part of his game you would think of when offering praise, and so his absence adds a new dimension to Italy with Roberto Barbieri and Paul Derbyshire providing a much more workman-like presence that the Stade Francais star.
Line-out
At almost the exact time that Italy named a squad without Parisse yesterday, Paul O'Connell was praising his prowess as a line-out defender.
The captain won't have to worry about that particular aerial threat tomorrow, but Italy have (unwittingly or not) mirrored Ireland's selection of a mobile second row at blindside as Josh Furno moves back to allow Marco Bortolami in at lock.
However Ireland may win, Brunel is evidently determined to prevent Plumtree's maul steam-rolling its way to victory.
Easier said than done.