THE LINES AT the Aviva have been repainted, the goalposts changed and the confetti swept away: as the national rugby team folds back into a city's bliss, the football team steps back in from the cold. 
If there is glory to be mined this week it will be found against France on Monday: tonight's friendly with Latvia will be a low-key tune-up.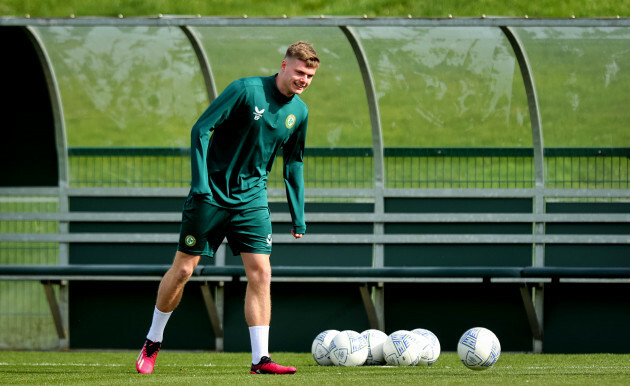 Ryan Byrne / INPHO Evan Ferguson in Irish training earlier this week. Ryan Byrne / INPHO / INPHO
The football team are co-tenants of the Aviva at the moment but they have been in the shadow of a brilliant rugby team for years, despite the fact the Irish public give the impression that they are desperate to get carried away with Stephen Kenny's team. 
It certainly seemed that way in the latter half of 2021, with valiant displays against Portugal and slick, high-scoring wins over Luxembourg, Qatar and Azerbaijan giving an impression of linear progress that didn't survive contact with 2022. 
Performances and results were inconsistent: losing away to Armenia was the low point and the 3-0 win at home to Scotland was the high point; narrow losses to Ukraine and Scotland and a nervy win over Armenia were the stuff of a Rorschach test from which people could draw their own conclusions.
The year then ended on an ominous note in the form of the draw for Euro 2024 qualifying. Netherlands as top seeds and France from the second pot…and that was before Mbappe et al went to another World Cup final. 
When the 2022 World Cup qualifying campaign went south Kenny spoke of building a team for the Euro 2024 campaign, but in the aftermath of the draw, he admitted Ireland would need to do something "extraordinary" to finish in the top two of the group. (There is a byzantine backdoor to the Euros through the Nations League playoffs, a complex process which will only be clear by the end of the campaign.) 
The scale of that task hasn't changed, but its first act will wait until Monday. Ireland had a contractual obligation to fit in a couple of friendlies this year, and they've used the first part of this window to tick the first box. Kenny would have preferred a completely free week on the training ground to get ready for France, but playing Latvia proved a palatable compromise when they agreed to play early in this week, thereby giving Ireland a five-day lead-in to their French exam. Latvia themselves have a six-day gap until their opening qualifier against Wales. 
Tonight's friendly will serve a few different Irish purposes. It will provide match minutes to a few of Ireland's frontline players, especially Matt Doherty – who hasn't started a game since joining Atletico Madrid in January – and potentially Nathan Collins. Doherty will captain Ireland for the first time tonight. 
"I just told my Dad, I haven't really told anybody", said Doherty of the honour. "For me, it's obviously a pleasure, a great honour, I've obviously never done it before so when Stephen told me, I was a bit surprised, I didn't expect it. I've to thank him for doing that." 
With Doherty leading the side, expect past captain Seamus Coleman, John Egan and possibly James McClean to be given the night off. Kenny also spoke of needing to rest some of the players who are coming off hectic, Championship-FA Cup schedules, so Josh Cullen will likely find himself wrapped in cotton wool too. 
"[Latvia] are not that defensive a team and they carry a threat themselves", said Kenny. "We've just got to focus on our own performance and work on improving ourselves. Obviously some players are coming into the team and we are looking for them to make an impact to increase the selection dilemmas for Monday, which is what we want, and increase the squad options for players who can make a serious contribution."
There will be opportunities to stake a claim for a role against France, be it from the start or off the bench. Andrew Omobamidele, Callum O'Dowda, Alan Browne, and Jeff Hendrick, Jamie McGrath, and Will Smallbone may all be among those playing with a point to prove. Kenny intimated that new recruit Mikey Johnston will have to wait for his Irish debut.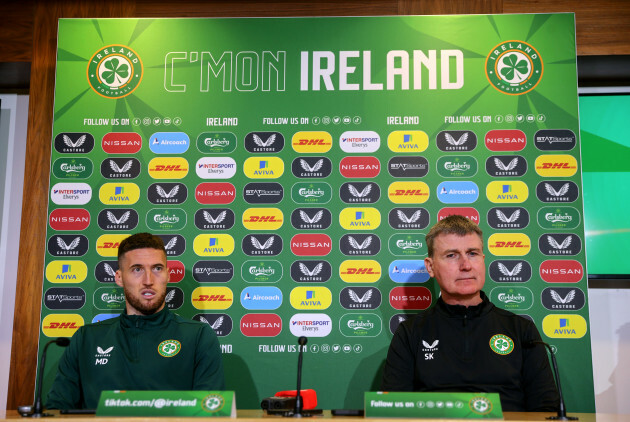 Ryan Byrne / INPHO Stephen Kenny and tonight's captain Matt Doherty at their pre-game press duties. Ryan Byrne / INPHO / INPHO
Evan Ferguson, meanwhile, seems in no mood to wait for anything and thus he will make his full senior debut tonight. 
"At 18 years of age now", said Kenny, "he's showing he is ready to come into the team and he will make his first start tomorrow in the game." 
Ferguson's presence will add a bit of electricity to the night, and will also expose him to the pageantry of the anthems and so forth, given he looks nailed-on to stand for them again on Monday night. 
"We are not shy about playing young players and we haven't been shy about that", said Kenny. "When it gets to the games against France, which are important games, it's about the impact a player can have and the level of performance. The age then becomes irrelevant. It's about who's in form and who isn't."
Ireland's ultimate, daunting aim is to go against more than just form next Monday night.  Tonight will be a success if nothing further complicates that task. 
Republic of Ireland (Possible XI): Gavin Bazunu; Andrew Omobamidele, Nathan Collins, Dara O'Shea; Matt Doherty; Jayson Molumby, Alan Browne, Jason Knight; Callum O'Dowda; Evan Ferguson, Chiedozie Ogbene
On TV: RTE Two; KO: 7.45