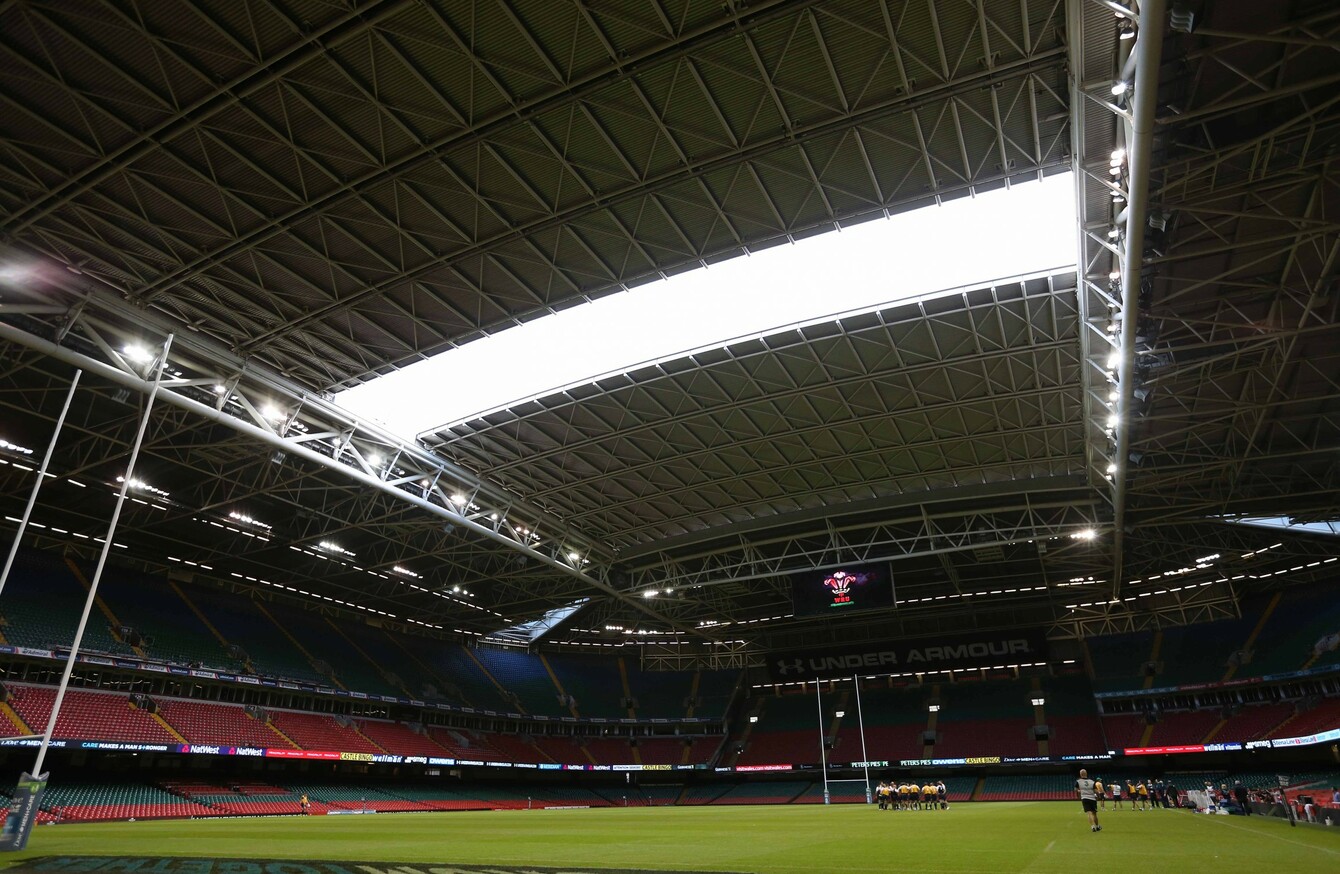 Cardiff's Principality Stadium.
Image: Billy Stickland/INPHO
Cardiff's Principality Stadium.
Image: Billy Stickland/INPHO
JOE SCHMIDT AND Ireland have yet to discuss whether they want the retractable roof at Cardiff's Principality Stadium to be open or closed for Friday night's Six Nations showdown.
It's no secret that Wales prefer to play with the roof closed and it's expected to be no different this week, but under Six Nations rules both teams must agree in order for that to happen.
England blocked the home side's request last month with Eddie Jones waiting until the last-minute to tell the WRU that he wanted the clash to be played in open air.
Speaking at Carton House this afternoon, Ireland forwards coach Simon Easterby said they have yet to receive contact from the hosts and, as of yet, it's something that hasn't been given much thought in the Irish camp.
"We haven't been contacted yet by the WRU so that is something that we haven't really discussed too much," he said.
"Later in the week, by Wednesday, by that point there will be some correspondence between the WRU and ourselves and we will make that call. We've had it both ways, open and closed.
"We had it closed in the World Cup [in 2015 for games against France and Argentina] and the players enjoyed that. And we have had it closed and open when we played Wales in the last few years. It is important that it is not a distraction."
Six Nations organisers had previously turned down Wales' request for it to be permanently closed during the tournament, with dry and still conditions suiting their favoured running game.
Conor Murray admits part of him would like it to be shut for Ireland's first Friday night game in the championship as it would create a raucous atmosphere, but insists it doesn't make much difference to the way they'll approach the fixture.
"I don't mind, if the weather is going to be poor and raining you'd prefer it to be closed," the scrum-half said.
"We've had it closed, we've had it open. We've had it open on good, dry days and it has been really enjoyable and we've had it closed and the atmosphere is incredible. We're used to both ways and whatever way we decide on or agree on we'll be ready for that. I don't think it makes a massive difference to the way you play the game.
"The crowd will be loud but we're all used to playing in big stadiums with high numbers of opposition fans so I don't think it will bother us too much. Part of me would like it to be closed as the atmosphere would be incredible and you're only going to feed off that.
"There will be a lot of Welsh fans there obviously but there will be a lot of Irish there too who will make themselves heard. It's a really special place to play and we're all looking forward to it."
Source: The42 Rugby Show/SoundCloud
Subscribe to The42 Rugby Show podcast here: