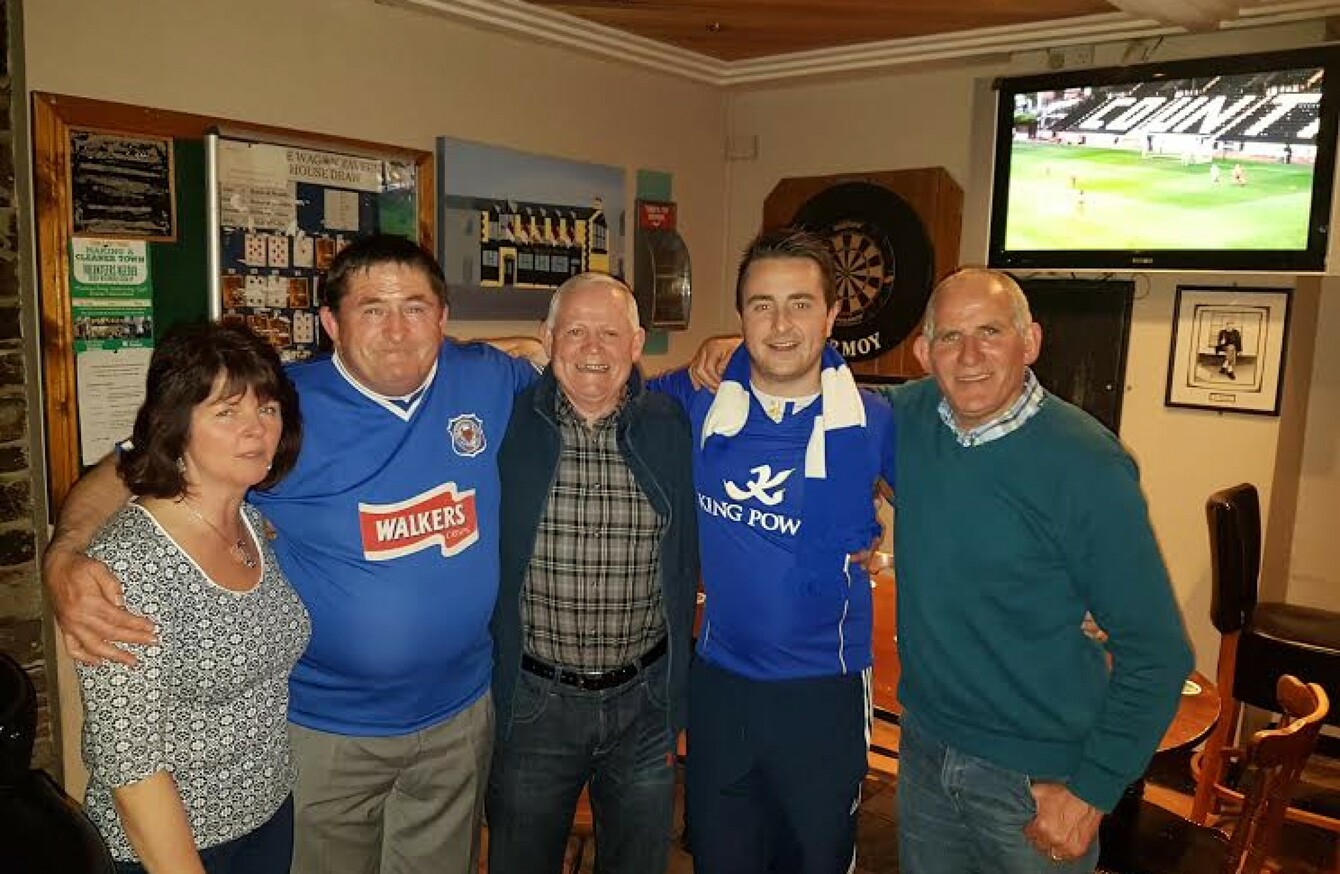 John Duggan (second right) has been supporting Leicester his whole life.
John Duggan (second right) has been supporting Leicester his whole life.
Updated at 10.54
IF YOU'RE A Premier League follower from Ireland, you're more than likely to be a Liverpool or Man United fan.
A survey conducted by Twitter last year revealed that 25.67% of Irish fans supported Liverpool, while 23.20% followed Man United and Arsenal were the third-best supported team with 11.86%.
Clubs such as Everton, Tottenham, Aston Villa and Leeds also have a small but loyal following, but beyond that, not many English sides are popular on these shores.
Leicester City, for instance, aren't exactly renowned for having a large Irish fan base, however, they evidently have at least a handful of long-suffering followers in this country.
And while the club have won countless admirers all over the world for their Premier League heroics this season, or 'bandwagoners' as a more cynical person might describe them, Cork native John Duggan is a rare example of a genuine die-hard Irish Leicester fan. He still vividly remembers his "darkest day" as a football fan when the club were relegated to League One under Ian Holloway in 2008 — just eight years ago this week.
Duggan has been supporting Leicester all his life, but became a hardcore follower in his early teens.
"My Dad was always a Leicester fan," he tells The42. "My Dad has been supporting them since 1969, so I only naturally followed suit.
"I got my first Leicester jersey when I was 14 or 15.
Although even before this season's incredible triumph, there were some memorable moments, there have certainly been more lows than highs up until this point for Duggan. Did he ever in his wildest dreams imagine them winning the Premier League?
"I remember watching them with my Dad when they won the Worthington Cup under Martin O'Neill in 2000. (We thought) that was as good as it got really.
"Since then, it's been a yo-yo between divisions — and not just the Championship and the Premier League.
The last time I was actually at a Leicester game was when we were in League One — it was in 2009 against Brighton.
"So no, I never thought we'd win the Premier League."
Therefore, for Duggan, simply staying in the top flight and being able to have football conversations that his friends could relate to felt special in itself.
"I was happy enough just being among the big boys being able to take part in the slagging and the banter and actually looking forward to going into a pub and watching Leicester play the likes of Liverpool and Man United so I could actually take part.
For years, they were down in the lower leagues. I was having my own fun, but I couldn't bring that to the level where I could take part in the slagging with the lads until now."
Although that's not to say he's been entirely alone in cheering on this arduous journey towards eventual Premier League glory.
"There are a couple of (Leicester fans) in Fermoy — myself, my father and a man called Peter Kenny — he's been supporting Leicester since 1962 — he's was even at (their old stadium) Filbert Street, so he's a real die hard."
And so rare are Irish Leicester supporters that Duggan says he has been inundated with media requests of late
"Everyone wants to talk to us. We're after getting a small bit of fun in the limelight," he laughs.
We've gone from being the butt of everyone's joke to being congratulated. It's really after turning on its side."
Duggan adds that despite rumours in his town to the contrary, he was not one of the few Leicester fans who made the 5000-1 bet for the Foxes to win the league at the start of the season. In fact, he was feeling extremely pessimistic at the beginning of the campaign.
Not that he was alone, however. A piece by The Guardian yesterday highlighting how several of their football writers tipped Leicester for relegation at the beginning of the season epitomises how little was expected of the Foxes this year by most followers of the sport.
When asked to identify the moment when he believed Leicester could win the league, Duggan wryly responds: "When Chelsea drew against Tottenham!"
And the Fermoy-based supporter admits that, like Gary Lineker and many others, he was highly skeptical when Claudio Ranieri was appointed to replace Nigel Pearson as Leicester's manager last summer.
I'd be lying if I didn't tell you that my first thought was 'relegation,'" he says. "I thought we were going to go down. Just staying up would have been massive — not in my wildest dreams did I think (winning the league) would come true."
26-year-old Duggan highlights the "underrated" Christian Fuchs and N'Golo Kante as his two players of the season, owing their "phenomenal work rate". And naturally, he is also a huge fan of Leicester's two biggest stars: Jamie Vardy and Riyad Mahrez.
"I've been getting slagged for years for talking about the likes of Mahrez," he adds.
Anthony Knockaert was with us in the Championship when we got promoted and he was with us for the first half of the first season in the Premier League. He's back in the Championship now (with Brighton), but long story short, I thought he had the best potential ever. At the time, he was keeping Mahrez out of the side.
"So I always thought the likes of Mahrez and especially Knockaert would come good.
"When we were playing five-a-side, I'd be Vardy or Mahrez and the lads would be laughing at me, but they're not laughing now."
The42 is on Snapchat! Tap the button below on your phone to add!