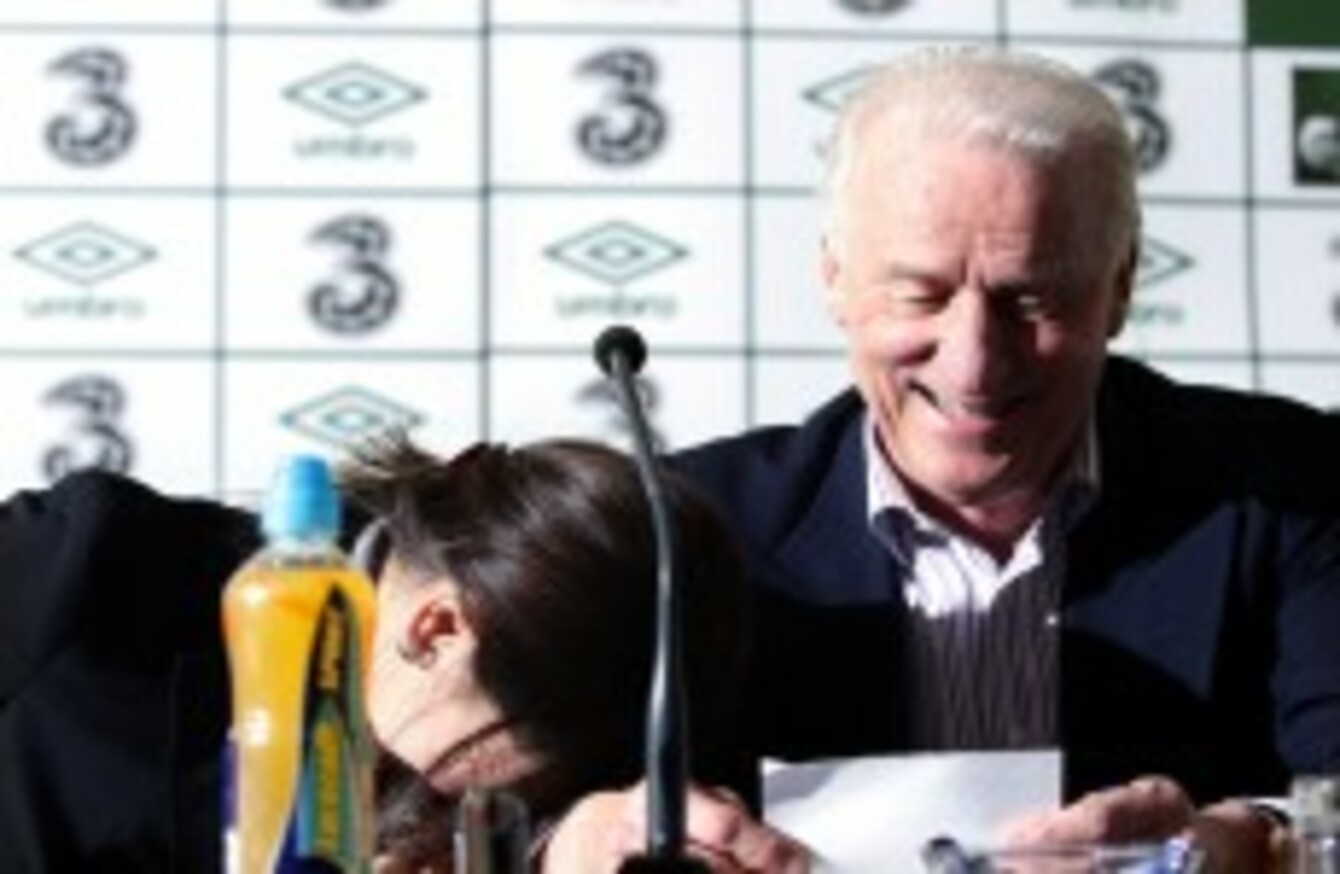 Translator Manuela Spinelli with Ireland manager Giovanni Trapattoni.
Image: INPHO/Cathal Noonan
Translator Manuela Spinelli with Ireland manager Giovanni Trapattoni.
Image: INPHO/Cathal Noonan
FULL OF HIGH spirits for the new year, Giovanni Trapattoni welcomed all present at Dublin's Clarion Hotel before smiling his way through questions from the media today.
The 72-year-old was quite clearly in a great mood and even accepted a date proposal from one female journalist who offered him a night of passion… at a League of Ireland match.
And after the year his Irish team has just had, there's no reason why he shouldn't be.
Qualification to Euro 2012, where he will face his homeland, and a contract extension for him and his coaching staff were the rewards after seeing Ireland safely through to June's competition.
The legendary manager has won bags of honours in Italy, Germany, Portugal and Austria and spoke briefly of those personal achievements. He also mentioned the glory days this country has experienced all too rarely, but was quick to focus on the future and what can be done this summer.
"We passed 2011 very well," he said, "but now it is past. We will have a great season in this European tournament. I'm sure that the team have not forgot what we've done for now.
"With this attitude, this mentality, we can have a dream. No dream," he paused, "we have a great opportunity."
The need to 'solidify' was also something he spoke about. The emphasis will be on ensuring that his group of players are working as a well-oiled unit before facing two of the continent's biggest footballing powers. He alluded to the importance of keeping the current squad fit and, unsurprisingly, closed the door nine-tenths of the way shut on those few who were hoping to gate-crash the squad late on.
Saying that, you do get the feeling that there could be one wild card inclusion for next month's friendly with the Czech Republic and if I was a betting man, my money would be on Sunderland's James McClean.
Pre-tournament plans were outlined and a possible friendly with either Bosnia and Herzegovina or Hungary was talked about, although the FAI were quick to inform us that they are only options and nothing has been confirmed yet. A get-together in Dublin is likely to be followed by a trip to Italy, where the players will be put through their paces during a training camp. That could also involve one more match before their first Group C fixture with Croatia on June 10.
Whatever way you look at it, Trap is right to be looking forward to the year ahead.