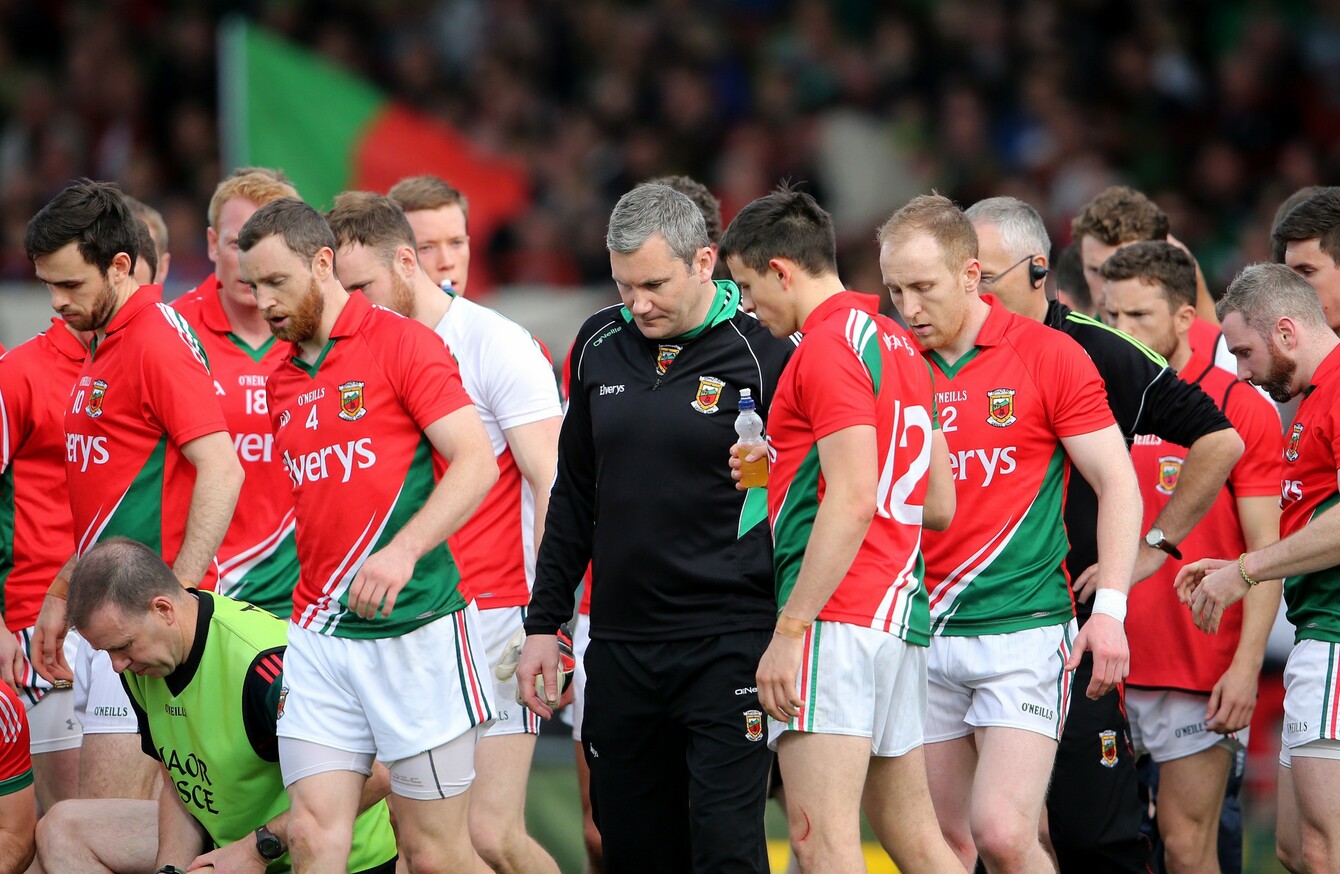 James Horan guided Mayo to four consecutive Connacht senior football titles.
Image: Cathal Noonan/INPHO
James Horan guided Mayo to four consecutive Connacht senior football titles.
Image: Cathal Noonan/INPHO
NOW OR NEVER for Mayo.
It's a common refrain and one you will hear bandied about in conversations as next Sunday draws never.
The wait has now gone on for 65 years since the county has lifted Sam and the current bunch have done more than most to break that barren run.
Mayo are set to contest a third All-Ireland final in five years while veterans like Andy Moran, Alan Dillon and David Clarke can go back to the 2006 decider.
But the suggestion that Mayo must now take that leap to become successful or else they will wither as a force is dismissed by a man who knows these players more than most.
James Horan will be watching on next Sunday as a Mayo fan yet he steered the county between 2011 and 2014 as they were one of the elite teams in the country.
"Everyone knows the record but it's not fatal. I think Darragh Ó Sé had an article during the week and I thought he made some very good points in it.
"Since I've been involved in Mayo football, 'this is the year, this has to be the year because Jaysus some of these boys won't be back'. You hear it every year, 'there'll be six or seven boys gone if they don't win it this year'.
"It's absolute rubbish. It doesn't matter. They'll keep going and keep getting better and, yeah, if, for me, if Mayo play like they can and are smart they'll win the game."
Despite all the gut-wrenching defeats they have suffered – two All-Ireland final losses and two All-Ireland semi-final replay reversals since 2012 – Mayo's capacity for rejuvenation does not surprise Horan.
"I'm not surprised, no, I'm not surprised. The character of some of these guys is huge. If
they were in business or whatever they do, they're just guys of immense character that are solid and ambitious and they just want to be successful and as good as they can.
Regardless of what happens, it'll be the same next year. They'll be back looking to be competitive again."
Where has it gone wrong for Mayo in recent seasons, what ingredient have they been missing?
"It's never one thing. In some of the games that we've played, we could have won them. For sure.
"I think it comes down to decisions you make under pressure. Your skill execution. I know that sounds a boring answer.
"But even here the last day, Kerry – when they were under pressure – James O'Donoghue, Stephen O'Brien soloing up dead ends and doing things that they wouldn't have done half way through the first half.
"I think in some of our games…in 2013, we had more than enough chances to win the game but our shot selection, where we took them from and all that, we were forcing and chasing it a bit.
"It's simple stuff like that. I just think the Mayo team now are experienced. They've gone
through a lot of those.
"Their idea of how to manage a game towards the end, that comes with experience. Genuinely I think it's all there."
The firm consensus still is that this hurdle is too great for Mayo to surmount. Jim Gavin's all-conquering Dubs have not put a foot wrong since being crowned champions last September. They ticked the box in the league in April, in Leinster in July and their sternest test in an epic collision against Kerry a fortnight ago.
"That will be irrelevant to that Mayo group," argues Horan.
"You have to remember the core of them are there since 2010 and 2011 and they have experienced ups and downs.
"They have been very competitive every single year, they have had great days out here and some not so great days.
"But what the media are saying will have very little impact on the group as a whole. There might be one or two it will impact somehow but ether Dublin are favourites or not, or whether they are being written off, it won't matter.
"It has been a very different lead in for a start. You feel like they have been getting stronger and better and you'd hope that is leading to a crescendo.
"Maybe traditionally Mayo hit it earlier so that's very good. four weeks lead in to the final and that's strong for them too. They are different, there is more unpredictability about them. Jim Gavin won't be as sure about what he'll face or who he will face."
Horan has been synonymous with these current Mayo players but since departing from his role after the 2014 season, he has stepped back from the group.
"I try and completely keep away from it, to be honest. That can be hard.
"I know some of those players so well and I'll watch and follow what they do. But I'm completely away from it. No impact on the team.
"But it's fascinating to see how they're playing and developing and even some of the players who were coming in when I was there, how they're developing and how the team is changing.
"What impresses me most is the character they have and how they keep developing, keep learning. That's what they've done and that's what they do as players.
"I think they're phenomenal. They're going to have a right crack."
The42 is on Snapchat! Tap the button below on your phone to add!