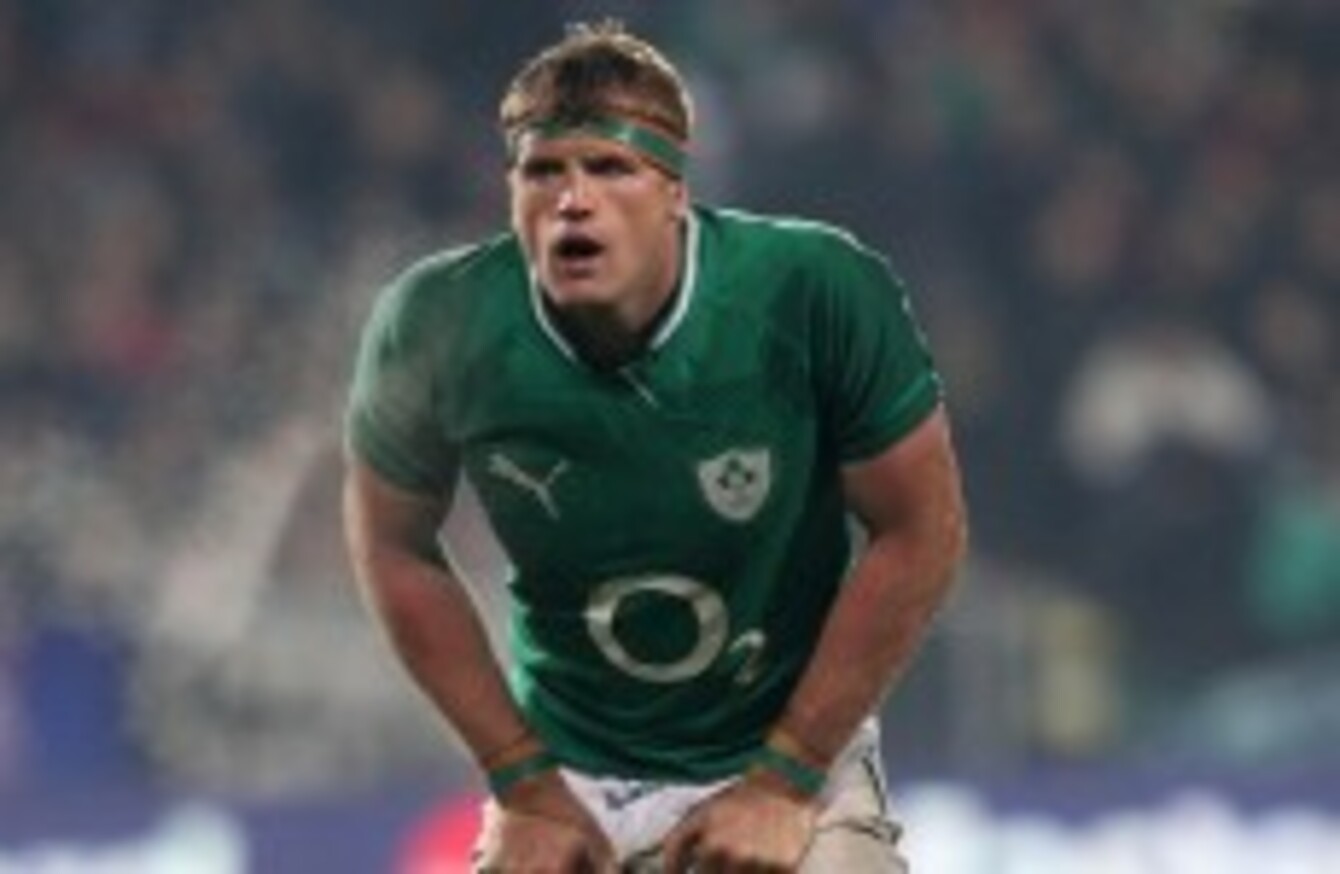 Jamie Heaslip takes a breather against the All Blacks.
Image: ©INPHO/Billy Stickland
Jamie Heaslip takes a breather against the All Blacks.
Image: ©INPHO/Billy Stickland
IN A FIVE-MATCH journey that took Ireland from New Plymouth to Wellington via stops in Auckland, Rotorua and Dunedin, one man was there from start to finish.
Jamie Heaslip was the only Irish player to see all of Ireland's World Cup matches through to the final whistle.
He roared his approval when the Australians were conquered at Eden Park and sank to his haunches when Wales delivered the knock-out blow at the Cake Tin.
The Kildare native featured in four Leinster games before his call-up to the national squad and, typically, they were whistle-to-whistle outings.
"We've got great strength and conditioning coaches with Leinster and Ireland," he told TheScore.ie. "I am proud that I can last the 80 minutes for most of the games. Sometimes though the decision are tactical and you've got to go with that."
In a week when former Ireland captain Keith Wood remarked 'the hits are the same as they were 10 years ago, you just get 10 times as many', Heaslip's longevity in gruelling encounters is rare.
Perhaps that is why you will see the forward, more often than not, going through post-match apples like a beaver through a brittle twig.
"I like apples, what can I say," he remarks.
"It's so long between the game, after the game and the functions with speeches and stuff like that. You've just got to get the food in. We consume about 7,000 calories per game."
Big boys hit hard
Heaslip would be advised to take his apple-a-day before packing down to face the South Africans next Saturday. He will need every ounce of energy for the challenge.
"They do the basics so, so well," he said. "The forwards provide and the backs execute. They've also got kickers who can land kicks from a long way back." Heaslip added:
With the Boks, you make no bones about it, they're big boys and they come at you hard. They pound you down to create space for their backs. You've got to front up against them and win the collision zones.
"If you can shut down their platforms of attack, then you're onto something."
The back-row, capped 53 times for his country, dismisses the argument that Ireland's injury problems present them with a ready-made excuse if November victories are not forthcoming.
He declared, "We've played matches without Brian [O'Driscoll], Rory [Best] and others before and have gotten on fine. Declan [Kidney] will pick the best 15 to go out and do the job.
Be part
of the team
Access exclusive podcasts, interviews and analysis with a monthly or annual membership.
Become a Member
"I don't think we should start using injuries as an excuse for anything. If you talk like that you're doing a disservice to to guys that are fit and available to play."
Three wins from three, he added, is exactly what Irish supporters should demand.
Heaslip wears the newly released alternate Ireland jersey that the team will wear against the Springboks.
Back-row production line
Sean O'Brien may not be ready to return for at least another month, and next year for Ireland, but Heaslip will be happy to have provincial teammate Kevin McLaughlin for company during the Guinness Series.
"Kevin got capped two years ago and it was well deserved," said Heaslip. "He's a great player and his work-rate is phenomenal.
"In one game we had recently, Kev made 21 tackles in the game. He's a workaholic and a serious pal."
While Heaslip and McLaughlin are preparing for the Springbok Test match, Jordi Murphy, who won the man-of-the-match award in the trio's last outing against Cardiff Blues, has to content himself with a place on the Leinster bench against Ospreys today.
"Last year we used 47 players in total," said Heaslip. "This year it will be something similar I'm sure." He added:
Guys like Jordi realise that they've got to step up when they get the chance. Look at Brendan Macken too – he came on in one game (

against Edinburgh

) and was man-of-the-match. It's a testament to our academy system.
Having responded with enthusiasm when queried by TheScore.ie on the prospect of captaining Ireland, Heaslip dead-bats any talk of a touring spot next summer with the British & Irish Lions.
"The plan right now is all about South Africa," he said. "I'm not even thinking past Christmas.
"It will all take care of itself. The way it seems to go now is big game, after big game, after big game. The season flies by before you know."
"I just enjoy it," he added. "What's not to enjoy? Your job is something you love."