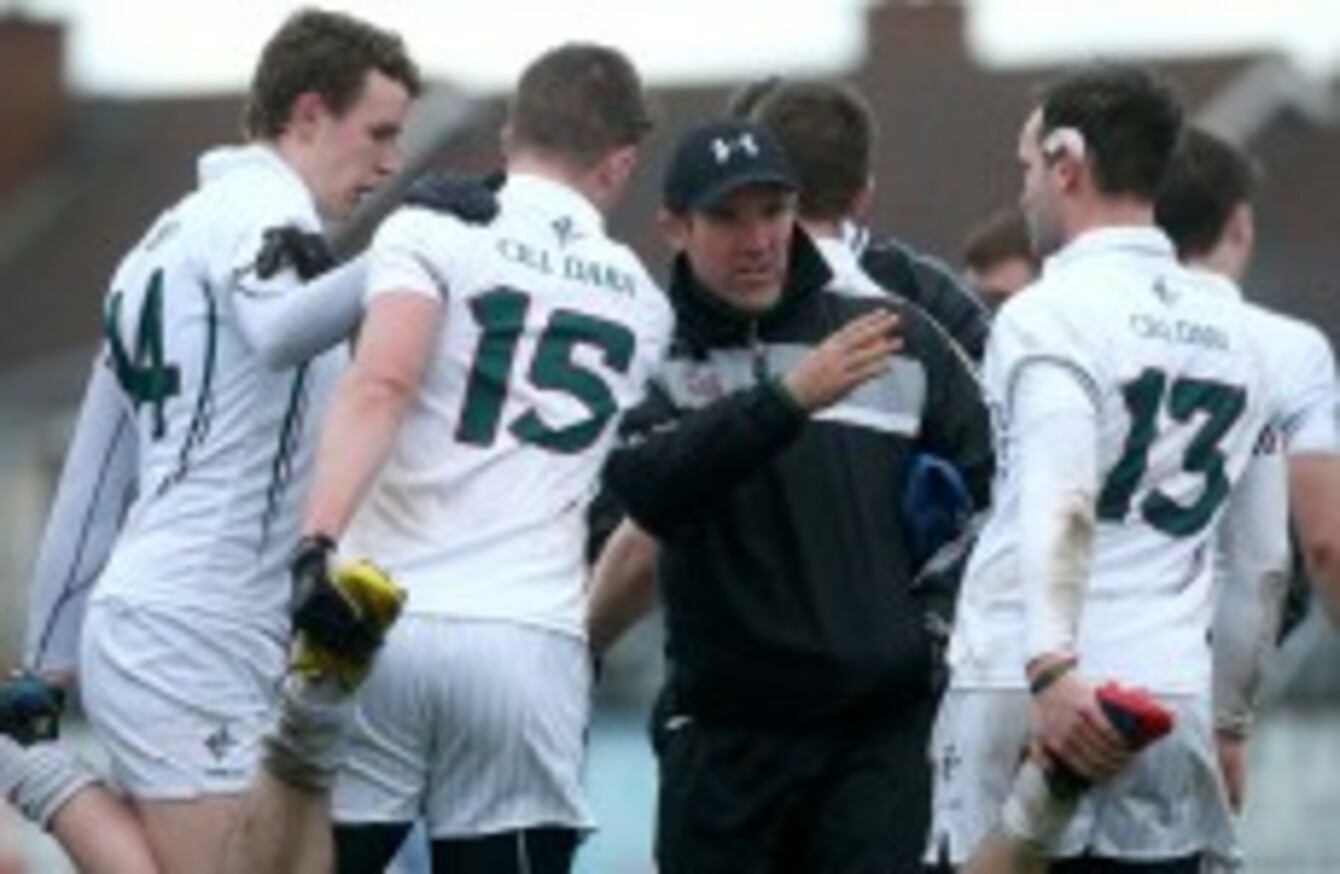 Jason Ryan speaks with his players earlier this year.
Image: Ryan Byrne/INPHO
Jason Ryan speaks with his players earlier this year.
Image: Ryan Byrne/INPHO
KILDARE SUPPORTERS NEED to get in touch with reality, according to Jason Ryan.
After winning this year's O'Byrne cup Kildare fans were getting "carried away with themselves" — the Lilywhites boss says the aim for 2014 is simply to be competitive.
"Last year, Kieran would have informed me that he had worked to try deflate some of the expectation," explains Ryan.
"It is hard, even in the middle of the O'Byrne Cup we had a few very big wins but we were playing against smaller colleges or we were playing against teams that didn't have the depth we have, like Longford – who have very good players but so many of them were out injured at the time that they didn't have the depth.
"At that stage people were saying 'this is a positive' but the reality was we weren't playing against teams like we were going to be in Division 1. One or two victories and people certainly do get carried away with themselves."
"Kildare, the players do work so hard, they do everywhere I suppose. But the Kildare players, I can't fault their attitude. I took the job on condition that Morgan O'Callaghan and Damien Hendy stayed on, they are just brilliant people.
"I do believe that we are not a million miles away. It mightn't be a case of 2014, but Kildare can be competitive over the next few years. Competitive being, our aim is to get to All-Ireland quarter-finals again, we were disappointed not to get there last year.
Last year Kildare were trounced by Dublin in the Leinster semi final, before Tyrone ended their championship in round 3 of the qualifiers.
"I loved last year, it was great. It was a privilege to work with Kieran. He has achieved everything as a player and then as a manager got Kildare to five All-Ireland quarter-finals in-a-row.
"It was great. The workload, compared to what I had in Wexford, it was chalk and cheese. It was disappointing, I was hoping to be back this year, we were looking forward to working as a group again and when that was taken away it is very hard to walk away from a group when you have unfinished business."
Be part
of the team
Access exclusive podcasts, interviews and analysis with a monthly or annual membership.
Become a Member
Source: ForKingAndCountry2014/YouTube
Ryan took over as Kildare manager last October, two years after he stepped down from the Wexford job. He brought Wexford to two provincial finals and an All-Ireland semi final in five years.
"The Wexford thing didn't finish because I felt we had achieved all that those players could achieve, it was more a case of right, it's time for somebody else now to push this on.
In 2012 we were promoted, we did get to a Leinster final, a few things didn't go our way in the Leinster final but we felt that was the motivation for coming back to have another crack at Dublin."
Ryan's Kildare team face Louth on Sunday in repeat of the 2010 quarter final fixture.
"The reality for this year now is to win the first game. Kildare had this in 2010 I think when they went to play Louth in the Leinster Championship as red-hot favourites and Louth turned them over so we can't be taking anything for granted at all."