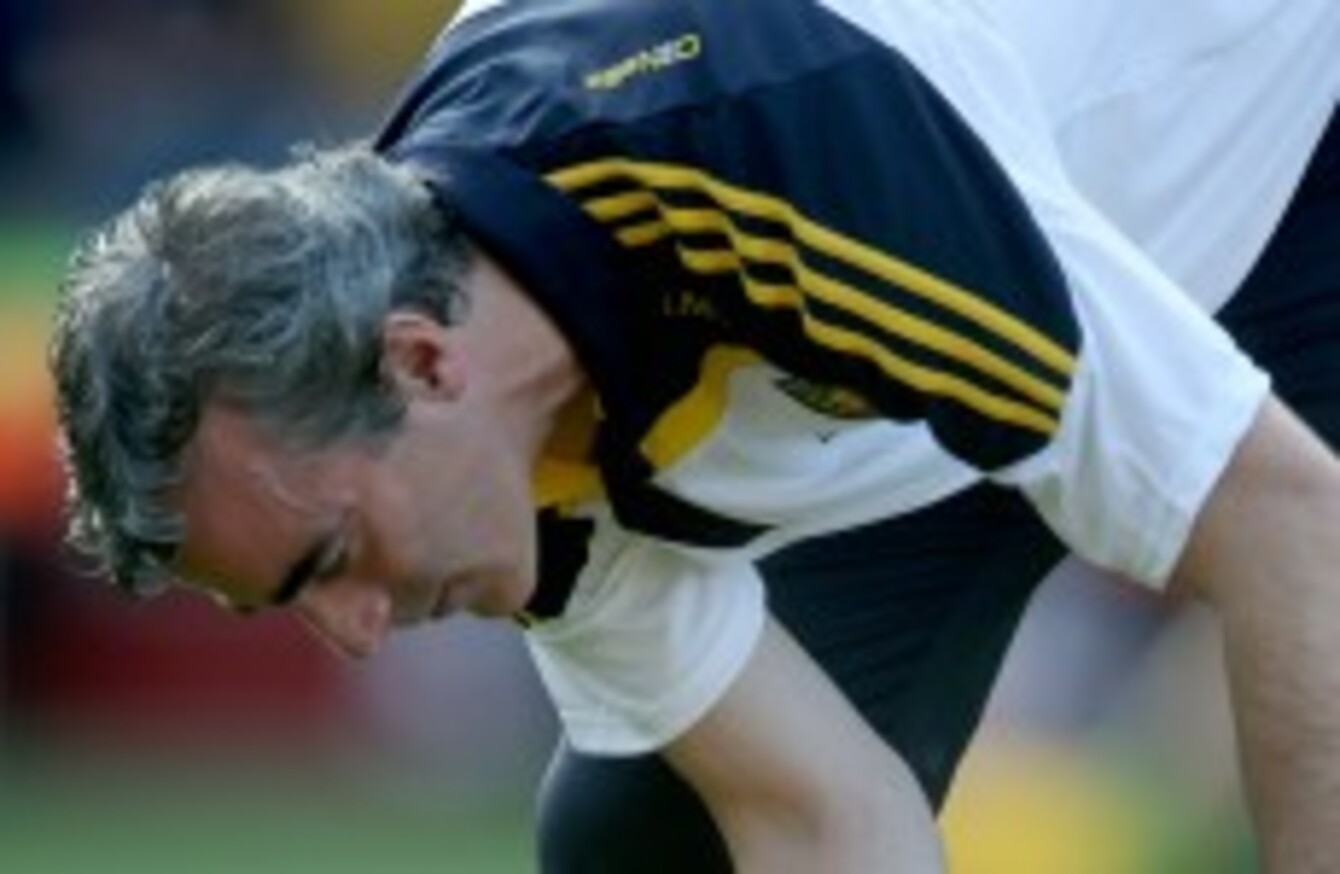 Jim McGuinness consoles Donegal's Michael Murphy.
Image: Donall Farmer/INPHO
Jim McGuinness consoles Donegal's Michael Murphy.
Image: Donall Farmer/INPHO
DONEGAL MANAGER JIM McGuinness has suggested that spying on opponents or 'espionage' is commonplace at the top level of Gaelic games.
McGuinness distanced himself from the Donegal native caught observing a Kerry training session from a nearby tree ahead of last weekend's All-Ireland final between the counties.
The man, Patrick Roarty, is a club mate and friend of McGuinness' and mingled with players and supporters for several hours at their City West Hotel base yesterday morning and afternoon.
McGuinness maintained 'he is not associated with our camp' though, speaking generally, claimed that the practice appears to be widespread in the game.
"It was a bizarre one, yeah," said McGuinness of the Roarty incident. "Listen, the bottom line with that is that, espionage is a very strong word to use, but it's going on all the time.
"We put people out of our own training on Wednesday night and maybe three or four times in the lead in.
"It's going on for the last three or four years. That's the kind of craic that's going on. He (Roarty) is not associated to our camp but there's no doubt he's probably watching training.
"And we have that. We train in MacCumhaill Park some days and we have people in the hotel, looking down at us from the hotel.
"I'm not saying it was Kerry, I'm not saying that. But previous years as well, we were once playing a team and we worked out that one of the coaches was staying in a local hotel. This is what goes on.
"It's fine margins. Kerry, for years, had open sessions and people were just going in. I think Tyrone, years ago, were going in, making their notes on the thing. So it makes sense, for me, to have closed doors."
Asked if the incident was distracting, McGuinness laughed. "No, it wasn't distracting," he grinned.
The mood has generally been sombre since their three-point final defeat to Kerry on Sunday. A major talking point in the game was the misplaced short kick-out by goalkeeper Paul Durcan which led to Kieran Donaghy sniping a crucial second goal for Kerry.
McGuinness didn't disagree that a colour clash of jerseys may have affected Durcan, causing him to momentarily mistake Donaghy for a Donegal player.
"Well they (the colours) were very close," said McGuinness. "We were going to propose in the run up to the game maybe to go in white ourselves. Just for ourselves to go in white. But, listen, you'd be nit picking.
"I thought the referee as well, for both teams, I thought the referee struggled for periods of the game. He didn't have an impact on the game in terms of swaying the game one way or the other but these are all wee bits and pieces."
McGuinness' future as manager is a major issue now for Donegal. Experienced defender Neil McGee said it would be 'a massive boost' for the county if the 2012 All-Ireland winning manager stayed on for a fifth season. But he has a large young family and a demanding job as a performance coach with Celtic's first team.
McGuinness insisted that his employers at Celtic will accommodate him whatever decision he comes to. But he conceded that a number of veteran players are likely to retire.
"There are probably one or two players that won't go back, if I'm gauging the thing right," said McGuinness.