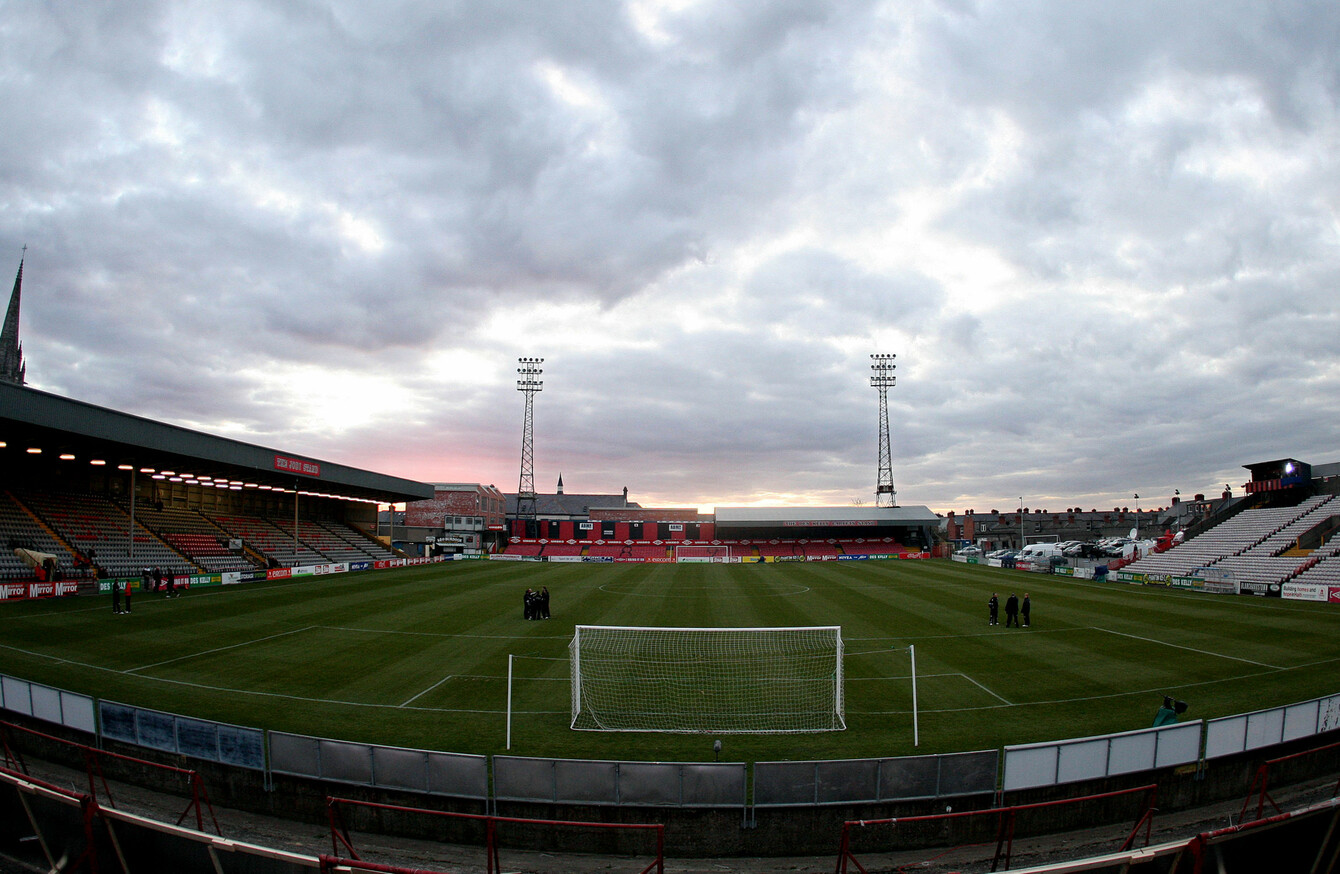 Dalymount Park was the location for O'Connor's phenomenal hat-trick.
Image: Donall Farmer/INPHO
Dalymount Park was the location for O'Connor's phenomenal hat-trick.
Image: Donall Farmer/INPHO
FOR VARIOUS REASONS, the achievements of footballers in the League of Ireland tend to get overlooked in favour of their counterpart's efforts in the cash-rich leagues of England and mainland Europe.
The Irish international team has periodically thrown up some memorable David-and-Goliath-style victories and decent runs of results, however, global bragging rights for clubs and players in the League of Ireland have largely been mute.
When reminiscing about the individual feats of Irish footballers, we generally recall the accomplishments of our most famous exports who made their names on foreign grounds, rather than on the pitches of Tallaght, Galway or Turner's Cross. And a familiar series of names roll off the tongue — Brady, Keane, McGrath, Giles, Carey, Givens, Duff, Long – to name a few. If we throw the name O'Connor into the mix, the word 'who?' invariably follows.
On 19 November 1967, Dubliner Jimmy O'Connor scored Europe's fastest-ever officially verified hat-trick in a top-flight domestic league match for Shelbourne FC against Bohemians FC in Dalymount Park, Dublin.
Then 19 years of age, O'Connor scored three goals in two minutes and 13 seconds, in a game that saw Shelbourne come from two goals down to win 2-3 against their Dublin rivals.
Evidence
What's also wonderful about O'Connor's record is the fact that all three goals were captured on camera, available on YouTube below.
50 years on, the fastest top-flight hat-trick ever scored in England was in a Premier League game by Sadio Mané, in two minutes and 53 seconds, for Southampton against Aston Villa in 2015. Mané's record is 30 seconds shy of O'Connor's.
The previous Premier League record was held for 21 years by Robbie Fowler of Liverpool. The English striker netted three goals in four minutes and 33 seconds in a Premier League game against Arsenal in 1994 — two minutes and 20 seconds shy of O'Connor's.
A trawl through the records of all the major European Leagues — La Liga, Bundesliga, Eredivisie, Serie A etc — does not unearth a faster officially verified top-flight hat-trick than O'Connor's incredible feat. While various online articles feature two hat-tricks scored in two minutes, one by Manzolla for Torino in 1947 and one by Jan Seelen for Ajax in 1957, neither are officially verified. There are others claiming under two minutes, but none in the top-flight.
Given the talent that has graced the various European leagues in the last 50 years, O'Connor's achievement is hugely significant. However, it is not an achievement many football supporters in Ireland are familiar with.
Supporters
One man who knows all about it is Paul Byrne, Chairperson of Shelbourne FC Supporters Club. A life-long Shelbourne fan, Byrne was at the game with his father in 1967.
Byrne recalls the historic match: "I was seven at the time. After the third goal went in, I remember all the Shelbourne supporters were speculating as to how quickly the hat-trick was scored. Was it four minutes? Was it five? But no one expected it to be just over two minutes. Some poor unfortunates near us had gone to the toilet and missed all three goals. When they left, we were two-nil down, when they came back, we were 2-3 up!"
In 2000, Byrne was involved in O'Connor's hat-trick being ratified and entered into the Guinness Book of Records. He explains: "In the 1990s, we organised a campaign to get the record included in the Guinness Book of Records. We provided the referee's notebook and match reports from the newspapers. We were also lucky enough to have TV footage of the match."
(Pictured above: A match report from the Evening Press, 20/11/1967)
Memories
O'Connor will celebrate his 70th birthday soon. I caught up with him at his home in Dublin for a cup of tea and a chat about his historic achievement.
"It was so long ago," he says. "It's hard to know where the years went. My father was at the game and he just said to me after: 'Jaysus, that was awful quick to score three goals.'
"There was no big deal about it at the time. Then the next day, it was all over the place. I was famous for about a week and then it was gone. It comes up every now and again. It's nice to have it though."
Shortly after the match, the club gave O'Connor a commemorative 18 carat gold-plated watch. "The next game was a bad game, I was brutal," O'Connor laughs. "At the end of the game, the fans were shouting at me to give the watch back."
For a man who played at the highest level in club football in Ireland, O'Connor is humble when it comes to talking about his footballing days and record-breaking achievement. He recounts a very different era to today.
"We were part-timers. I worked in Reg Armstrong Motors and played for Shelbourne. I used to get the bus from Ballyfermot over and back to the games. I would meet the supporters on the bus and we would then walk down Richmond Road to the ground together. They would go in the turnstiles and I would go into the dressing room. It was great."
England
One man who was probably not on the bus the day, but was at the game, was legendary Manchester United manager, Sir Matt Busby. Apparently, Busby used to visit Ireland on scouting trips. O'Connor recalls: "I think he was there to look at someone off Bohemians. When I heard he was there, I thought he might come in for me or something, but there wasn't a word."
And did O'Connor ever think he would be picked up by a club in England after his performance on that incredible night at Dalymount? "Leicester were interested at one stage, but nothing came from it," he says. "I had two good years when I thought I was decent and someone might come in for me from England, but no one did."
Did he mind not getting the opportunity to play in England? "Not really. My career ended early. I got a bad ankle injury and had to retire at 25."
For a man who retired from the game in his mid-20s, O'Connor certainly laid down a marker. Like the man himself, his record still stands tall.
Happy 50th anniversary Jimmy!
---
How O'Connor's record compares with the other fastest hat-tricks in European leagues
Ireland (League of Ireland): Jimmy O'Connor, Bohemians v Shelbourne, 1967. 2 Minutes and 13 seconds.
England (Premier League): Sadio Mane, Southampton v Aston Villa, 2015. 2 minutes and 53 seconds.
Germany (Bundesliga): Robert Lewandowski, Bayern Munich v Wolfsburg, 2015. 3 minutes and 22 seconds.
Spain (La Liga): David Villa, Valencia v Athletic Bilbao, 2005. 4 Minutes.
Italy (Serie A): Andriy Shevchenko, Milan v Perugia, 2000. 7 minutes.
Subscribe to The42 podcasts here: