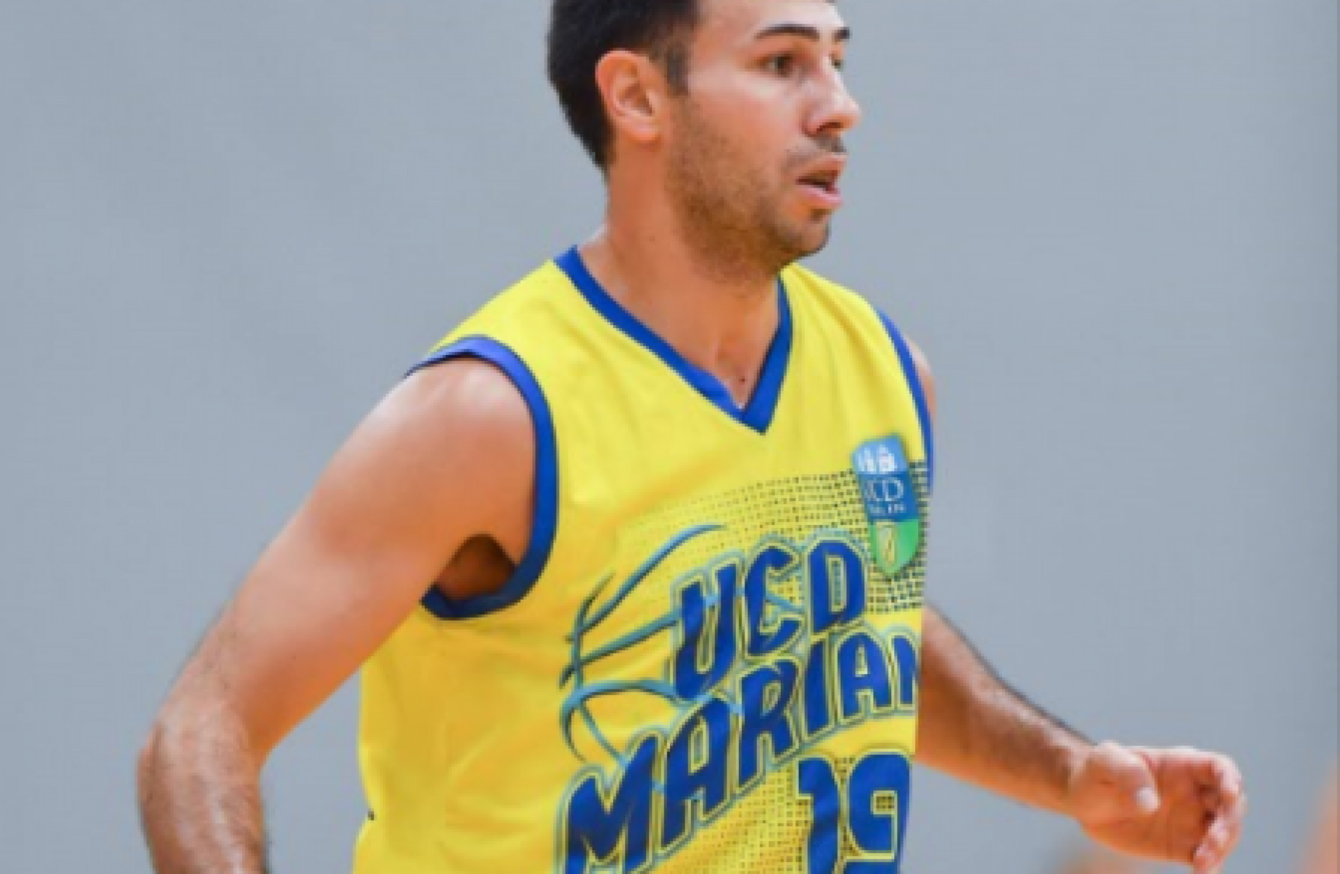 Joan Jordi Vall-Llobera is set to feature for UCD Marian in the Pat Duffy National Cup final today.
Joan Jordi Vall-Llobera is set to feature for UCD Marian in the Pat Duffy National Cup final today.
IT MAY BE among the standout events on the Irish basketball calendar, but today's Pat Duffy Cup final at the National Basketball Arena has a distinctly Catalan influence.
A key player for UCD Marian today will be experienced 35-year-old Joan Jordi Vall-Llobera.
Meanwhile, Sergi Sole Bertran will be lining out for Black Amber Templeogue.
The two players in question are relatively new recruits — Bertran joined Templeogue prior to the start of the season, while Vall-Llobera moved to Ireland in December 2016.
Both are from Barcelona and previously played against each other during their time in Catalonia. However, the UCD man is the older of the pair, so much so that 23-year-old Bertran grew up watching Vall-Llobera play.
"We played against each other two or three times in the last season in Spain," Vall-Llobera tells The42.
"I don't really know him personally, but I know that he's played very well here and I'm happy for him that things are going well."
For Vall-Llobera, basketball has been an obsession for much of his life, having started playing competitive games from the age of eight. He grew up in Calella, a seaside city 58km northeast of Barcelona and enrolled in one of the country's most prestigious basketball schools from a young age for roughly 10 years.
In the early part of his career, he had a stint with Spanish First Division side DKV Joventut, sharing a dressing room with top players, including Pau Ribas. He may have never have played for a sustained period at the very highest echelons of the sport, but the veteran star has retained an admirable level of dedication to continue playing at senior level for well over a decade now.
I was not completely professional," he says. "I was semi-professional, because I combined my professional development and my career with basketball, so I always played with teams around the Barcelona area.
"But I always played in very good teams — we accomplished our goals, or we've been top of the rankings when I played there.
"I'm very happy for my basketball career because I have enjoyed it a lot, I have made very good friends.
Although I have never been top scorer or top provider, I have always contributed a lot with a lot of minutes, every coach always relies on me.
"I'm very happy because I've always had a very important role in the teams I have played before."
Since moving to Ireland, Vall-Llobera says that he has adapted relatively seamlessly.
"I think the most important thing is that people are very friendly.
There is a huge hospitality with everybody. I expected to find much worse weather, more rainy and windy weather, (but) in the end, I think it's not as bad as people say and think.
"I think the difference between here and Catalonia, here you have few hours of light during the day especially in winter. This is the most different thing that I found and I had to get used to it. For example, in winter at 4pm, it's dark. In Catalonia, I had more light hours during winter."
In addition to the relatively mild weather, Vall-Llobera has also been pleasantly surprised with the standard of basketball in Ireland, explaining that it is not dissimilar to what he had been accustomed to originally.
"I played in the third division in Catalonia. The level here is pretty similar," he says, adding that he thinks UCD Marian would fare "very well" up against the lower-tier Spanish sides.
"Individually, players are very good," Vall-Llobera adds. "I maybe didn't expect that they would be so good. They sometimes are quite physical, but technically, they are very good — very good shooters, very good in the low post."
At 8pm this evening, UCD Marian's game with Templeogue gets underway. Vall-Llobera and co will be favourites going into the clash, given that they currently sit top of the Men's Super League table while they have already beaten their upcoming opponents twice this season.
However, there is no room for complacency within the UCD ranks. Last weekend in Galway, Maree almost caused a big upset, before the league leaders eventually prevailed 83-79, with a 25-point game from Conor Meany, in addition to 14 points from Vall-Llobera, helping to just about get them over the line.
"We were a bit deflated last week and that showed in our performance against Maree in the league," assistant coach Conor James said earlier this week. "We know that this team is capable of fighting and closing out games in tough situations, which is something that can only stand to us against Templeogue – they're our focus now and we know what we need to do to win."
A victory would see UCD claim the cup for the first time since 2011, but Vall-Llobera is well aware of how tough it will be to achieve this feat.
A final is always a very tricky game. You have a 50% chance to win and we have to rely on our defence.
"In those kind of games, you know that defence is very important, because it's the fundamentals of the way that we play — that's very important for us.
"So we are confident, but we are also aware that Templeogue is a very good team. The two times we have played against them (in the league), it has been very difficult, but we (hope) we will repeat the two games we played before and that we will win."
Vall-Llobera is also hoping the bond he has formed with team-mates since moving to Ireland will work in their favour later today.
Be part
of the team
Access exclusive podcasts, interviews and analysis with a monthly or annual membership.
Become a Member
"The environment within the team is very good. We practice every day very hard in the club. In the dressing room as well, everyone is chatting with each other.
We are not professionals, but we are more than simply basketball players."
Meanwhile, when he's not playing basketball or working in his job at the software company Salesforce, Sandymount-based Vall-Llobera's downtime includes watching his beloved Barcelona FC, or renting a car and travelling around Ireland with his wife on weekends when there are no matches taking place.
"We went to the Cliffs of Moher, the Ring of Kerry, to Northern Ireland, to many beautiful spots here and close to Dublin," he says.
Basketball, however, remains his favourite activity. Playing the sport gives him a feeling like no other and his love for it has helped ease the transition to his new life in Ireland.
It's good for me as well that when I leave the office for practice, then you can go to the team and chat with friends, free your mind and that's very good. You get back home after practice and you feel happier, because you did something good.
"My favourite thing about basketball is that you get to know new people, we are connected to each other, because we love sport and we have a very strong link with each other."
Hula Hoops National Cup final Fixtures 2018
Session 2
Saturday, 27 January 
Hula Hoops NICC Men's National Cup final: Blue Demons v BC Leixlip Zalgiris, 10.00
Hula Hoops Under 18 Women's National Cup final: Glanmire v DCU Mercy, 12.00
Hula Hoops Under 18 Men's National Cup final: Neptune v Templeogue, 14.00
Hula Hoops President's Cup Final: Ballincollig v Keane's SuperValu Killorglin, 16.00
Session 3
Saturday, 27 January
Hula Hoops Pat Duffy National Cup final: UCD Marian v Black Amber Templeogue, 20.00
Session 4
Sunday, 28 January 
Hula Hoops Under 20 Men's National Cup final: Moycullen v KUBS, 10.00
Hula Hoops NICC Women's National Cup Final: Killester v St Mary's Castleisland, 12.00
Hula Hoops Senior Women's Cup final: Fr Mathews v Meteors, 14.00
Exhibition Game: Masters Exhibition, 16.00
Hula Hoops Women's National Cup final: DCU Mercy v Ambassador UCC Glanmire, 17.30
The42 has just published its first book, Behind The Lines, a collection of some of the year's best sports stories. Pick up your copy in Eason's, or order it here today (€10):