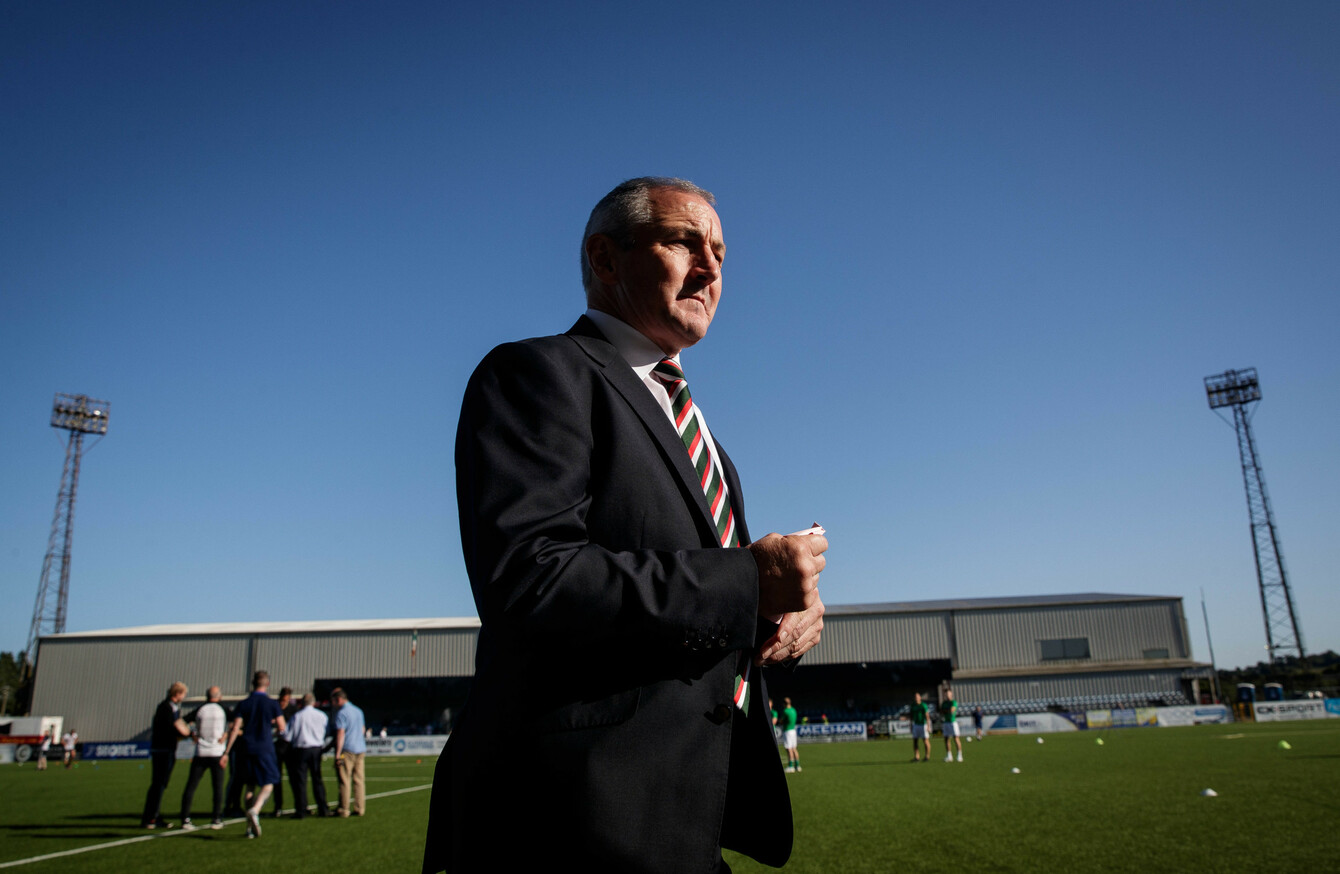 Cork City manager John Caulfield.
Image: Ryan Byrne/INPHO
Cork City manager John Caulfield.
Image: Ryan Byrne/INPHO
CORK CITY MANAGER John Caulfield was left to reflect on what might have been, after seeing his side lose out to title rivals Dundalk by virtue of a last-minute winner at Oriel Park.
A frustrated Caulfield was also sent off after protesting too vehemently, as Sean McLoughlin unwittingly turned the ball into his own net in the dying seconds.
"I came over the technical area," Caulfield said of his red card. "We though it was offside. I asked the linesman but in fairness, he says he wasn't. We thought it was a couple of yards off."
While acknowledging that his side were not at their best, the Cork boss felt the result was harsh on his team.
With the score at 1-1, Karl Sheppard missed a glorious chance to win it, as his effort when through on goal hit the outside of the post.
"They had more of the play, but we didn't play as well as we could. We conceded a soft goal and were one-down straight after half-time — it was disappointing.
"But ultimately, we were back in the game at 1-1 and had a chance to go 2-1 up. We hit the post. That's the disappointing thing. In a tight game like this, chances are [at a premium]. So to have the chance to go 2-1 up, particularly in a part of the match where we'd taken over, I felt and we were causing problems, it was galling to lose it in the end."
The result saw Dundalk leapfrog Cork and go two points clear at the top of the Premier Division table, though Caulfield is confident his team will not suffer unduly from last night's setback and can still maintain a substantial title challenge.
"There's a full series of games to go in the league. I'd say it'll go right to the wire, I still believe that.
We're obviously very disappointed, because we felt we were good enough for a draw. I know [Pat] Hoban had a chance he headed over, but at the same time, I believe that the chance we had to go 2-1 up, that would have been the difference."
The loss came after Cork had won seven consecutive league matches previously, though Caulfield played down suggestions that the mid-season break had upset the team's momentum.
"Not at all, you could quite clearly see tonight we should have won the match, at 1-1, we had a chance. You get that and you score.
"If we won the match, you couldn't say that. But we were all happy for the break. There was nothing to indicate tonight there was anything wrong with us except that we were slow to start. But our second-half performance was good and certainly over the game, I felt we were good enough to take the point, but that's the way it is and we move on."
In the dying stages, key attacking player Barry McNamee was replaced after picking up an injury, but Caulfield said the Donegal native would be okay.
"It was just his hamstring tightened a bit. The pitch is dead obviously, on all-weather, that's just the way it's going to be. It probably made the game slower and scrappy in the first half. Certainly, in the second half, it opened up. There was more intensity and attacking play in the match, but these are tight matches. You go 2-1 ahead, you're probably going to win the match."
The42 is on Instagram! Tap the button below on your phone to follow us!