YOU DIDN'T HAVE to search too hard for reasons why there was pressure on Cork before yesterday's Munster hurling final. The last game in Páirc Uí Chaoimh. Last year's defeat to Limerick. And the lack of medals in the Cork dressing-room.
For some of the longer-serving Cork players like Shane O'Neill, Patrick Cronin and Patrick Horgan, this was a huge game. The first half of their career is over and if they didn't win a medal yesterday, there were no guarantees they would get opportunities again. Some guys go through their hurling careers and never get the medals they want.
That's why yesterday was so big for them and you could see that with how they celebrated afterwards. I was delighted for those players, they deserved this win. The first Munster title is always huge, Cork were oozing with confidence by the end and this will stand to them going forward.
A Munster title is still really special. Hurling people in Leinster get their backs up with Munster getting so much attention. But the competitive nature means the wins are really savoured and the Cork supporters really enjoyed this win.
Early on, it looked like the occasion was getting to Cork. Limerick were flying. Graeme Mulcahy was doing well in attack, the match-up's were right in the Limerick defence and Donal O'Grady was impressing in the deep role he was playing.
The game was typical of this Cork team. They appear to start slow, work their way into the game, go toe to toe with their opponents and then back themselves for the last 15-20 minutes. It's a risky strategy but it really seems to work for them.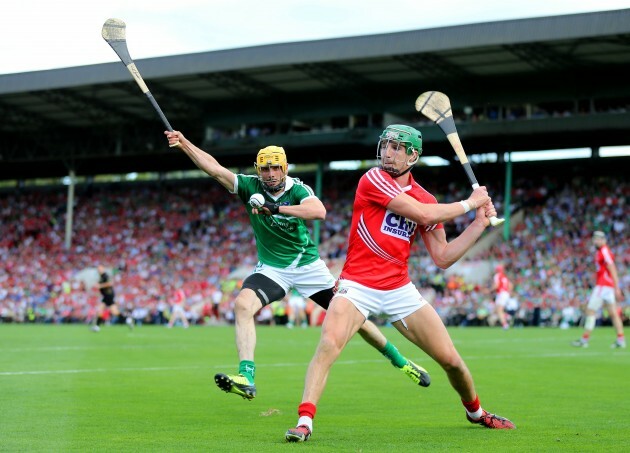 Cathal Noonan / INPHO Cathal Noonan / INPHO / INPHO
(Cork's Aidan Walsh and David Breen of Limerick)
It was a great goal by Seamus Harnedy that broke open the game. Then for the second one, Daniel Kearney produced a great delivery and no better man than Paudie O'Sullivan in that situation. It was fitting for him to finish the game off with that goal.
Limerick didn't do a whole lot wrong but they just couldn't make the breakthrough for the goal. Mulcahy went through and was dispossessed, David Breen's shot was tipped over and Shane Dowling saw another chance blocked by Shane O'Neill. They played well but lost and it'll be interesting to see how they bounce back.
It was a good send-off for Páirc Uí Chaoimh. I'd plenty days there between club and inter-county and it's a great field to play on. It's a stadium that will have good memories for a lot of people, but it badly needed a redevelopment. It's not suitable for the players any more and for big days out. A new chapter begins for the stadium.
************************
We knew Wexford were building but they needed a significant win to make a statement. Saturday was that type of victory. The scenes in Wexford Park afterwards were brilliant and you could see how much their supporters relished it. They made it hard for themselves though and did their best to leave Clare in it. Wexford missed so many chances but got the job done in the end.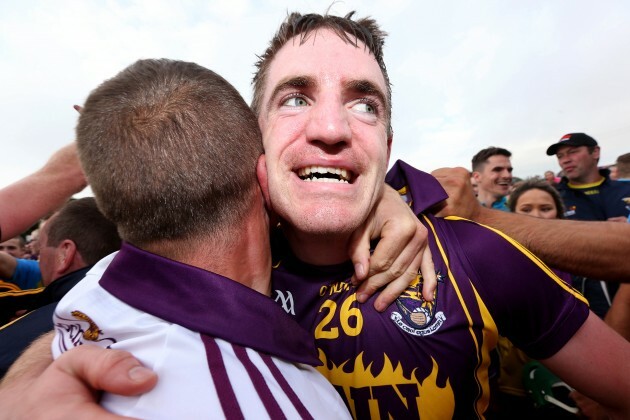 Donall Farmer / INPHO Donall Farmer / INPHO / INPHO
(Shane Tomkins and Ben O'Connor of Wexford at the end of the game)
The sending-offs killed Clare, they were running on empty by the finish. Brendan Bugler made a silly mistake in front of the referee. But my own opinion is that's it's not a red card offence. It should have been a yellow card and the referee telling him to cop himself on. If you're going to send every player off for that type of foul, games won't finish on 15 v 15. Jack Browne's dismissal was the right decision though, he had to get a second yellow card for that foul.
The exit of the All-Ireland hurling champions is a big moment in the season. Clare imposed a gameplan this season that I don't think suited their players and they needed to throw the shackles off more to show their talent. They struck a balance last year between them and it all worked to perfection.
Davy has said he is going to sit down to look back at the year and what went wrong. That will be good for Clare. It's a big pity they're gone from the championship though. You want to see hurlers like Colin Ryan and Tony Kelly playing in Croke Park in the latter stages of the championship. There's plenty life in this team, I'd expect them to bounce back.
Wexford have huge momentum now and will carry the buzz of the Clare victory through this week. They're a young team and physically seem to be in good shape. I'd fancy them to beat Waterford.
*****************************
Cathal Noonan / INPHO Cathal Noonan / INPHO / INPHO
(Tipperary's Lar Corbett scores his second goal)
Momentum is also something very much in Tipperary's possession at the moment. They put up a massive score against Offaly on Saturday. Lar Corbett got two goals and he's a big player for them to have going well. Seamus Callanan is starting to bring his form into the championship and is tearing apart defences. I think Tipperary have enough to beat Dublin, who aren't going as well as they were in 2013. That would set up an All-Ireland semi-final against Cork and that's a potentially cracking game.