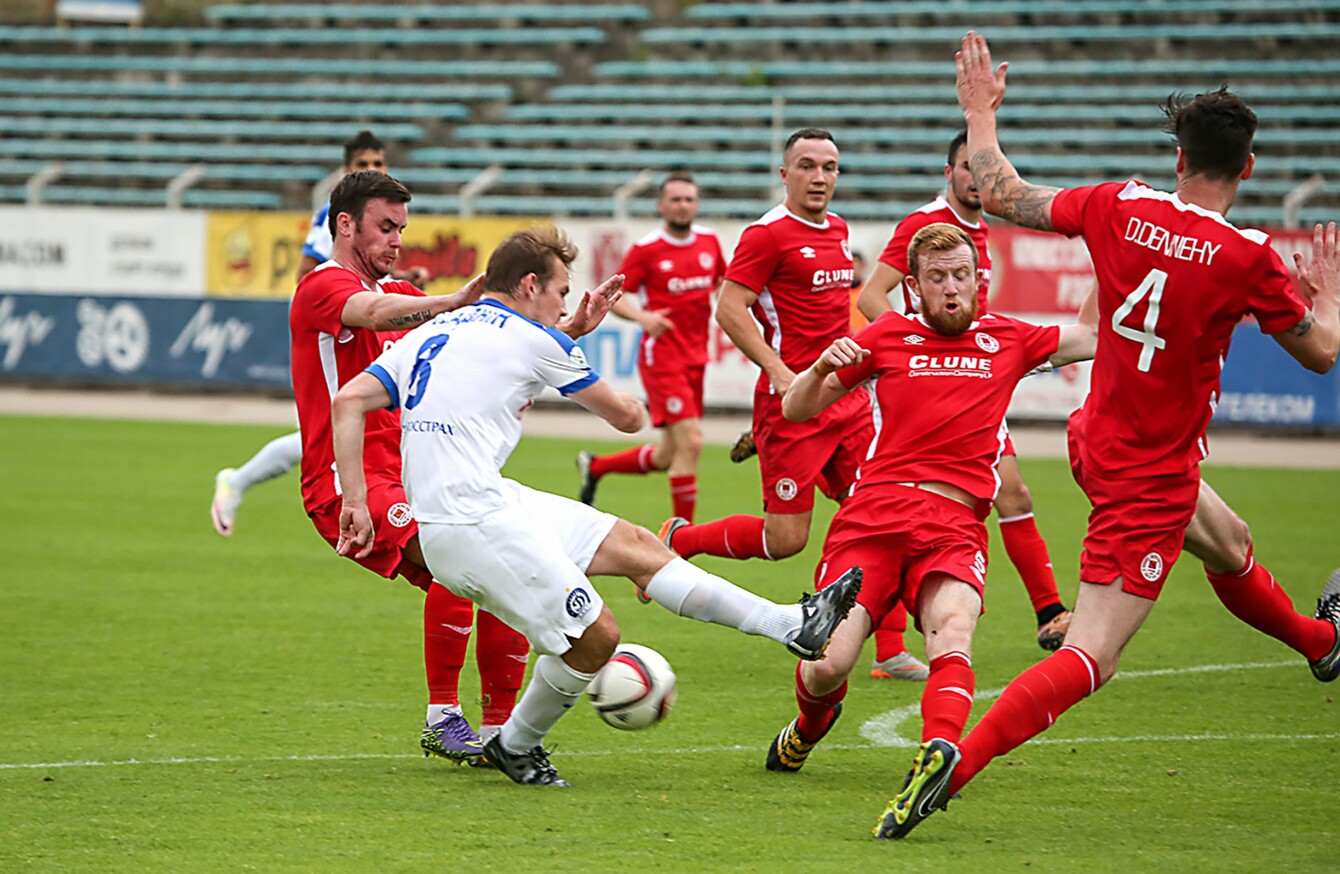 Even fans of rivals may have been supporting St. Pat's this week.
Image: Vadim Zamirovski/INPHO
Even fans of rivals may have been supporting St. Pat's this week.
Image: Vadim Zamirovski/INPHO
"I THOUGHT YOU were bitter rivals?"
"We are."
"So why are you celebrating?"
Five years ago I was trying to keep one eye on updates from Shamrock Rovers' game away to Partisan Belgrade while at a work function.
A colleague couldn't understand why I celebrated goals by Pat Sullivan and Stephen O'Donnell which saw Shamrock Rovers through to the group stages of the Europa League; guaranteeing the club a windfall that some thought would see them dominate the league.
My colleague, a Manchester United fan, had actively looked forward to Liverpool and other rivals losing in Europe and was left scratching his head.
I've seen the question again on social media after results which offer Dundalk, St. Pat's and Cork City real hope of progressing in their respective ties.
Some have queried why goals by David McMillan, Christy Fagan and Sean Maguire were celebrated across a majority of League of Ireland supporters and pundits.
I would guess the same two reasons inspire the reaction; the UEFA coefficient is the tactical reason, but it comes second to recognition and credibility for the league.
The UEFA coefficient is a ranking system that determines where clubs are placed in the respective draws for European competition. In broad terms, the higher a country and club coefficient, the greater their chances of being seeded, playing a weaker team and progressing to a later round.
Progression is worth approximately €200,000 per round in the early stages of the competition. Each win or draw by any of your nation's team over a five year rolling period contributes to the overall coefficient score.
So, if you're a Shamrock Rovers fan looking at being in Europe again next season, it's in your club's interest to see Cork City, St. Pats and Dundalk do well.
In terms of the UEFA coefficient this year, we've already amassed more points, with a minimum of three games remaining, than we have in the previous two years combined.
However, it's important not to read too much into these results as the mark of true progress in the league as they're hugely dependent upon the opponents drawn.
Coefficients are largely the preserve of the football statistician, they can be complicated and most don't delve into them in great detail. The real reason we celebrate each other's results is that it is one of the few occasions where we have objective and clear evidence that our league has value.
We live in a country where we're surrounded by people all too willing to dismiss the league and the standard of players. A League of Ireland fan can point to the qualities of the current Dundalk side, but it's easy for naysayers to dismiss their current dominance if they believe the level here is poor to begin with.
League of Ireland fans aren't oblivious to our failings, but subjective dismissal is common so when objective positive evidence is offered we'll grasp it and celebrate it.
Last season, people paid attention when Dundalk were unlucky not to progress past BATE Borisov, Champions' League Group Stage regulars with Barcelona among the scalps they'd taken. Even this season, with the focus on Icelandic football after EURO2016, progression past FH Hafnarfjarðar would carry some weight.
St. Pat's and Cork City's away draws against Dinamo Minsk and BK Hacken respectively show that we have teams that compete when pitted against teams from much stronger and better financed leagues.
It's only a pity that more attention isn't paid to such results outside of League of Ireland circles.
Rivals
The only valid reason for wanting a rival to do badly in Europe is the significance of the prize money that can be earned.
Should Cork City and St. Pat's progress to the third qualifying round they are guaranteed Prize money of over €600,000, which would probably run the clubs who don't qualify for Europe for a season.
The danger is that the money won in Europe will cause – in fact, may already be causing – a significant financial gulf between those clubs qualifying for Europe and those not, which will see the same clubs occupying the European slots year on year.
But in an environment where the league needs positive focus and positive press, positive European results and big European games should be welcomed.
This year, Dundalk could have drawn Celtic in the Champions' League and it's a tie I really wanted to see happen, because I genuinely believe that Dundalk would have won it.
In fact, I have no doubt that they would have, the Scottish club's performance in Gibraltar has only strengthened that belief. A win like that, in a competitive setting would have rattled a few cages and given the league here a serious lift in credibility.
Hopefully St. Pat's, Dundalk and Cork City continue their European stories past the current round; I know I'll be cheering on all three.