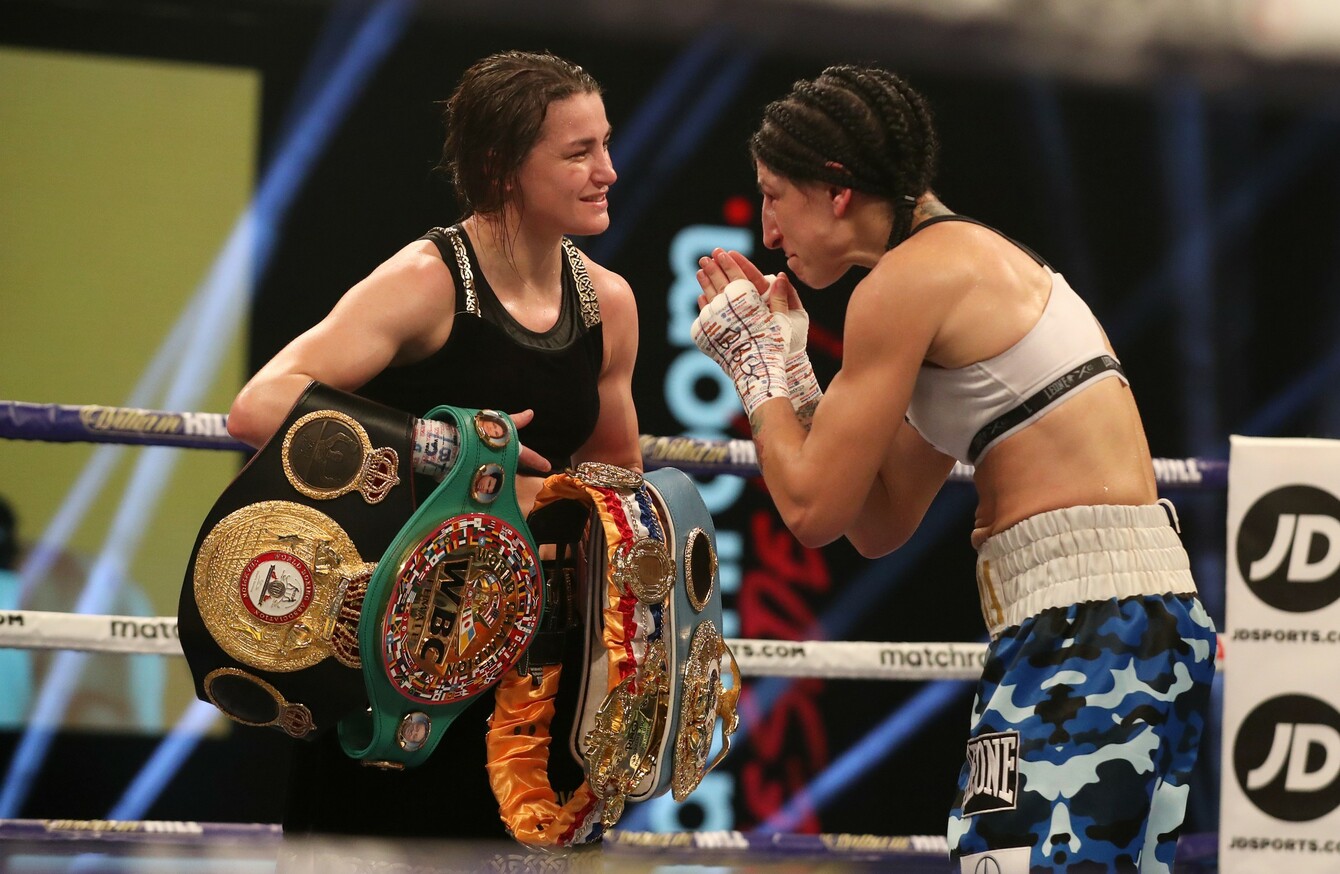 Gutierrez salutes her 'hero' post-fight.
Image: Matchroom Boxing/Mark Robinson/INPHO
Gutierrez salutes her 'hero' post-fight.
Image: Matchroom Boxing/Mark Robinson/INPHO
KATIE TAYLOR PRODUCED a boxing masterclass to retain her undisputed lightweight world title with a near-shutout unanimous-decision victory over Miriam Gutierrez (100-89, 100-90, 99-91).
Taylor dropped Gutierrez in the fourth, and had the Spaniard reeling in more rounds than she didn't, but the incredibly durable challenger, doubtless aided by her extra size and weight on the night, weathered a blizzard of assaults to hear the final bell.
The Irish icon was almost punch-perfect in a performance which exhibited pugilistic mastery and sheer violence in equal measure, albeit a stoppage would have been the icing on the cake as she improved her record to 17-0 (6KOs). Gutierrez (now 13-1, 5KOs), who is not the punchbag that she will be made out to be by some who watched Taylor pick her apart tonight, showed other-worldly heart but barely landed a shot in anger as she suffered her first career blemish.
The 37-year-old Spaniard applauded her 'hero' to the stage during Friday's weigh-in and was equally graceful in defeat, warmly applauding Taylor as MC David Diamante read the judges' lopsided verdict. The smiling Gutierrez even helped Taylor to hold her belts for post-fight pictures — a gesture appreciated by the champion.
"I'm very, very satisfied — I thought it was a great performance," said Taylor afterwards, wearing her own smile. "She was very, very tough. I was definitely trying my best to get her out of there at times but she just kept firing back. She was very durable. She's obviously bigger and stronger than I was.
"Unfortunately, I just couldn't get her out. I would have loved to have gotten the stoppage today but overall, it was a great performance.
"I never go into any fight complacent. She was actually very heavy-handed — she could punch — and when you go in complacent against those kinds of girls, that's when you actually get beaten. So, I was very, very happy today."
After Gutierrez strutted to the ring to a traditional Spanish tune, Taylor emerged to a jingle which would have rung a bell for those of us who binge-watched Michael Jordan documentary The Last Dance on Netflix during Lockdown 1.0: the Chicago Bulls theme tune 'Sirius', which was chosen by Brian Peters on account of the fact that Taylor doesn't give enough of a hoot to pick her own entrance music.
Fittingly, Taylor charged from her corner bullishly as soon as the first bell sounded from ringside, only Gutierrez wasn't ready to play matador so early: Taylor exploited her false sense of security with a barrage of hooks both to body and head, teeing off as her opponent floundered against the ropes. Eventually, having felt Gutierrez's teak toughness first-hand — and second, and third, and fourth, etc — she eased off and became more calculating, but no less spiteful, with her attacks.
"It wasn't really pre-planned", Taylor laughed, "but I saw I hurt her in the first 30 seconds and thought I might get her out in the first round — but how wrong I was!
"She was very, very strong and I just had to take my time a bit more from then on."
Taylor remained electric without being reckless, and by round three was having her way with the retreating Gutierrez. The signs of defiance from the challenger weren't usually evinced through physical expression rather than with her fists; Taylor dropped a bomb of a left hook after a clever tee-up in the third which would have floored most 135-pounders only to be greeted, again, with a smile — albeit probably a sore one to pull off.
Be part
of the team
Access exclusive podcasts, interviews and analysis with a monthly or annual membership.
Become a Member
🇮🇪👑🙌 TAYLOR WINS! 🇮🇪👑🙌@KatieTaylor retains her Undisputed Lightweight Title and remains undefeated in her 17th fight

She scored this knockdown in the 4th round 👇 pic.twitter.com/FToGwlDZsl

— Sky Sports Boxing (@SkySportsBoxing) November 14, 2020
It had already worn off Gutierrez's face during a one-sided fourth in which Taylor rubber-stamped her dominance with a picturesque knockdown of her opponent, planting a thudding straight right hand down the pipe and helping Gutierrez floorward with a follow-up jab.
The bell sounded to end the round but Gutierrez still had to prove her health to referee John Latham — and to her credit, she seemed relatively sturdy.
She found some fleeting success of her own in the fifth but the fight remained one-way traffic; a stoppage seemed to be more a case of 'when' than 'if'.
Taylor had her reeling again in the sixth and continued to parade her arsenal throughout the second half, putting together two-tiered combinations that occasionally boggled the mind such was the speed and style with which they were delivered.
By the eighth, however, it began to become clear that Gutierrez was virtually indestructible; she swallowed another left hook which would have unraveled the majority of recipients and beckoned Taylor forward for more, smiling again while attempting to hold her ground in the face of rapid fire.
Taylor surely realised in the championship rounds, having banked virtually every preceding entry, that her opponent couldn't be beaten into submission. But she tried anyway, probably largely for her own enjoyment as well as her hundreds of thousands of fans watching live on Sky Sports and their social-media channels at home.
"I caught her with some great shots but credit to her — she's very, very tough; very durable," she said afterwards. "It was a great fight."
Responding to suggestions in the build-up that she might not have been in optimal physical condition considering the grueling nature of her previous fight with rival Delfine Persoon, which took place only three months ago, Taylor replied: "I felt great. I went back to Connecticut straight away after my last fight to start training with Ross [Enamait] and we knew, we wouldn't have taken this fight if we didn't think we were going to be in great shape.
"It was a very, very busy year for me training-wise but I think I perform best when I'm actually fighting regularly; I'd fight every month if I could — if Eddie would let me!" she laughed, before nodding in the direction of promoter Eddie Hearn.
"We'll talk after!" she added.