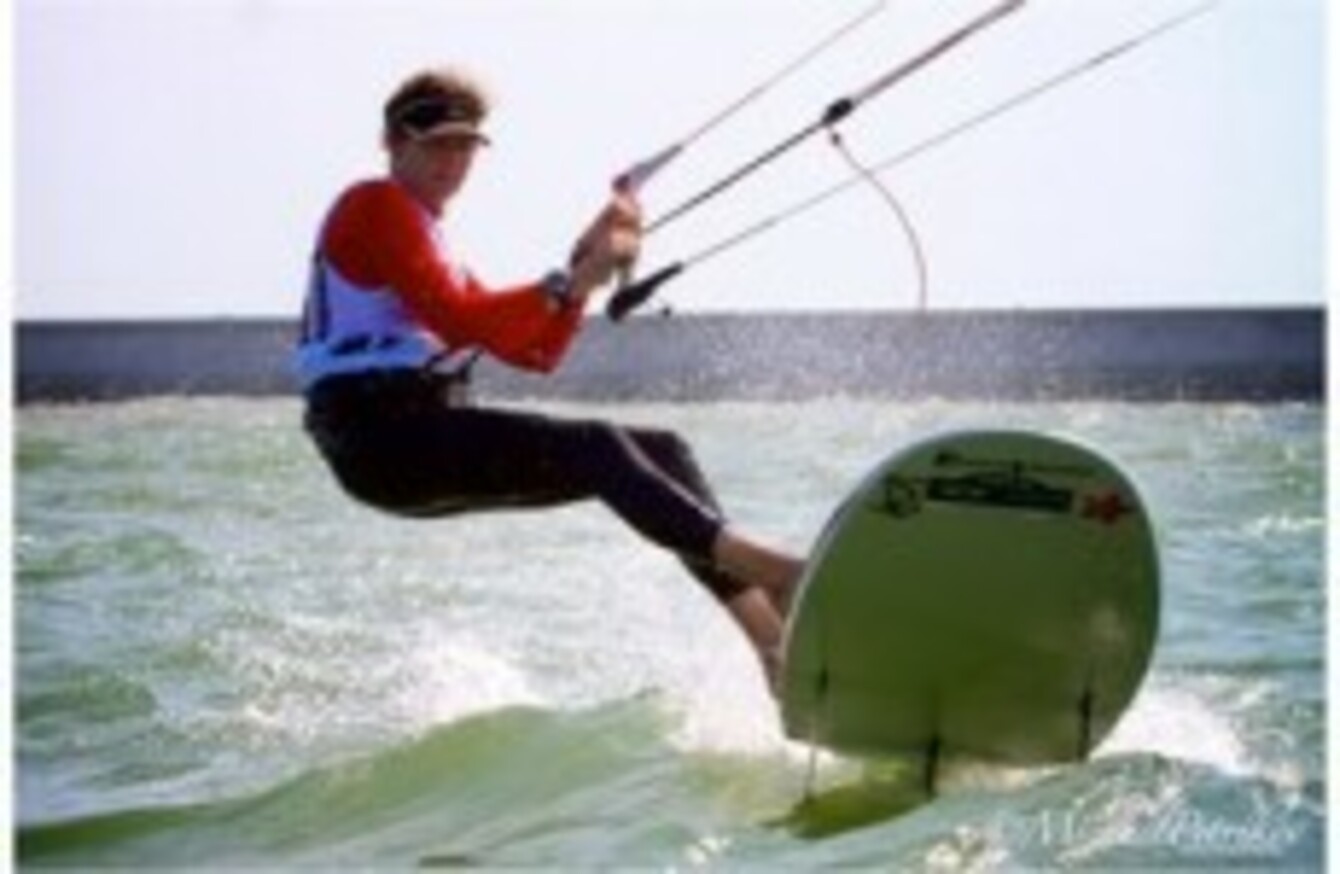 THIS WEEKEND WILL see the return of one of Ireland's biggest watersport events to Dollymount Strand in Dublin.
Kitesurfing is a recent phenomenon around the world as it became a competitive sport just 12 years ago. Yet it already has a massive following and the rapid progression of the sport has led to it being included in the 2020 Olympics.
Jade O'Connor, who is ranked fifth in the world, is currently going through the long qualification process for the inaugural Olympic event.
"What the governing body have done, is that they have opened up their pre-qualification events tour so that we can build our teams and build the infrastructure that we need because we're a brand new sport" she said.
O'Connor stressed that there is much more effort put in by the athletes than just turning up at the Olympics and performing there.
"I think outsiders probably just see the Olympics as being one single big event every four years but for the athletes involved it's actually a four year cycle and as soon as you get to that you start into another four year cycle."
Source: Wapala/YouTube
The speeds involved can make the sport itself quite dangerous. In 2013 Alex Caizergues broke the world record for kitesurfing when he reached a speed of 56.62 knots  - or 103 kilometres per hour to us land folk. While most competitors wouldn't usually hit those type of speeds, O'Connor says they still go very fast.
"Day to day speeds are probably like 40 or 50kph. You hit hard."
Kitesurfing is one of three disciplines that will be on show at this weekend's Battle for the Bay, an annual watersports event in Dublin that is gaining traction with every season.
An alternative discipline, Boardercross, is almost an obstacle course on water where you race against competitors to complete it in the quickest time. O'Connor explains:
"You've got to race as quickly as you can but also jump over obstacles in the water. They're like big floating sausages and they stand at about four metres tall so you've got to go really fast, jump over them and then land and then keep on going, like an obstacle course. You're trying to get there alive quick without falling in or crashing."
The two other events are a straight slaloming event for children and beginners and a freestyle event which she thinks is the most attractive part of kitesurfing for the public.
"It's really visual and it's about jumping really high, like up to 20 metres in the air and doing tricks."
Source: visitdublin/YouTube
Jade won't be competing in this weekend's event, merely acting as an ambassador to help the community and to ensure youngsters get involved. However, she will compete at the British Ladies Championship as defending champion.
It was a twist of fate that led her to this success. O'Connor may have never have had the opportunity to compete on such a stage if it wasn't for the recession hitting in 2008.
"I grew up sailing all through school and I was lucky enough to sail for my country and move into a semi-professional role and then business life took over. But with the crash in 2008 I sort of had the opportunity to say 'OK, what do I want to do' and I went back to sailing."
"I'm a web developer by trade. It was a complete blessing in disguise, sometimes you just need something to kick you out of complacency."
Since she entered the sport, O'Connor has been climbing higher up the rankings and has now set sights set on claiming a world title this year.
"I'm ranked fifth in the world and certainly my goal is to be world champion, I'd love to do it this year but if not I'll certainly do it the year after. I think it's wrong to get overly connected to results but I think as long as I'm improving and on the right path and doing my very best I'm happy with that."
This weekend's kitesurfing competition begins at 10.30 am and finishes at 6pm on both Saturday and Sunday. Entry is free. Jade O'Connor's efforts are funded by her sponsors goldenpages.ie and her website is www.jadeoconnor.ie