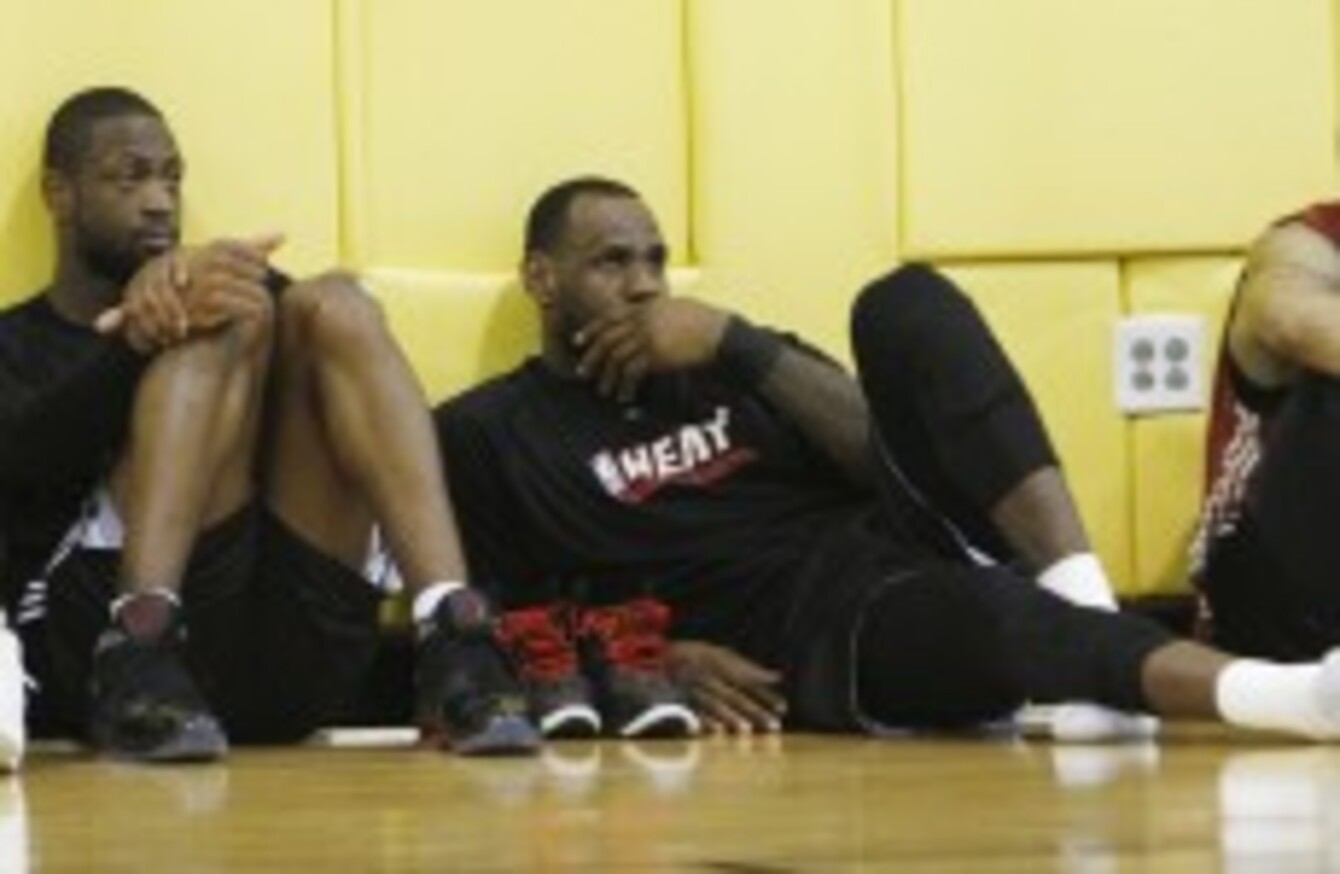 LEBRON JAMES WALKED through the tunnel leading from the Miami Heat locker room Monday, stepped onto the court and gave a yell. He looked down at the NBA finals logo newly affixed on the floor, smiled and nodded.
With that, it became real.
His championship chance — the biggest reason he came to Miami — has finally arrived.
Swept out of his only other finals appearance four years ago, James will get his long-awaited second opportunity starting Tuesday night when the Heat play host to the Dallas Mavericks in Game 1 of the NBA's title series.
After a year like no other in his life, starting with the much-criticized "Decision," his jerseys being torched in Cleveland and never-ending, intense scrutiny of his every move, the last challenge will likely prove to be the toughest of them all.
"I'm honored to be here once again," said James, who led the Cavaliers to the 2007 finals and lost in four games to San Antonio.
Now with this franchise, it's an honor. As players, we worked hard. I worked hard individually to get to this point. And I had a lot of visions of being in this moment and now it's hit me, being on that floor, seeing the championship logos and everything, the finals logos. I'm very excited.
It showed Monday.
He chatted with teammates, taking part in a long shooting contest with Dwyane Wade, Eddie House and others, looking perfectly comfortable as dozens of photographers clicked away for 30 straight minutes. By now, being in the microscope is an accepted part of the deal for James, who has been dealing with this since his high school days.
Away from the court, though, those who are around the two-time NBA MVP say his focus is even sharper than usual. Winning a title likely won't change perceptions about James. His fans will surely remain fans, his critics will surely remain critics, no matter what happens. But to him, a championship would mean everything that took place since 9:27 p.m. on July 8, 2010 — the moment he publicly said he would join the Heat — was all worthwhile.
Redemption
"He's focused," Wade said. "Obviously, we all want it. But in a different sense, he wants this, he wants to seize this moment."
You can tell by the way he's been playing, especially in late games. He hasn't left anything to chance, whether it's guarding the other team's best player, whether it's taking big shots, doing anything it takes. That's a player that I see hungry for a championship.
James has been that way since July.
He's spoken often in recent days of how getting swept by the Spurs was humbling, a driving force for him to get better over the past four years.
"I go back and look at some of those games, I look at myself and say, 'You are a much better player than you were then,'" James said. "That comes from playing games, playing postseason games, losing, winning.
There's a lot of guys that have been in the finals, and lost and never got back. … I'm humbled. I'm blessed that I'm able to get back to this point and be able to redeem myself for that time when I was in the finals against the Spurs.
So it's not just redemption he seeks for what's happened over the past year.
It's for what happened in 2007, too, and much more than that as well. He's long been considered one of the game's greats, but without a title, he knows that label would ring hollow.
"To be here is very humbling. It's very satisfying at this point," James said. "We want more."