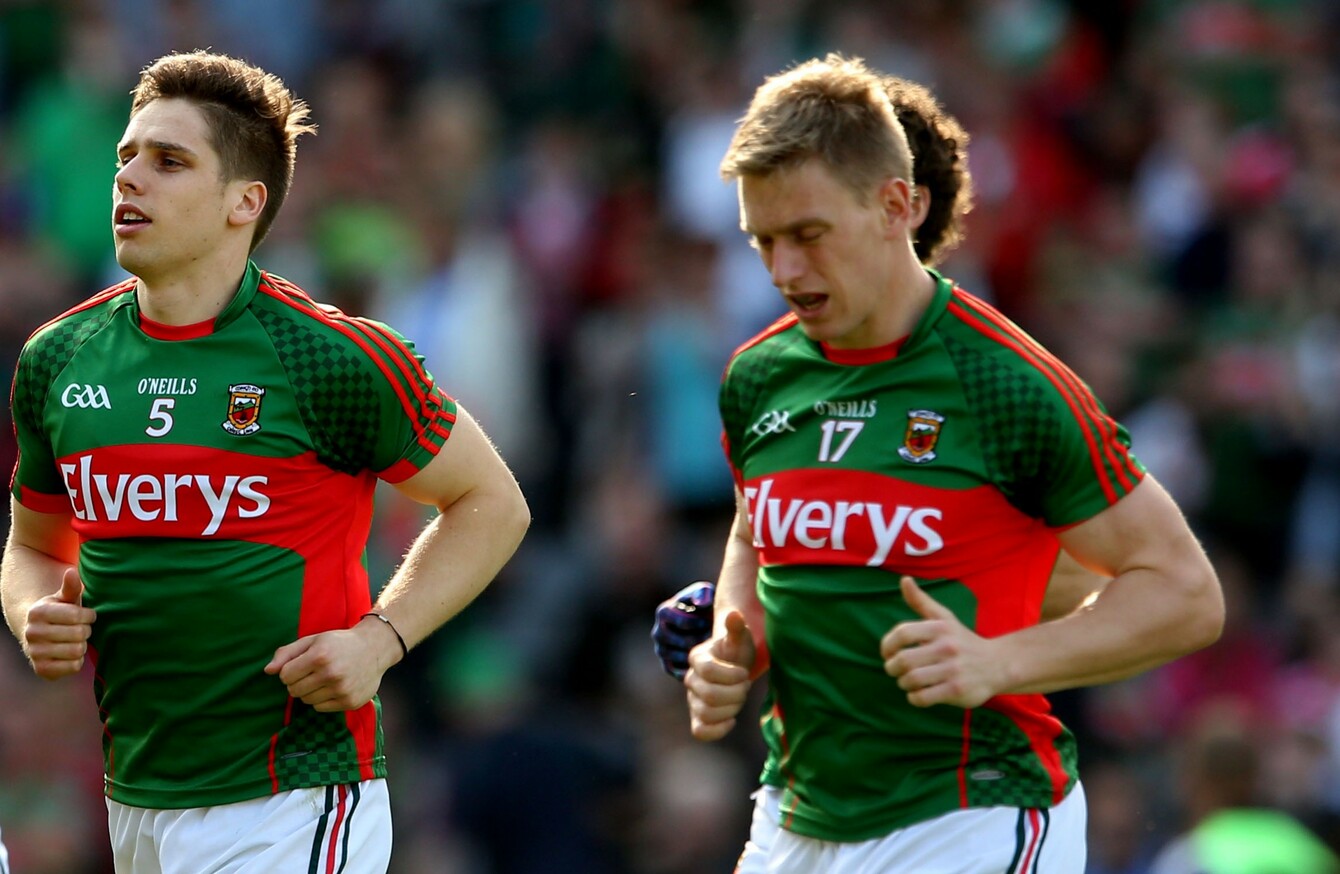 Image: James Crombie/INPHO
Image: James Crombie/INPHO
LEE KEEGAN REALISED a dream in February when he climbed the steps of the Hogan Stand with his Westport teammates as they savoured All-Ireland club glory.
But for a man he has soldiered with for club and county, the day was a mixed experience.
Mayo senior defender Kevin Keane limped off early in the game with a knee injury that was later that week diagnosed as a torn cruciate ligament.
Keane has had to write off 2017 but the satisfaction at club success tempered his personal disappointment.
"I think it probably would have been worse if we'd lost," says Keegan.
"Having that disappointment and knowing you're out for the year with an injury, probably would have been a real test of his character to how you come back.
"I think that we won, he's taken it well and now he's a full year to prep himself again. He's still only 26, he's still in the prime of his career, we look forward to him coming back but again he's just delighted that we got over the line.
"He'd be a very passionate club man, him and his family. All about the result, nothing else mattered that day.
"He's probably my best friend, so from that point of view, I was delighted for him to see him hobble up the steps and get the cup."
Keegan's career has been characterised by several heartbreaking setbacks in Croke Park with the Mayo footballers. That it would be with Westport that the All-Ireland breakthrough would take place, wasn't something he had considered.
"It was a dream to be honest. I thought the day Westport would win something like that was never going to happen.
"Believe me when they call it 'The Toughest' it really was. At one stage in Mayo we had three games in a week just to win a county title, so getting to that point was brilliant.
"We grew into it as the Connacht campaign went on and got into the All-Ireland semi final. The belief really came strong from there.
"Just to walk up the steps of the Hogan Stand and finally lift an All-Ireland was something I'll treasure for the rest of my life.
"What made it all the more special was that it wasn't the older guys that did it, it was the newer generation in Westport, the 18-19 year olds really stood up. The likes of Oisin McLoughlin, Colm Moran, these lads on the day just absolutely relished the grounds of Croke Park.
"It's exciting times for us in Westport but it's important now that we focus on senior again because after winning the intermediate in '09, we nearly went straight back down.
"From an All-Ireland point of view, it probably hasn't sunk in because I was going back to Mayo so quick. But when the year is over, I can say that finally I have that All-Ireland medal plus we've our banquet (this) Saturday."
The 2016 Footballer of the Year believes that the club success has energised him for the inter-county campaign ahead with Mayo.
"This year was kind of a funny one for myself personally because usually we're back in November, December and you're back in the thick of it early.
"It was just more of a breath of fresh air to be in with our club lads, and having a bit of craic with the lads you grew up with. We trained over Christmas. It was just good craic and we really enjoyed it.
"It game me personally that bit of rejuvenation when I came back into county. It can be so intense for so long in the year especially with Mayo because year in, year out we're quite close to the top and we're always playing to August, September.
"Once I came back in after that, it was just refreshing. It was nice coming back in with a winners medal and hopefully it might help the lads again."
Source: The42 GAA/SoundCloud
The42 is on Instagram! Tap the button below on your phone to follow us!